Essential Spa Items to Turn Your Bathroom into a Relaxation Zone
The year 2020 will forever be described using a variety of colorful adjectives, but "relaxing" definitely won't be one of them — at least not for most of us. If focusing on DIY home upgrades is your go-to option for managing stress, then there's a way to put that focus to good use and reap a double reward.
Transforming your bathroom into a relaxing oasis gives you a stress-relieving DIY project to focus on and leaves you with a soothing, stress-relieving place to retreat to the next time you feel your blood pressure start to rise. It's the perfect win-win situation! All you need are the right accessories to make it happen. Here's a look at some great products that can help you completely transform the feel of your bathroom — no demolition or rebuilding required.
Keep All That Stress in Check
In 2020, millions of Americans found themselves facing a whole new set of challenges, such as working from home, helping kids with online schooling and job hunting after years of steady employment. No one could have imagined the struggle of living through a pandemic until it actually happened and disrupted everything.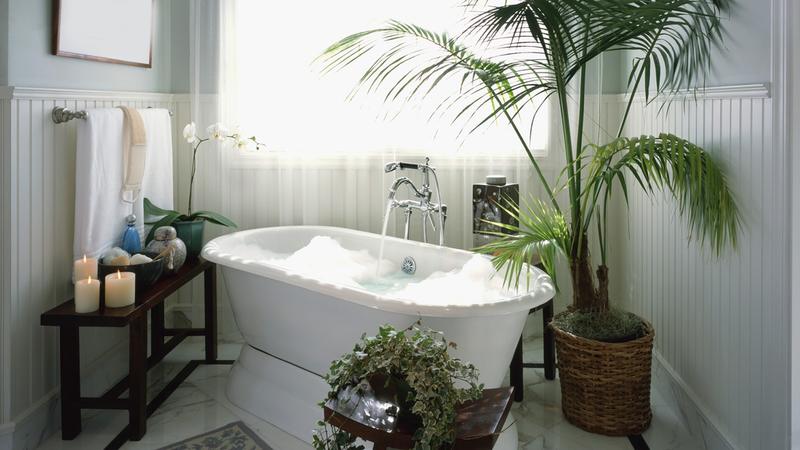 Regardless of the reasons for it, extreme stress certainly isn't good for us. Experts at the Mayo Clinic noted, "Your brain comes hard-wired with an alarm system for your protection. When your brain perceives a threat, it signals your body to release a burst of hormones that increase your heart rate and raise your blood pressure. This "fight-or-flight" response fuels you to deal with the threat." Occasional stress is a reality that the body can handle well, but problems start to occur when your body's "alarm system" never really shuts down.
What does that have to do with your DIY project? Rather than think of your bathroom upgrade as a necessary chore, think of it as the ultimate stress management tool. You get a fabulous new room, your mind gets the distraction it needs to stop worrying and your body gets a physical release for all that built-up tension.
Ask the Right Questions Before You Get Started
As you start your search for the perfect products to transform your bathroom, ask yourself some important questions. For example, what physical sensations make you feel the most relaxed? Whether you like warm bubble baths or hot, steamy showers, you want to focus on ways to appeal to your sense of touch.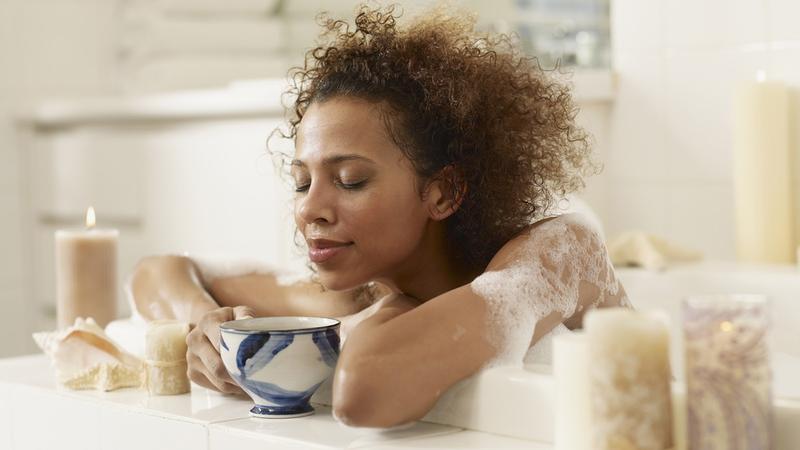 Do you hold stress in certain parts of your body like your neck or shoulders? If your stress often leads to headaches or an aching back, focus on products that can help alleviate those specific symptoms, such as soothing back and neck massagers.
Fragrances can add to the experience as well. Do certain scents or fragrances make you feel calm and relaxed? Lavender is well known for its calming properties, but other fragrances may work even better for you. What types of sounds do you find the most relaxing? From gentle rain to a crackling fire, some sounds are so soothing they have companies recording them to add to bedtime sound machines.
The most important factor in designing your DIY spa is to make sure that you base your design on your own specific wants and needs. These top suggestions may be just what you need to get your creative juices flowing.
Escape to the Tub with Your Favorite Entertainment
The next time you need a little "me time," look no farther than the Bambusi Bamboo Bathtub Caddy to help you incorporate your favorite entertainment options into your DIY spa. This adjustable caddy fits along the sides of your tub and provides the perfect resting place for your tablet, phone or book.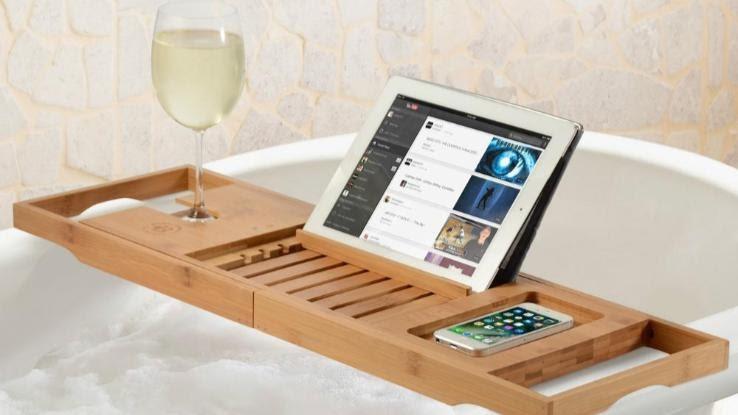 Even better, if you want to dig into your favorite novel while sipping a glass of wine, this bathtub caddy has you covered. How about a bubble bath while watching your favorite movie on Netflix? Check! No matter what you prefer for entertainment while you're soaking in a mineral-laced bath, you can enjoy it without worrying about accidentally dropping anything in the water.
Melt Away Stress with a Heated Towel Rack
Seriously, what's better than a nice warm towel to soothe your aches and pains? These days, such luxuries no longer require a trip to the spa. With devices like the Warmrails Towel Warmer, you can enjoy a nice toasty towel every time you step out of the tub. The multiple bars can be used to warm towels of all sizes, all while using less energy than an average lightbulb.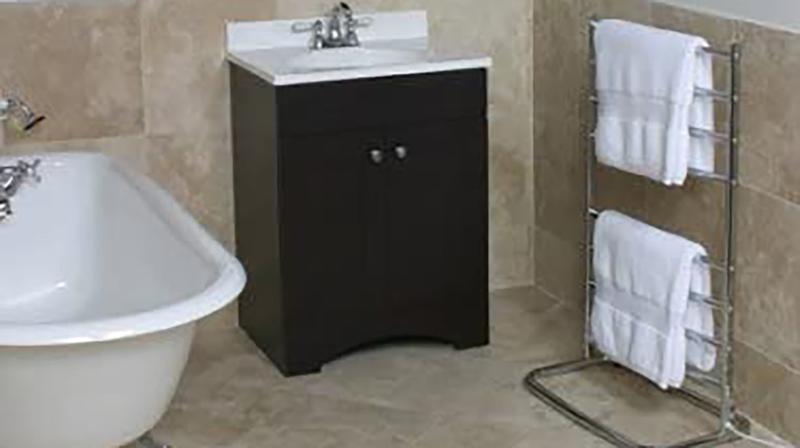 You can also use it to dry your towels, clothing and blankets. It's a great way to cut down on the expense of using your dryer, and it helps eliminate the mildew and odors that build up in piles of damp towels.
Treat Your Skin to Spa-Style Moisture
Leave your skin feeling refreshed and moisturized with Dr. Teal's Eucalyptus & Spearmint Moisturizing Bath & Body Oil. Perfect for dry, normal and combination skin, this paraben-free bath oil is infused with much more than eucalyptus and spearmint oils. Jojoba, sweet almond and grapeseed oils round out a blend designed to instantly moisturize and replenish skin. It's the perfect treat for your mind and body. Use it while you're in the bath — or at any time, really — to give your skin an instant glow.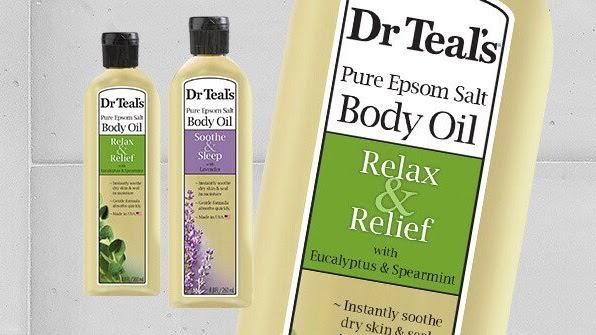 Make the Most of Your Space
Want to add a little extra space and class to your bathroom? Look no farther than the Zenna Home Slat Style Bathroom Wall Shelf. It features a rich, satin nickel finish that instantly adds a touch of spa-chic style to any bathroom. Useful as well as classy, it's the perfect place for stashing towels, toiletries and candles, or it can be used as a display rack for plants and decor.
Unwind with the Smells of Spring
If you're looking for the king of all spa candles, then check out the Shiso Scented Candle: Edition 02. Light it up to enjoy the earthy yet delicate scents of the Shiso leaf (a.k.a. perilla). Designed to mimic the sensations associated with spring, it's the perfect way to fill your bathroom with the nice, relaxing aroma of ancient woods. With a 65-hour burn time, this is one candle you'll be able to enjoy for plenty of home spa days to come.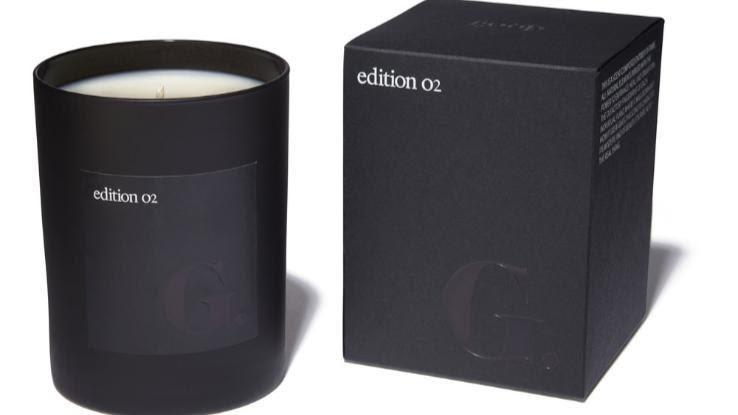 Deck Out Your Bathroom in Spa Decor
If you need a bit of extra room to create the perfect spa-like ambiance, then check out these Floating Shelves from Delta. Both chic and functional, the shelves are a great way to enhance your home spa with anything from plants to photos and books. Designed to provide extra room without taking up too much space, they give more than a slight boost to your ambiance game.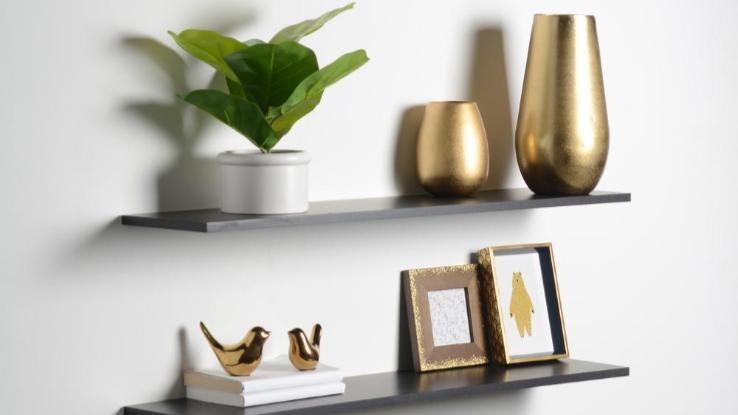 Add a Touch of Nature with This Succulent Trio
Ready to take it back to nature? Share your new home spa with this 3-Pack of Succulents from Altman Plants. Never fear if you don't have the best gardening track record — succulents are notoriously tough little guys with a high drought tolerance. Just place them in an area where they can soak up natural sunlight, give them a little water every now and then, and enjoy their natural beauty. You'll be surprised at how quickly they can brighten up your favorite relaxation zone.