2021's Best Winter Boots for Any Climate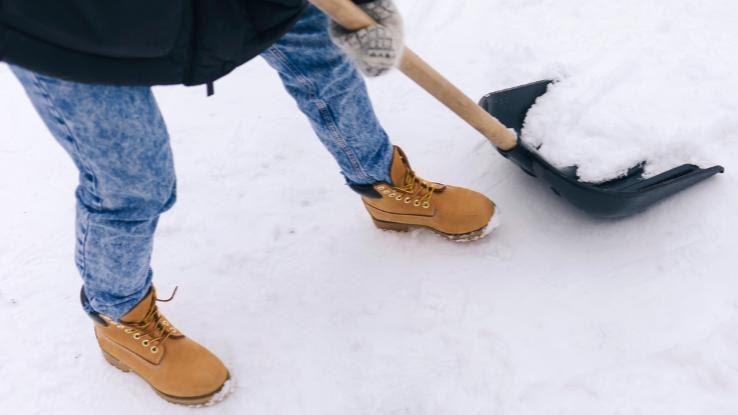 Each year, winter and its antics — all that piercing precipitation and treacherous terrain — seem to inspire plenty of questions about where to find the perfect pair of winter boots. After all, not much puts a damper on a crisp winter's day than finding yourself caught in a snowstorm with shoes that provide about as much traction as the average pair of ice skates. What you need is a warm, durable and sturdy pair of boots designed for protection — and for navigating the conditions you anticipate encountering.
Whether you're bracing to face rain, snow, mud or something in between, we've got a collection of great winter boots that are built to withstand whatever Mother Nature throws at you when the mercury drops. From top-of-the-line leather choices to cute winter boots for milder climates, there are high-quality, built-to-last options here for everyone.
Choosing Comfortable Winter Boots for Different Weather and Terrains
If you live in a climate prone to extreme winter weather conditions, then you may already know first-hand the importance of the protection that only winter boots can provide. But, ultimately, the type and style of boot you choose will depend on a variety of factors, including the following.
Weather type: Not all winter boots are created equally, as many are designed to tackle specific types of storms and that's it — which is fine if you live in an area that really only experiences one type of weather. But you still need to find boots made with that weather's particular conditions in mind. For example, if you're looking for boots that keep your feet warm and dry when it's raining, you'll want to determine whether the boots in question are waterproof, as opposed to water-resistant. While water-resistant boots won't get ruined in the occasional unexpected downpour, they won't keep your feet as warm and comfortable as seam-sealed boots made with waterproof materials.
Temperature ratings: If you're looking for extreme winter boots to ward off freezing snow and bone-chilling temperatures, then temperature ratings are a feature to take into consideration. This value tells you just how low the temperature can drop — and how long it can stay there — before your feet start to feel its effects.
Traction: Similarly to the tires on your vehicle, the shape and tread patterns of the soles of a pair of winter boots are important things to take into account for stability — an important consideration when you're dealing with slick ice. Hiking boots tend to rank highly when it comes to great traction support, as they're designed for wear on slippery or off-road surfaces. Look for boots with treads that provide stronger grip for improved balance.
Interior: Last but not least, don't forget to find out what's inside the boots you're eyeing. If freezing temperatures are a worry, then you'll definitely want to ensure you get a pair of boots with a warm interior lining that can keep your feet nice and toasty when you're out in the cold. Snow boots in particular often feature removable linings, which are ideal for foot warmth and for easier periodic cleanings.
Without further ado, check out our picks for some of the best winter boots in adult sizes.
Best for Moderate Rainfall: Skechers
If you're looking for a comfortable shoe that'll keep your feet protected from puddles, then Sketchers has got you covered. If you're browsing what's traditionally considered women's sizing, we recommend the Pond-Lil Puddles-Mid Quilted Lace Up Duck Boot, which combines the comfort of memory foam with the reliability of waterproof outsoles. Even the felted fabric uppers have been treated with Scotchgard to keep water out — and ankles warm.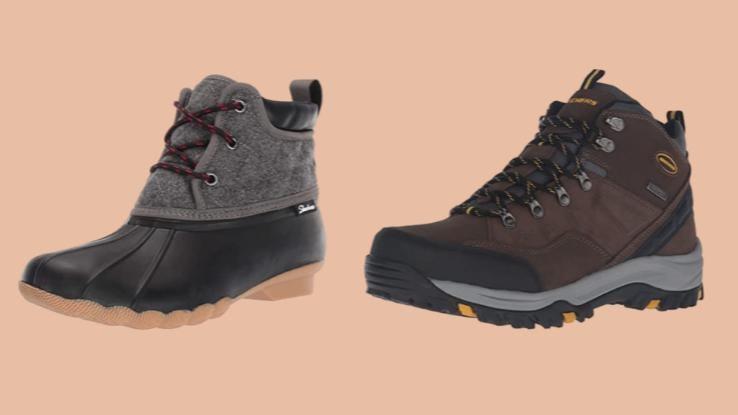 For larger widths and lengths typical of what are usually labeled men's sizes, Sketchers offers the Relment Pelmo Chukka Waterproof Boot, a relaxed-fit ankle boot that comes complete with air-cooling memory foam for extra comfort on days of longer wear. With their smooth, water-resistant leather exterior, these are a great choice for staying comfortable and stylish on a rainy day.
Best for Snow, Slush or Ice: Columbia Snow Boots
Perhaps never is a great pair of boots more important than when winter decides to whip up its worst in the weather department. That's when it's time to don a pair of snow boots from Columbia to make sure you're prepared when the slush hits the fan. This sportswear company is well-known for its durable outerwear, and that includes footwear like the Wheatleigh Shorty Snow Boots, which feature Omni-grip traction rubber outsoles, waterproof suede and textile exteriors, and soft fleece linings. The Wheatleigh carries a temperature rating of -25 degrees Fahrenheit, which means your feet are destined to stay cozy in almost any conditions you can imagine.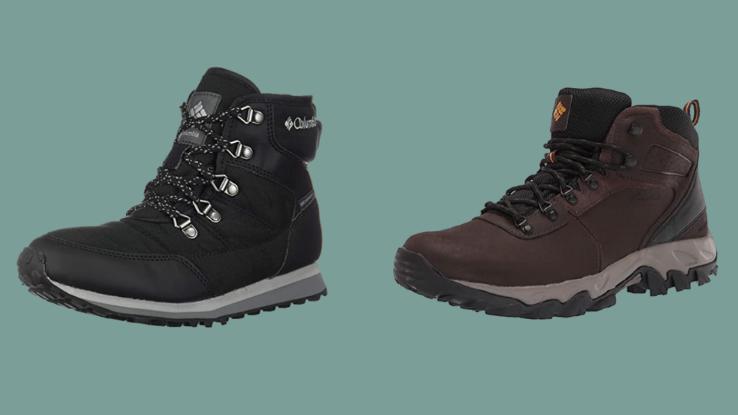 If you're in the market for larger sizes or a more rugged look, you might also consider Columbia's Men's Newton Ridge Plus Ii Waterproof Hiking Boot Shoe. An Amazon bestseller, these all-terrain hiking boots feature advanced-traction rubber soles, superior cushioning and waterproof full-grain leather exteriors. Like the Wheatleigh, the Newton Ridge also boasts Omni-grip technology with a dual-zone tread pattern for steadier footing on ice.
Best for Heavy Rainfall: UGG Rain Boots
In addition to boasting a reputation for producing perhaps the coziest house booties ever, UGG also designs a variety of weather-resistant boots made for even the wettest days. Check out the UGG Women's Sienna Matte Boot, for instance. These mid-calf rubber boots are made to handle the worst the weather has to throw at them thanks to their molded rubber exterior and the brand's signature warm sheepskin lining. At 10 inches tall, they'll keep you protected from just about any puddle, too.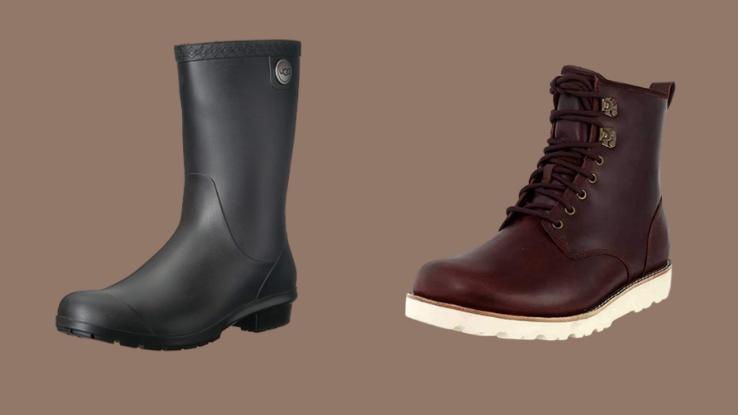 For a sturdier, logger-style look, consider the Men's Hannen Tl Winter Boot, which may just be one of the most stylish waterproof boots ever constructed — it really doesn't look like rainwear, does it? Crafted from waterproof leather with sealed seams for zero moisture intrusion, these boots come complete with a traction-enhancing outsole and a warm wool interior.
Best for Muddy Places: Muck Boots
If you dare to go where most mud-haters fear to tread, there's a great company called Muck Boot you'll want to check out. It's got plenty of options for tackling tougher terrain, like the Muck Boots Hale Multi-Season Women's Rubber Boot, which provides 100% waterproof protection for any season. Made from durable neoprene — the same thick, insulating material as wetsuits — they also come with the perks of shock absorption, heat-retention capabilities and the flexibility you need to avoid blisters and chafing.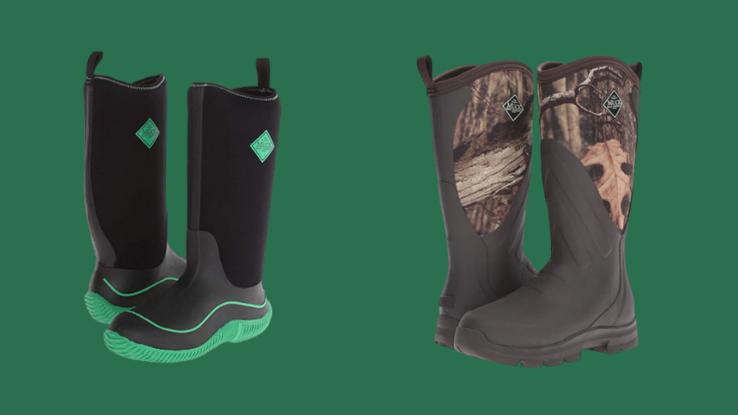 If you're looking for something a tad more outdoorsy, consider the Men's Woody Grit Rubber Boot, which provides all the same comfort and flexibility but with a more substantial silhouette and some artfully placed camouflaging. It also comes with a stretch-fit topline that's designed to fit snugly around your calf to keep warmth in and mud and debris out.
Best for Winter Hiking: Timberland Winter Boots
If you love hitting the trails no matter the weather conditions, look no further than the Timberland Women's White Ledge Mid Ankle Boot. This sturdy contender is designed to keep you both safe and comfortable thanks to its deep rubber lugs that provide excellent grip, whether you're traversing slick rocks or wooded backcountry trails. Made from 100% leather with a tractioned rubber sole, they're also designed to provide waterproof protection and shock-absorbing cushioning.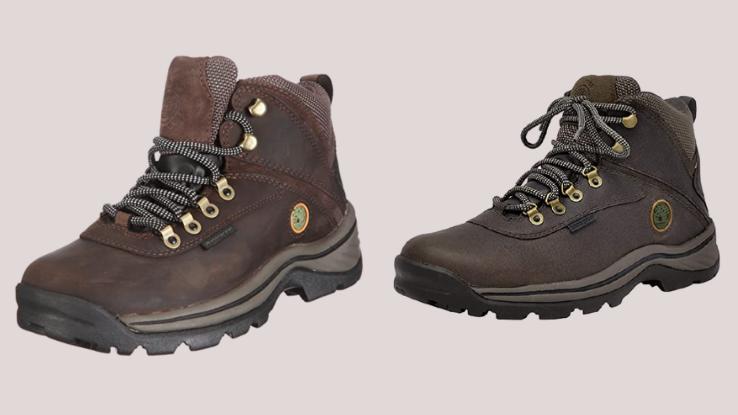 Looking for another seam-sealed option that prevents water intrusion on every level? The Timberland Men's White Ledge Mid Waterproof Ankle Boot provides the same great protection as the women's White Ledge, with full-grain waterproof leather that looks great whether you're on the street or on an off-roading adventure.
Best Overall: Nautica Boots
Looking for an all-around great winter boot? Turn to Nautica, a fashion-forward brand that has a wide variety of boots ranging from weather-resistant options to stylish, lightweight choices like the Women's Ensign Ankle Boot. While it's not designed for truly harsh climates, it's a stylish option that'll look great with your winter wardrobe and keep your feet protected.
The Nautica Men's Waterproof Shell Insulated Snow Boots are a great option as well, particularly if you appreciate the look of the classic and perennially preppy duck boots that are wintertime staples around the country. Featuring a grippy, waterproof shell bottom and vegan leather upper, they're the perfect winter boot for both light rain and snow conditions alike.