The Best Rowing Machines for Your Home Gym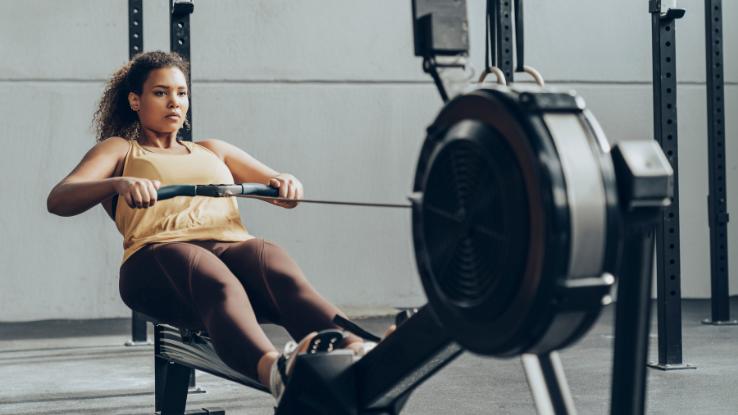 Rowing machines are becoming popular equipment choices in modern workout routines, and it's not hard to see why. These aerobic machines — which are meant to simulate the motions of moving oars through water to activate key muscle groups and give you a cardio workout — have a well-deserved reputation for building muscle, improving heart health, burning calories and promoting better exercise posture.
With varied resistance settings and an easy learning curve, these machines are great for working out your whole body and building stamina in your exercise routine. Aside from being excellent options for beginners and experts alike, rowing machines are nice additions to a home gym, especially if you're looking to get more variety in your workouts as the COVID-19 pandemic stretches on. Check out some of the best rowing machines to invest in to get the most out of your home workouts and stay engaged with your exercise routine.
How to Use a Rowing Machine Safely and Correctly
Rowing machines may seem straightforward, but there are many ways to use them incorrectly. Good posture and pacing can mean the difference between muscle growth and muscle strain. You want to ensure you don't use poor posture; otherwise, you could injure yourself and not enjoy all the benefits of a rowing workout. There's a right way to row, and it's important that you maintain this proper form.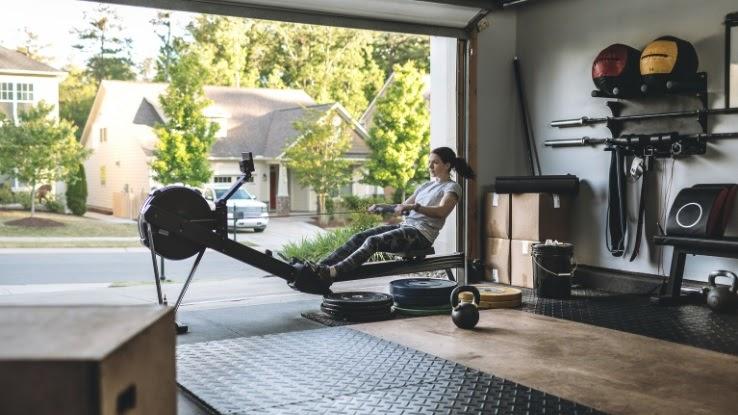 First and foremost, keep a straight back while rowing — don't hunch forward. If you feel the need to hunch in order to grab the handlebars, try adjusting the machine so the foot pedals are a different distance from the flywheel, which is the large, fanlike component that provides resistance for the machine. The shorter your legs are, the closer the pedals can be to the flywheel.
You also want to keep your knees straight — they shouldn't jut out to the sides of the machine — and your shins vertical. If you find yourself in this position as you row, you may need to lower the foot pedals. When you row, bring the handlebars to your chest, not your neck. The cable should remain parallel to the floor as you pull the bars to your body, and when you're in the finished portion of your rowing stroke, your hands should be about at the same level as the bottom of your ribcage. Place your hands on the far ends of the handlebar, not in the center, for a proper grip. This results in less tension in your arms and promotes better muscle growth.
Additionally, it's important to be aware of your strokes per minute and avoid overshooting your stroke number. On a rowing machine, progress is measured by quality, not quantity. Throwing yourself back and forth on the machine to bump up your stroke count can end in injury. Aim to keep your strokes at around 25 per minute for proper conditioning as you get started. This can help you maintain a healthy rowing form without straining your muscles in harmful ways. It's better to have fewer properly executed strokes per minute than more improperly executed strokes.
Quietest Experience: Magnetic Rowing Machine
This incredible rowing machine is ultra-quiet and ultra-techy. One of the neatest features of the Sunny Health & Fitness Magnetic Rowing Machine With LCD Monitor is, like its name suggests, the built-in LCD monitor. The console keeps track of your calories burned and time elapsed, and it also displays a scan of your prior fitness progress. Just below the console is an eight-level resistance dial. Turning this dial can decrease or increase the machine's magnetic resistance to match your workout needs, and it's easy to change throughout your workout to challenge your body in new ways.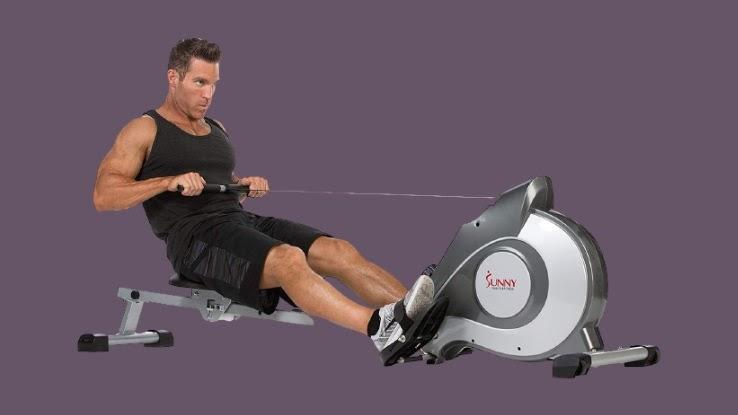 The build of this rowing machine is efficient and ergonomic. The handlebar is fitted with a foam grip to prevent strain and keep calluses from forming on your hands. The foot pedals are designed with grippy material and straps so your feet remain stable and secure during more vigorous rowing. Additionally, the slide rail is a full 48 inches long, so this machine is ideal for users of most heights. Plus, its built-in transportation wheels mean you can easily slide this machine into and out of a storage area if you don't have a dedicated spot for it in your home gym.
Most Authentic: Water Rowing Machine
This machine can bring you the closest indoor experience to actual water rowing. The Sunny Health & Fitness Water Rowing Machine With LCD Monitor has some of the same great features of the brand's magnetic rower, including a bright monitor to display and track some of your health and workout metrics. However, this rower model provides you with additional details, including metrics tracking for your strokes per minute, the ambient temperature and others. The machine's design also allows for maximum comfort throughout your routine. The padded seat and footholds promote correct posture, both while you're using the machine and while you're mounting and dismounting it.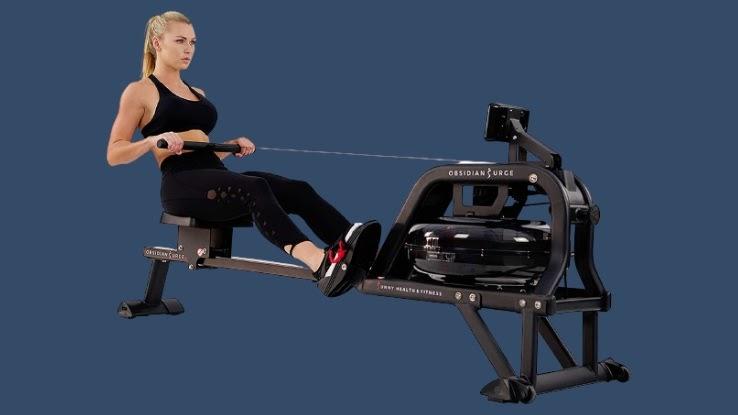 The most significant feature of the Obsidian Surge 500 that makes it such an authentic rowing machine is its reliance on water — yes, you'll need to add a few gallons once you get it set up — rather than magnets to create the resistance you need for an effective workout. The flywheel and hydro blades in the base of the machine create the feel of natural rowing resistance, as if you were actually moving oars through water. Although this version will cost you a bit more than Sunny's magnetic rowing machine, it's a durable choice for a dedicated rower.
Best Workout Variation: Rowing Machine With Multiple Resistance Levels
If you're looking for workout variation, the Sunny Health & Fitness Adjustable Rowing Machine is the investment for you. This rowing machine runs on a hydraulic resistance system and incorporates a whopping 12 resistance settings to allow for a range of workout adjustments. This makes it ideal for keeping up with shifting strength goals that change as you get fitter — or if you simply like to shift resistance levels throughout an exercise session to challenge your body more.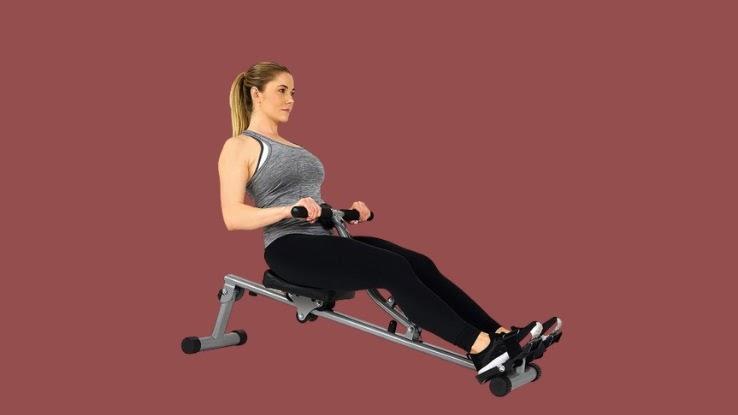 As far as build goes, the Sunny Health & Fitness Adjustable Rowing Machine is designed for efficient exercise without much additional fanfare. The handle comes with a small digital monitor to keep track of your workout progress without getting in the way of your rowing. The plush seat is built for comfort at any angle, as are the foam grip handlebars and the adjustable foot straps. You'll notice that it doesn't have a flywheel like some of the other models on this list, which makes it the best option if your home is a bit short on space.
This is also a cost-effective choice. With its compact build and various resistance settings, this is a stellar machine for any avid exerciser, but it's especially great for beginners who want to see if they can turn rowing into a habit before investing in a larger machine.
Best Space-Saver: Foldable Rowing Machine
This rowing machine isn't only high-tech and extremely efficient; it also takes up almost no room. The Bluefin Fitness Foldable Rower Machine withdraws into itself with the push of a button, making it an impressive option when you have limited space or don't have a home gym. That isn't where this machine's perks end, though. This techy item is highly connected, with a massive LCD screen and capabilities for video streaming, online resistance coaching and app control right at your fingertips while you're working out.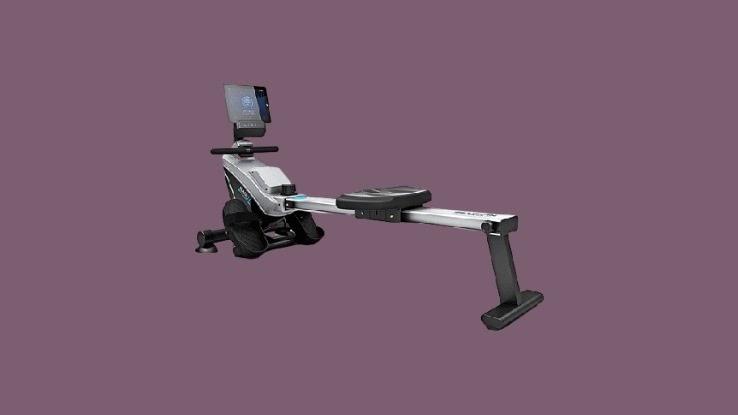 The machine runs on an eight-level magnetic resistance system and features an uber-smooth belt drive for steady rowing. It also boasts plenty of safety and comfort features, such as a cushioned exercise seat, easy-grip handlebars and foot pedals with secure straps. Although this rowing machine is on the higher end of the price scale, its space-saving design, high-tech interface and comfort-oriented build make every penny worth it.
Best Full-Body Workout: Incline Rowing Machine
If you're focused on a full-body workout, the FITNESS REALITY 1000 PLUS Bluetooth Magnetic Rowing Machine is a top-notch choice to help you reach your goals. The machine's flexible build and stabilizing foot pads allow you to perform multiple exercises in addition to rowing, including tricep extensions, grip curls and front/side raises. This makes it easy to work out various parts of your body without having to switch between multiple pieces of equipment.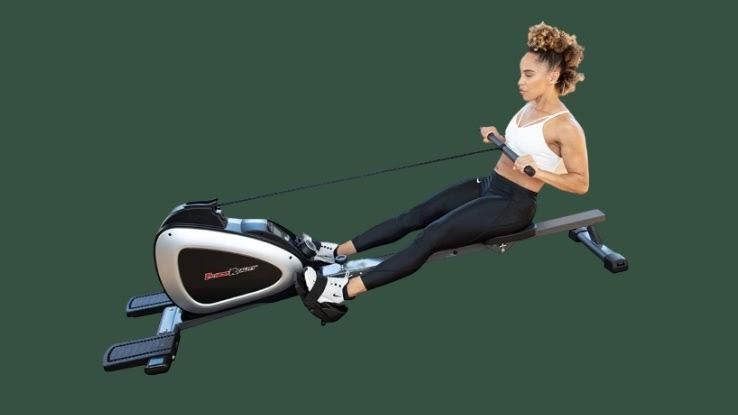 This rowing machine also comes with a unique Bluetooth feature that allows you to connect to multiple devices, including the My Cloud Fitness app, to help you track your workout progress and access exercise materials to guide and supplement your workouts. With its relatively affordable price, this all-in-one machine is a great investment if you aren't looking to fill your space with bulky workout gear but still want to enjoy effective cardio and weight-training sessions.