Gift Guide: The 5 Most Comfortable Birkenstock Sandals on the Market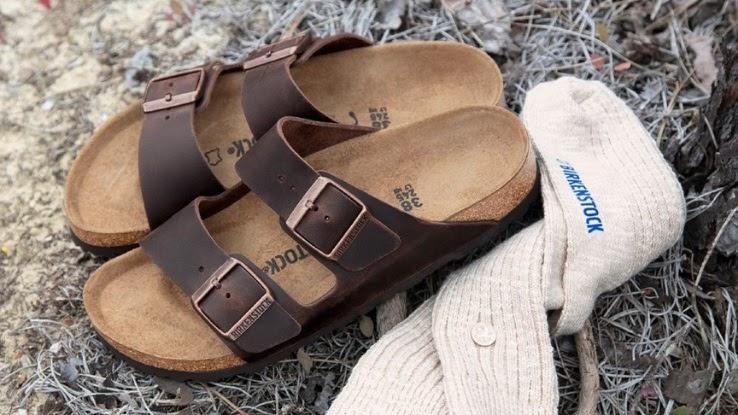 The Birkenstock brand has spent over 250 years perfecting a shoe footbed that excels in both comfort and support — and shoe designs that deliver style. With contoured cork insoles that provide some serious arch support, and top-notch materials that make every pair of these shoes built to last, Birkenstocks are designed to be as good for foot health as they are for your outfits.
Although Birkenstock originally gained popularity for selling insertable versions of its now-legendary insoles, it branched out into selling its footwear designs and built its reputation around several sandal styles that are still in production today. The company's lineup has since branched out to include dozens of different shoe styles, and Birkenstock regularly collaborates with top fashion designers to create striking, limited-edition runs of special footwear. It even produces lines of professional shoes geared for workers in the healthcare, culinary and hospitality industries whose jobs involve plenty of time spent on their feet. But the supportive basics are where the company really shines, and if you're beginning to build your Birkenstock collection, there are some essentials you really can't live without.
How Do You Break in a Pair of Birkenstocks?
Even though Birkenstocks are already some of the most comfortable shoes on the market, the first few weeks of wear can require patience. The orthopedic cork footbeds of these shoes are designed to gently mold to your feet as time passes, providing optimal heel, toe and arch support as they begin conforming better to each foot's unique shape. This makes them uber-comfortable in the long run. However, it can take a little time for your new Birkenstocks to mold to your foot shape. To stay comfortable from the outset, it's important to break them in.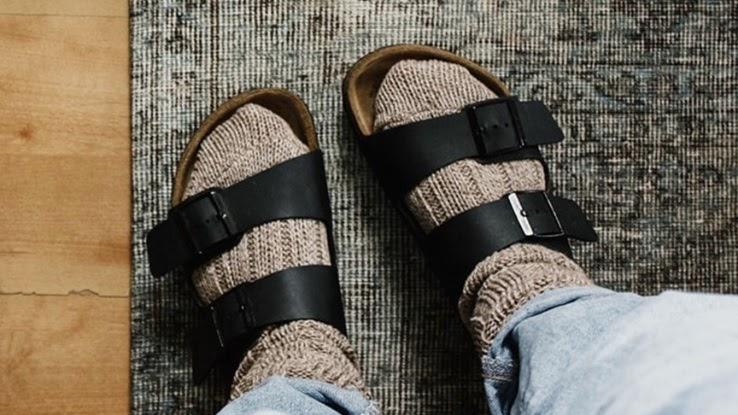 First and foremost, make sure you've got the correct size. Incorrect sizing will throw off your Birkenstocks' footbed-shaping formula and make your shoes uncomfortable. When you go to purchase a pair of Birks, you may notice they're not listed with U.S. sizing conventions. Birkenstock recommends adding 31 to your shoe size if you wear what are typically considered women's shoes and 33 to your shoe size if you wear what are typically considered men's sizes. This gives you the European size number, which Birkenstocks are often listed with when you need to make a selection.
Once you have the right size, you can bend and bow the shoes a little to loosen up the cork footbeds and make them more flexible. Start by wearing them for a half hour. After one day, upgrade to an hour of wear. Continue to add a half hour or so each day that you wear the shoes until your Birkenstocks feel just right. This can take a couple of weeks, so consistency is key. If you have sensitive feet and you're concerned about getting blisters as your Birkenstocks shape, feel free to wear them with socks to limit irritation or rubbing.
If you take good care of them, Birkenstocks can last for years. With that said, you want to make sure you don't overexpose them to the elements. Birkenstocks have natural cork soles so they can shape to your feet, and cork is a renewable material — it's actually a type of tissue that comes from a certain oak tree. That means it's comfortable, but it's also an organic material that can begin to break down after long-term moisture exposure or overexposure to sunlight. Multiple trips through the rain can cause the cork in the footbeds to become misshapen, even after it's conformed to your feet. If you want to keep your Birks in good shape, make sure you avoid frequent wet treks and that you keep them out of direct sunlight to prevent dry rot.
Arizona Sandals by Birkenstock
The Arizona sandals from Birkenstock are stylish, classic and cozy shoes for anytime wear. This style is one of the most popular types of Birkenstocks available, having been produced in the same way since the early 1970s. The double-strap design on the Arizona sandal allows for a comfortable fit that still holds the shoes securely on your feet. The high arch support and toe grip that this style provides add to the ergonomic quality of the shoes without sacrificing their style.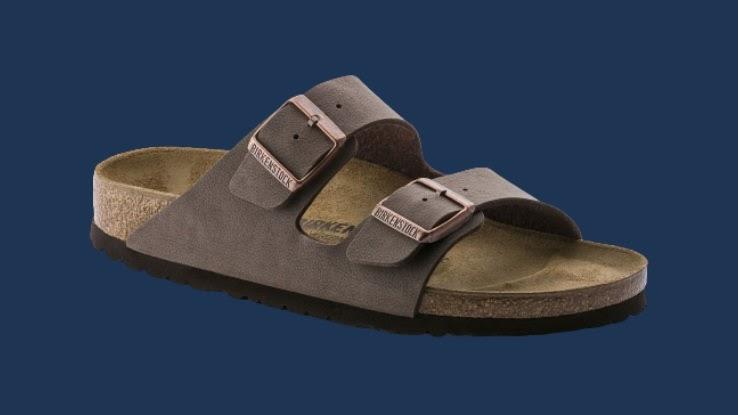 The Arizona sandals also feature Birkenstock's signature cork-latex footbed, which is what's responsible for conforming the shoe to your specific foot shape. With maximum breathability and comfort shaping, you might find that Arizona sandals are the next best thing to walking around barefoot. And, as one of the company's most popular styles, the Arizonas come with upper straps made from a vast array of materials and in an equally broad selection of colors and patterns, so you're sure to find a pair that harmonizes with every outfit.
Mayari Sandals by Birkenstock
These shoes add a bit of extra flair to the staple strappy-Birkenstock style. This modernized version of the thong sandal is designed with both sophistication and practicality in mind. The Mayari sandal is built with one strap near the forefoot area, two overlapping straps near the back of the instep and a loop that secures comfortably around your toe. The sleek straps are made with 100% real leather.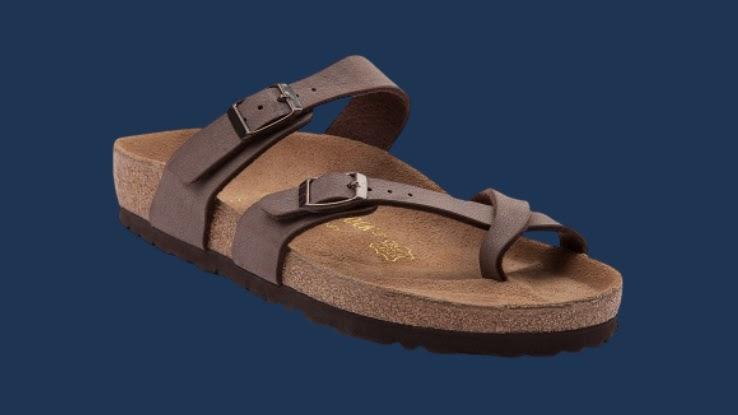 Another attractive feature of this style is the ethylene vinyl acetate (EVA) sole. This material is a highly popular component in athletic shoes due to its comfort and flexibility, providing extra cushioning and rebound while resisting cracking and hardening. Thanks to the perfect pairing of the cork footbed and arch/toe support, the Mayari sandal is designed to impress while preventing your feet from becoming fatigued. This elegant Birkenstock sandal is perfect for beach days, times when you need something a little dressier and every occasion in between.
Boston Clogs by Birkenstock
You simply can't go wrong with these classic favorites, especially if you're looking for a closed-toe option. Like the Arizona, Boston clogs were officially introduced in the 1970s, and, after several refinements over the years, are supreme in structure. These slip-on shoes feature a soft top that protects your feet and adjustable straps to ensure they fit snugly. The synthetic sole and contouring cork footbed, as always, ensure lasting comfort long after the shoes first shape to your feet.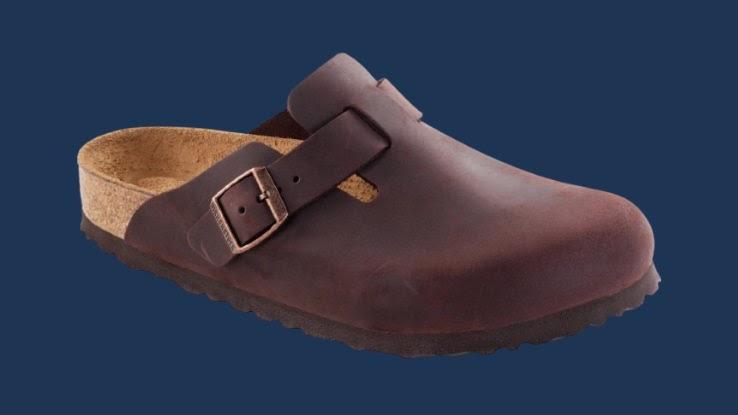 You can get Boston clogs in both smooth leather and suede leather, with some of the leather uppers oiled down to give them a clean, matte appearance. They're a stellar option if you're looking for a practical shoe that puts comfort at the forefront of its design but also provides some added warmth on those chillier days.
Florida Sandals by Birkenstock
Above all else, Birkenstock Florida sandals are perfect for a day spent in motion. With three upper straps and a deep heel cup, this style is designed to grip to your feet and not let go. The Florida sandals are made for support and structure, as their cork-latex footbed, their raised toe bar and their foam-latex cushioning all demonstrate.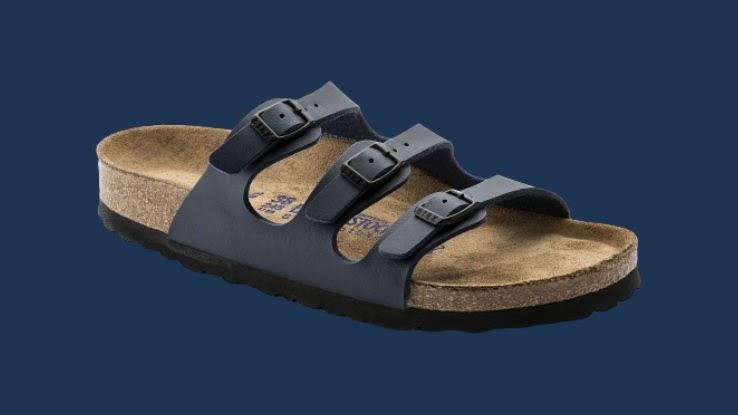 The Florida sandals are great if you're regularly on your feet but find yourself missing out on strong support from other footwear. The support-oriented design of the Florida sandals helps to keep your feet from becoming sore while imparting an added dash of style to your outfit thanks to the three thinner straps.
Gizeh Sandals by Birkenstock
This flip-flop-style Birkenstock design is another more substantial and supportive twist on the thong sandal. With an adjustable strap that fits high over the instep of your foot, the Gizeh sandals stay secure without rubbing your toes or heels in an uncomfortable way. These high-quality shoes are made with 100% real leather uppers, ensuring that the sandals will look fresh out of the box and last for years with proper maintenance.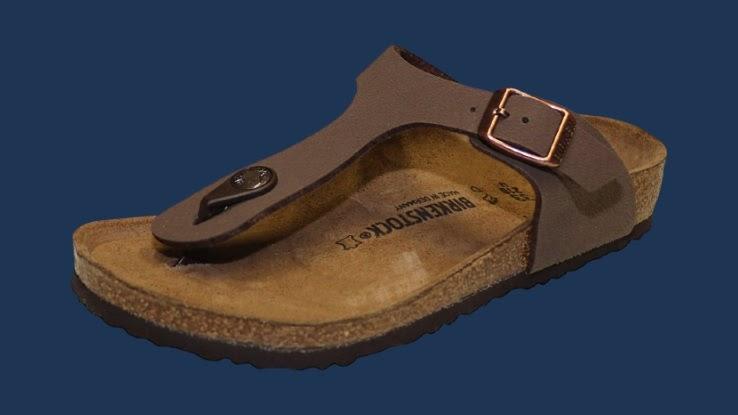 Like the Mayari sandals, Gizeh sandals are built with a comfort-oriented EVA sole and a snug cork midsole that alleviates toe pressure. They're a great choice when you want a more minimalist or delicate style — more of a departure from the solid look of the Arizonas and Bostons — that still prioritizes wearability and comfort.