These Glitter Dresses Will Dazzle Up Your Look at Any Price Point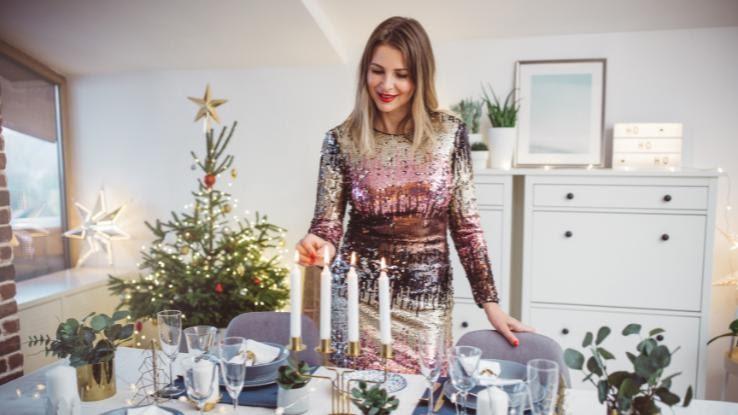 While most of us will be devoting at least some of our time during this year's holiday season to navigating changes related to the COVID-19 pandemic, there's no reason that we can't still enjoy a little holiday magic. Sure, things will be different this year, but that's actually a great excuse to get different with our wardrobes and infuse them with some extra sparkle. If we can't spend too much time outside the house making spirits bright, we can certainly invite all things merry and bright into our homes — where, yes, we'll be spending quite a bit of time. And when it comes to this year's holiday-worthy attire, the glitter dress is a no-fail staple for celebratory special occasions, from Hanukkah to Christmas to New Year's Eve.
With 2020's parties being few and far between — and with the new need to convey holiday cheer through computer and smartphone screens during virtual parties — nothing beats a glitter dress for cheering things up and dazzling friends and family. As an added bonus, you can find some amazing deals on gorgeous dresses to wear in years to come. That's why we've rounded up options to suit every budget, along with fun accessories to pair with them for ultimate sparkle.
Under $75: JCPenney J Taylor Short Sleeve Cape Evening Gown
If you're looking to add a little sparkle to your life without making a huge investment — or if you're not so sure about wearing full-on sequins — check out this JCPenney J Taylor Short Sleeve Cape Evening Gown. Available in both navy and pink, it features a sleeveless top covered by a fun and floaty chiffon evening cape that adds some visual interest to the silhouette. It's also a nice choice for a dress you can wear all year long, especially if you live in an area where winters tend to be on the milder side. Should you wear it on a chillier occasion, you can always cover it up with a gorgeous wrap.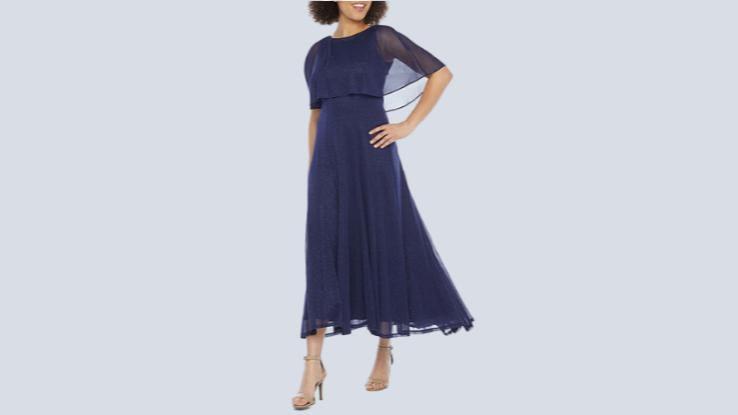 When it comes to accessorizing, look no further than this JCPenney Made in Italy Sterling Silver 7.5-inch Diamond-Cut Wheat Chain Bracelet. This beautiful, Italian-made bracelet is crafted from sterling silver and is weighty enough to have a nice drape. It features a lobster clasp for extra security and is a versatile choice for everyday wear, too, whether you're pairing it with a dressier look or using it to elevate your favorite workwear.
Under $100: Verdusa Women's Ribbed Glitter Long Sleeve Dress
Get your sequined style on with this Express Sequin Wrap Front Dress. Available in both sultry gunmetal and bright blush hues, this short-sleeved V-neck dress is totally covered in light sequins for a dazzling sparkle effect in any lighting. The front is cut in a faux wrap style, while the back has a hidden zipper and top hook. The bottom hem falls right above the knee in the front and trails down slightly lower in the back for a fun high-low look. Plus, it's roomy and comfortable — which is great, should you find yourself in the middle of an impromptu Zoom dance party this year.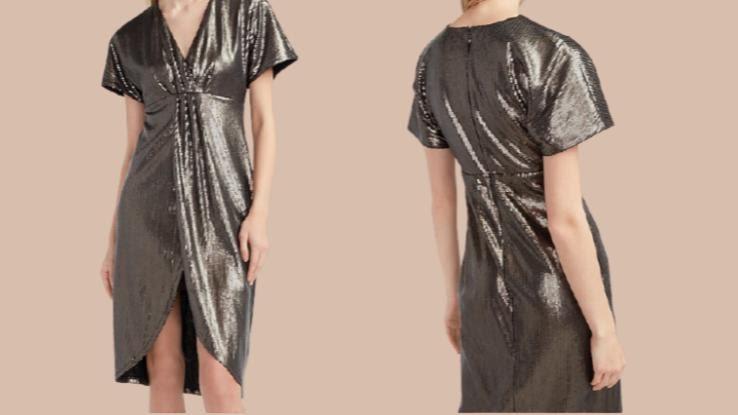 If you're looking for the perfect hair accessory to add some extra shine to your outfit, the Express Chain Rope Hair Clip in Gold should do the trick. This shiny metal hair clip is one of those great accessories that look way more expensive than they actually are. Featuring a chain rope design and a secure clasp closure, it's a great way to dress up your look even more and keep your updo hairstyle in place at the same time.
Under $150: Velvet Burnout Floral Maxi Dress
Looking for an elegant black dress that's actually great for, well, any occasion when you want to wear a black dress? Feast your eyes on the Express Velvet Burnout Floral Maxi Dress. It'll infuse your holidays with some boho flair thanks to its soft velvet fabric, eye-catching floral motifs and all-over glitter that's subtle — but not too subtle. The sheer balloon sleeves make it a solid choice for a fall or winter look that won't leave you sweating in front of the fireplace, and it also makes a nice layering choice under your favorite winter shawl or coat.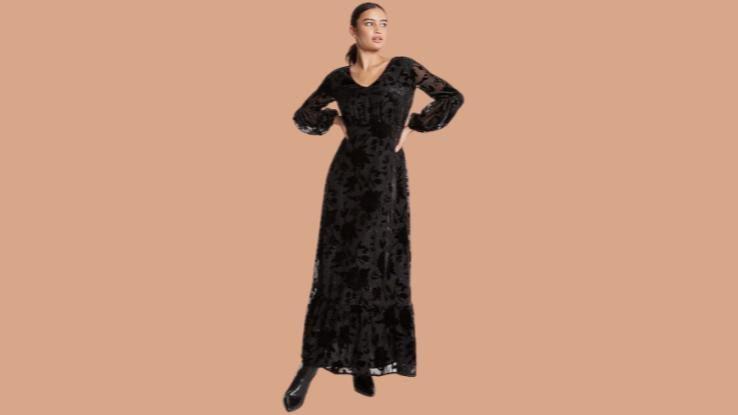 Complete the look with the Express Shiraleah Cameron Snap Frame Clutch, which gives you the perfect way to carry your essentials in style. It's available in several different colors and styles, including black satin and faux snakeskin (it's vegan!). With an inner zip pocket, slip pockets and a removable crossbody strap, it could become a go-to essential you'll enjoy using for years to come.
Under $250: Adrianna Papell Women's Short-Sleeve Allover Sequin Gown
If you're ready to invest in a dress that brings some serious sparkle whenever you wear it, this Adrianna Papell Women's Short-Sleeve All Over Sequin Gown will certainly help you reach that goal. This stunning short-sleeved, scoop-back gown comes covered with intricate beading for a look that emanates pure elegance. With a semi-fitted silhouette, a short train and a zip back closure, it's an amazing choice for any event or occasion — but especially those that require dressier attire.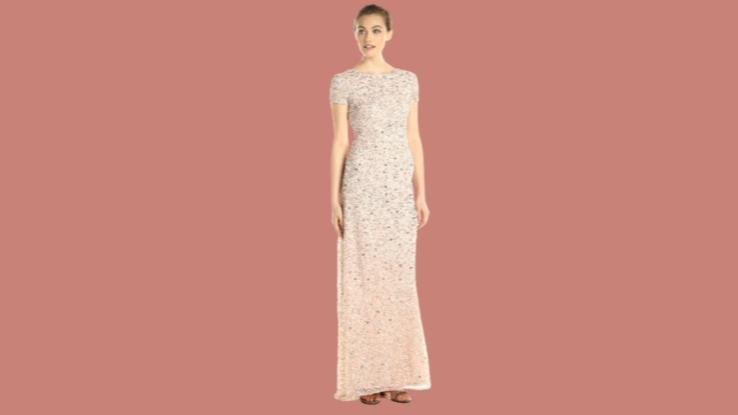 Want an opportunity to go super glam? Finish off the look with this stunning Swarovski Women's Infinity Knot Rose-Gold Tone Finish Bangle Bracelet. It creates a layered look with a sparkling crystal infinity symbol on a rose gold-plated band beneath an additional golden chain and crystal. If you're looking for an amazing gift, either for a loved one or yourself, you can't go wrong with the sparkly allure of Swarovski crystals. Plus, it's another one of those pieces that takes an everyday jeans-and-tee look to a more elegant level.
Under $300: G. Label Bryson Sequin Dress in Jet
If you're ready to make some serious impact at your next New Year's Eve party, this G. Label Bryson Sequin Dress in Jet will have all eyes on you — and have you feeling like an off-duty superhero. The entire gown is decked out in sequins, from its deep-V neckline to its floor-length hem (and let's not forget its daring above-the-knee slit). It's sure to turn heads wherever you go, even if that happens to be the living room for a holiday happy hour over Zoom. With ruffled shoulders, bracelet-length sleeves and plenty of edgy appeal, this dress gives you an incredible way to make a statement without uttering a single word.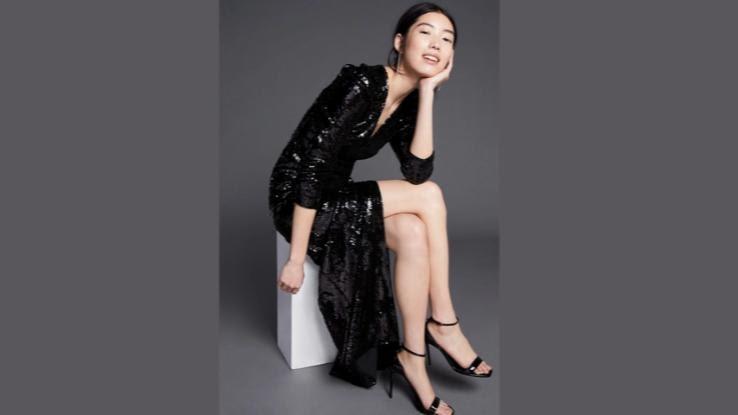 Accentuate the look with a simple but chic accessory like this Essential Box Chain Necklace. This beautiful brass chain adds some interesting texture with its interlocking, squared gold links for a look that's the picture of understated elegance. Wear it with your flashiest ballgown or use it to dress up your everyday look.
Under $350: Adrianna Papell Women's Long Beaded V-Neck Dress With Cap Sleeves and Waistband
Ready to go all out with a splurge you'll always turn to in times when elegance is essential? Treat yourself to the Adrianna Papell Women's Long Beaded V-Neck Dress With Cap Sleeves and Waistband. It features delicate curved sleeves, a swooping V-neck and intricately designed beadwork that gives it seriously classic, Gatsby-worthy beauty. In addition to glamming up the holidays, inviting this piece into your closet helps ensure you'll never get caught without the perfect dress for weddings or other formal events.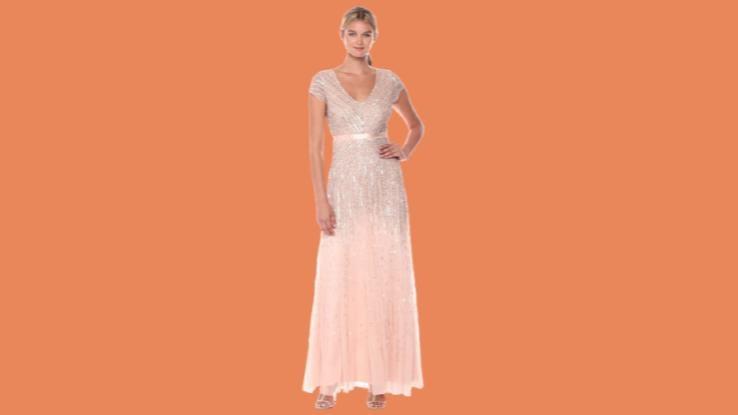 No dress is quite complete without the perfect pair of shoes, right? That's where the Steve Madden Carrson-R Heeled Sandal comes in. These 4-inch heeled sandals are made with a suede upper and are fully dripping in sparkly rhinestones that make for the perfect complement to shimmering dresses and basic bluejeans alike.