The Most Realistic-Looking Artificial Christmas Trees for Your Home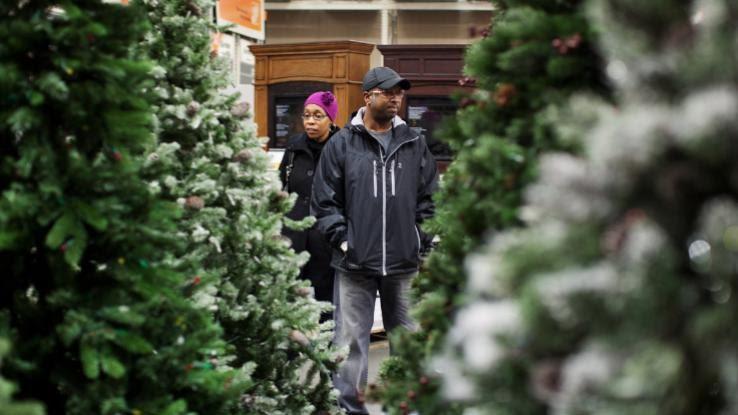 Sure, a freshly cut Christmas tree smells great — for a few weeks while you're also dealing with the high cost, the hauling home, the dog drinking its water and the eventual crispy fire hazard it becomes. It's nothing against real trees; they are gorgeous, after all. But if you're looking to simplify your Christmas decorating and make things easier on yourself year after year, an artificial tree is really where it's at.
These low-maintenance beauties are convenient and eco-friendly, and you won't have to worry about logistics like disposal (raise your hand if you've ever abandoned a live Christmas tree in your backyard and it turned orange). Plus, they'll help you save on costs as they pay for themselves over time. What's even better? Today's artificial trees look so real that you can't tell they weren't felled in a snowy thicket by an axe-wielding lumberjack — and participants on your socially distanced Zoom Christmas party definitely won't know the difference. If that all sounds like music to your hall-decking, tinsel-tossing ears, take a look at some of the most gorgeous and realistic artificial Christmas trees available today.
Best Overall Tree
If you're looking to go-all out with a lush artificial tree that will last you for years, the Jackson Noble Fir LED Pre-Lit Artificial Christmas Tree can meet — and exceed — your needs. Standing at an impressive 9 feet tall and 5 feet wide at its base, this faux fir boasts 6,118 flame-resistant brush tips (the more there are, the fuller the tree looks) and 1,500 energy-efficient LED lights for a fabulously full look that's plenty bright and realistic. For easy setup and takedown, the tree comes in three quick-attach sections.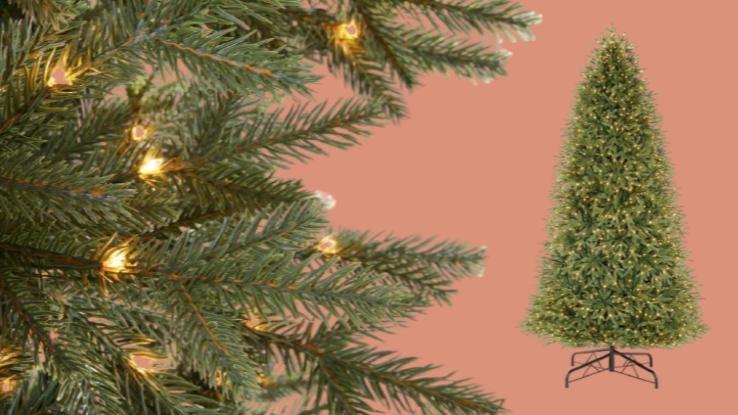 In addition to not having to hang lights on it yourself, you'll also be able to turn the tree on from across the room thanks to its remote control that you can use to select eight different light settings. With its ultra-thin lining that makes the branches look even more realistic, this is a high-quality tree to choose if you're looking to infuse your home with the Christmas spirit and you want to go for a more traditional look each year.
Best Pre-Lit Tree
If you can't get enough Christmas lights but don't necessarily love trying to hang them yourself — it's not exactly the most exciting part of trimming the tree — then the Elegant Grand Fir LED Pre-Lit Artificial Christmas Tree With Timer is the top option for you. This 9-foot-tall artificial fir comes with an incredible 9,953 branch tips for a super-realistic look and plenty of room for ornaments.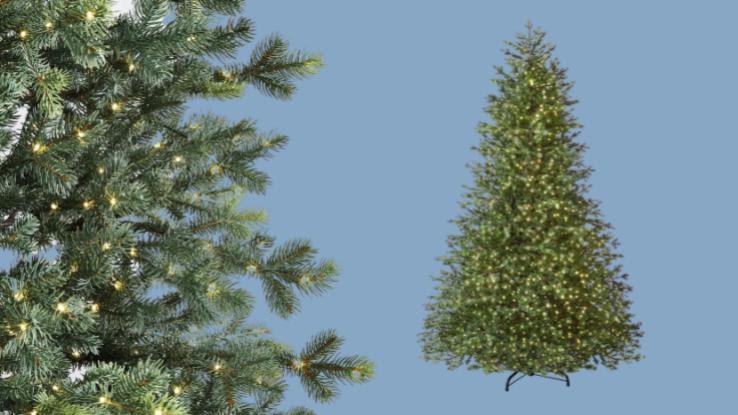 Best of all, it's also pre-lit with 3,000 dazzling LED microdot lights — small bulbs that boast excellent energy efficiency — and comes complete with a remote control and timer. With a 63-inch base diameter and a plug on top for installing a light-up star, angel or other topper, this one is a great choice if you want a long-lasting tree that brings all the joy of Christmas and none of the frustration of untangling endless strands of lights.
Best Tabletop Tree
Okay, how adorable is this Charlie Brown Tree? It's the perfect accessory for adding some nostalgic delight to your office desk, and it couldn't be cuter as a dinner table centerpiece or the star of a decorative vignette on your mantel. At 24 inches tall, it'll fit just about anywhere you want to tuck it — but it's got enough charm (that's Linus' blanket!) that it certainly won't fade into the background. And if that wasn't enough to convince you, it even plays the classic Peanuts theme song.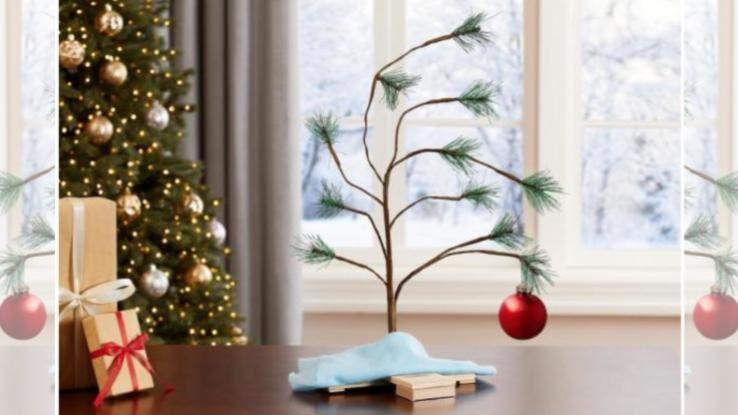 Just prop it up, adorn it with its lone ornament and wrap the blanket around its base for a heartwarming display you can enjoy all season long. If you're planning to introduce your kids to the magic of A Charlie Brown Christmas for the first time this year, this fun-sized fir can make the moment even merrier.
Best Value Tree
Want to get the most branch for your buck? Your wallet and your living room will appreciate the Wesley Long Needle Pine LED Pre-Lit Artificial Christmas Tree, which is available for less than $200. Standing at a respectable 7.5 feet tall, it features 1,342 artificial evergreen branch tips and 550 pre-lit color-changing LED lights — pretty respectable numbers, considering this tree's comfortable pricing.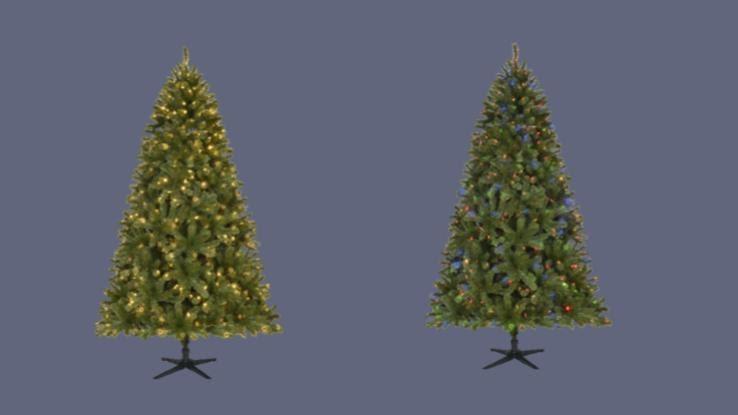 Not only do the lights come with eight color and illumination settings, but they're also designed with SureBright technology to ensure that one faulty bulb doesn't cause the entire tree to go out. In addition, the branches are hinged for easy setup, and with a bit of fluffing after it's been in storage, this pretty pine will stay looking great for many Christmas seasons to come.
Best Budget Tree
Whether you're interested in saving space or money — or both — this holiday season, the 4-foot version of the Dunhill Fir Artificial Christmas Tree will fill you with joy. With a slim 35-inch base diameter, it offers a great way to bring the Christmas spirit to any space, even a smaller den or the kids' bedroom.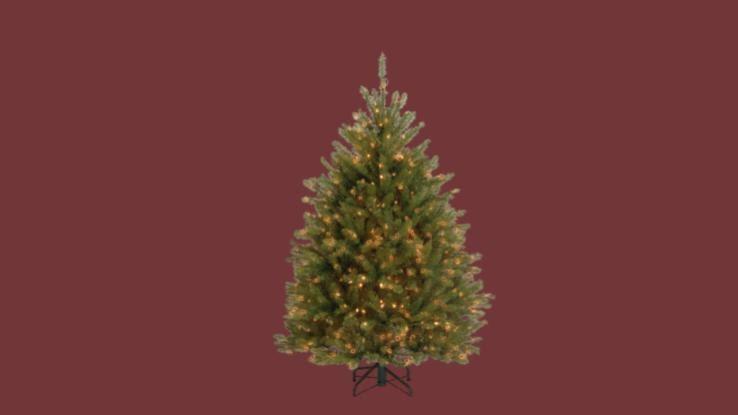 It comes with 450 pre-strung lights, spare bulbs and fuses, 559 branch tips and a sturdy metal folding stand — all the essentials for ensuring it looks perfectly ornament ready right out of the box. When you're ready to tuck it into storage after the holidays, it breaks down into two parts for effortless cleanup; it can easily fit under a bed if you're short on space. This is a great little tree that's also available in 6- and 7-foot options if something a bit bigger might look better in your home.
Best Color-Changing Tree
In the market for more of a colorful stunner? If you're up for a whimsical artificial Christmas tree that gives you the option to buck tradition, the Swiss Mountain Black Spruce Twinkly Rainbow Christmas Tree is right up your prismatic alley. This 9-foot dazzler is ready to make a colorful statement with its 6,144 rainbow-colored artificial Evergreen branch tips.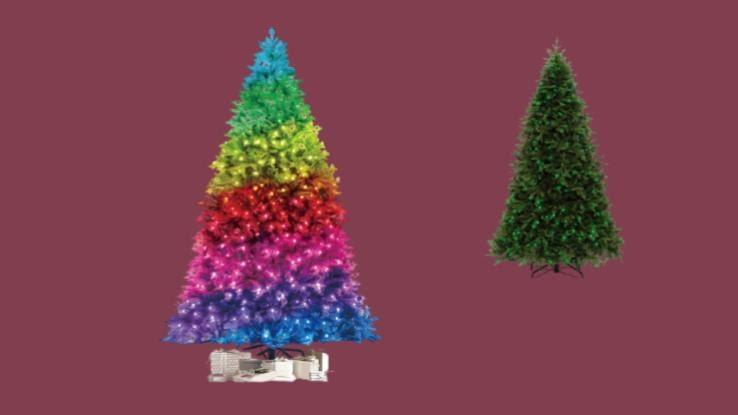 It's also outfitted with 600 twinkly LED lights that you can control from an accompanying app on your smartphone. Perhaps the best feature of this tree — aside from its rainbow tones — is the fact that you can switch over to plain white lights at a moment's notice if you feel like looking at a classic Christmas tree. Along with a massive 72-inch base diameter, it includes a folding metal stand and enough holiday magic to last you years.
Best Snow-Covered Tree
Love the look of a white Christmas but don't live in the right climate to see a dusting of the good stuff on the ground? With the Starry Light Frasier Fir Flocked LED Pre-Lit Artificial Christmas Tree, you can bring the joy of snow — without the chilly temps or moisture — right into your living room, no matter where you are.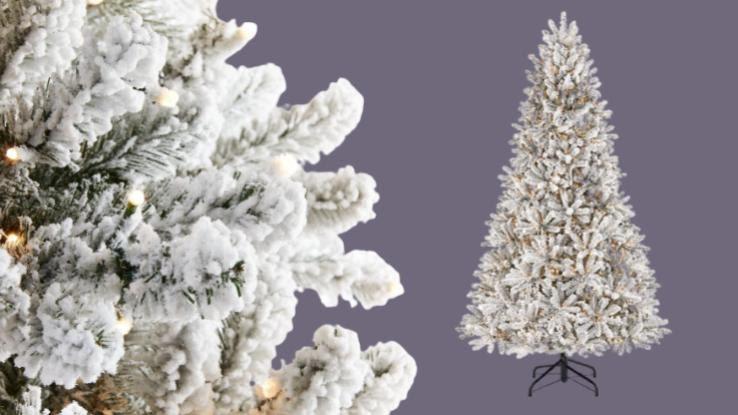 Standing at 7.5 feet tall with a 52-inch base diameter, this tree is on the space-saving end of the spectrum but still boasts 1,910 artificial fir branch tips that you can shape to suit your tastes using their memory wire mounting. The frosted limbs are decorated with 1,500 pre-strung lights that operate using a handy foot-controlled on/off switch, and the flocking is truly authentic — this tree will have you feeling like you're waking up at a ski chalet on Christmas morning.