The Best Dining Chair Sets at Any Price Point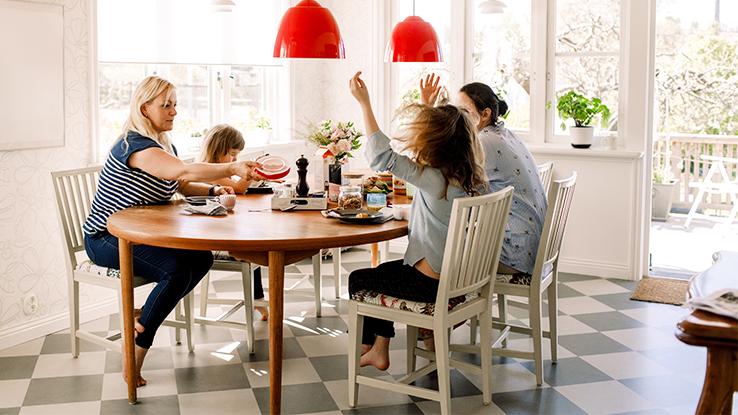 Ready to refresh your dining room's decor? Updating your space by adding a new set of dining chairs is an easy way to reinvigorate the look of the room and help your family and guests stay more comfortable in the process.
Dining room chairs are the type of furniture that you'll use every day for years to come, so it's important to find the right ones for your needs. Not only that, but dining chairs tend to set the mood and tone of your entire dining room. When finding the best set of chairs for your space, take into consideration things like its overall style, the material it's made from, its cost and its size to be sure it'll fit into your space. Finding a set that blends all these elements ensures you'll have chairs that are ideal for your lifestyle, your wallet and your decorating sensibilities.
Now, check out this selection of chairs that prove an upgrade doesn't necessarily have to cost a fortune. We've got a variety of dining room chairs at every price point, from amazing budget finds to high-end chairs that will last you for years — and look great doing it.
Under $150: HomePop Parsons Geometric Dining Set or Burris Black Chairs
Who says a great set of dining chairs has to break the bank? Not us. If you're looking for new chairs to outfit a traditional dining room, check out these HomePop Parsons Geometric Dining Chairs. They're upholstered for added comfort, and their fabric options come in a wide variety of colors and patterns. That makes it easy to find the perfect match for your space.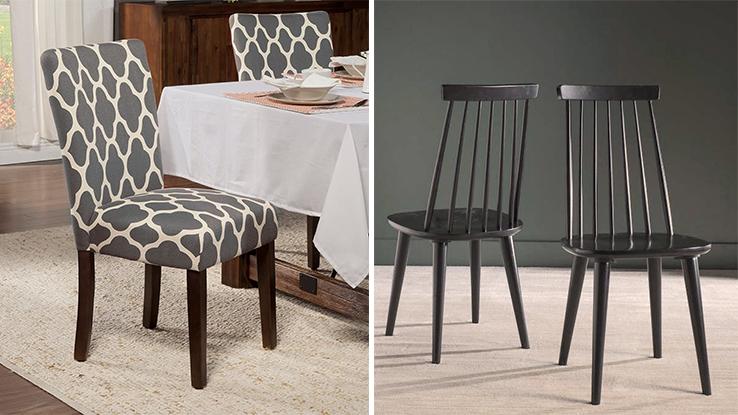 If you're going for more of a traditional or minimalist look — maybe you don't prefer the solid backs of the Parsons chairs — then a pair of these Burris Black Dining Chairs offers a great way to go. Crafted from sturdy rubberwood with a glossy black finish, these sculptural, Windsor-style dining chairs go well with a variety of styles. Whether your style is more classic or mid-century modern, they add a beautiful accent that doesn't look out of place.
Under $200: Coavas Cushion Seats or Crown Ivory Linen Dining Chairs
If we may say so, a full set of four dining room chairs for less than $200 is a pretty amazing deal. And you can save big when you check out these Coavas Cushion Seats. This set of sturdy padded chairs boasts wear-proof linen upholstery and metal legs with anti-scratch pads to protect your floor. Plus, they're undeniably mid-century modern in style, so they're ideal if you're looking to explore this decorating trend.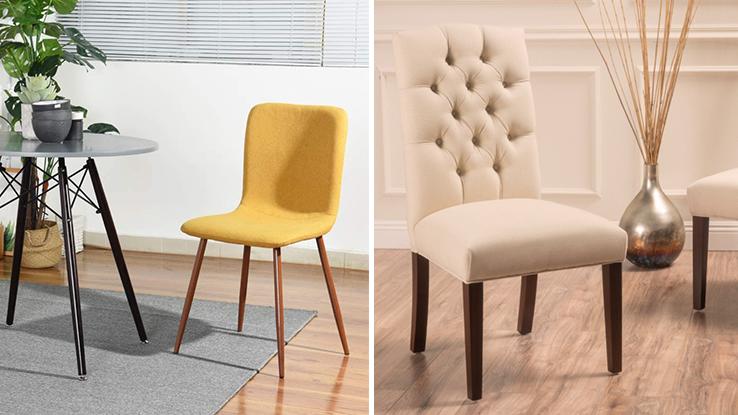 If you only need a pair of chairs, then these Crown Ivory Linen Dining Chairs are also available at a great value. They're made with a sturdy metal frame and designed with classy tufted linen upholstery that creates an undeniably sumptuous look. They're available in several different colors, including a variety of neutral tones that make them easy to match with your existing decor.
Under $250: Bella Beige Upholstered Dining Chairs or Transparent Stacking Seats
Prefer that your dining chairs make a statement? Add a substantial dose of elegance to your table with a pair of Bella Beige Upholstered Dining Chairs. These beautiful sloped armchairs are made from a solid pine wood base with fabric upholstery, complete with round tacks for added visual interest and a bit of rustic flair. The seats are also constructed with foam for maximum comfort, and the legs feature floor glides to prevent scratching.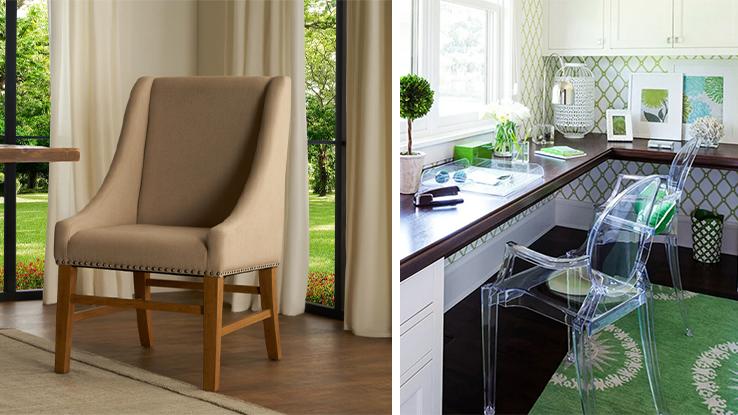 If you're looking for something a little more casual — and highly show-stopping — then these Transparent Stacking Seats are great backup chairs to have on hand for guests. Made from heavy-duty plastic, you can stack them for easy storage when they're not in use or use them in virtually any other room in the house. They're a nice lightweight option that couldn't be easier to clean.
Under $300: Keyhole Back Chairs or Laurelhurst Dining Armchairs
Give your dining room a touch of artistic flair with these modern, geometric Keyhole Back Dining Chairs. Available in a variety of colors, they're made from solid rubberwood frames topped with your choice of linen or faux leather upholstery. The uniquely designed padded backs make them both comfortable and an interesting focal point.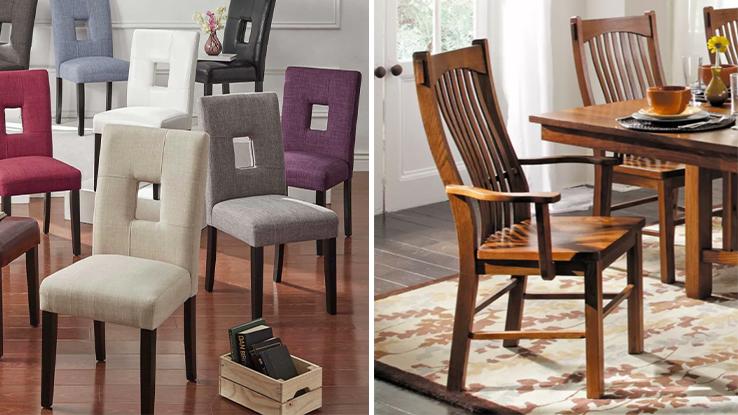 If you'd rather go with a touch of classic Americana, take a look at the Laurelhurst Dining Armchair. This gorgeous solid red oak armchair brings an updated look to a traditional aesthetic thanks to the gently curved backs. Those curved backs also provide added comfort and support, making these chairs a beautiful addition to any traditionally decorated dining space.
Under $500: Canary Gold and White Velvet Dining Chairs or Margarite Seats
Want to go all-out opulent? Then feast your eyes on the luxurious Canary Gold and White Velvet Dining Chair. Made from gold-toned metal bases with curved backrests, this chair set is a great way to glam up your dining room. The chairs also boast velvet seats that are available in different colors, so they're sure to add some pizzazz to your dining space.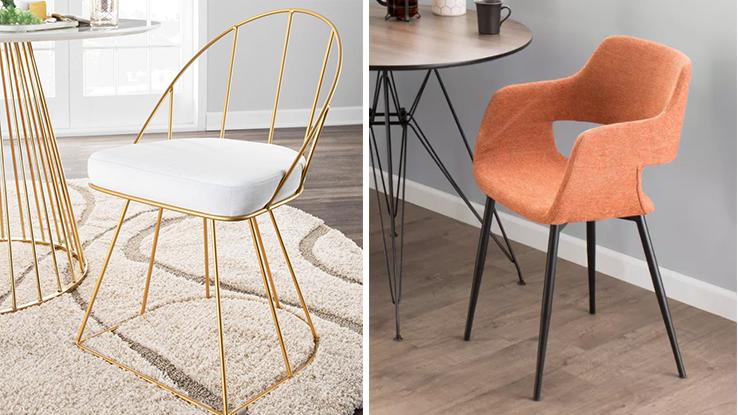 If you're aiming for a mid-century modern look that's been updated with some 21st-century sensibilities, this pair of Margarite Chairs is also a great choice. Featuring a low backrest, foam seat cushions and tapered metal legs, they're offered in a variety of colors to match your style. Weighing in at just 14 pounds, they're also as easy to move as they are stylish.
Over $500: Tolivere Green Velvet Dining Chairs or Brigham Seats
If you're in the mood to pull out all the stops, then it doesn't get any classier than the Tolivere Green Velvet Dining Chair. This Art Deco-style piece features tufted velvet upholstery on a sturdy steel frame. It's an easy way to instantly add a dash of timeless swag to your dining room. Despite its definite 1930s style, this chair also harmonizes well with furniture from a variety of other time periods.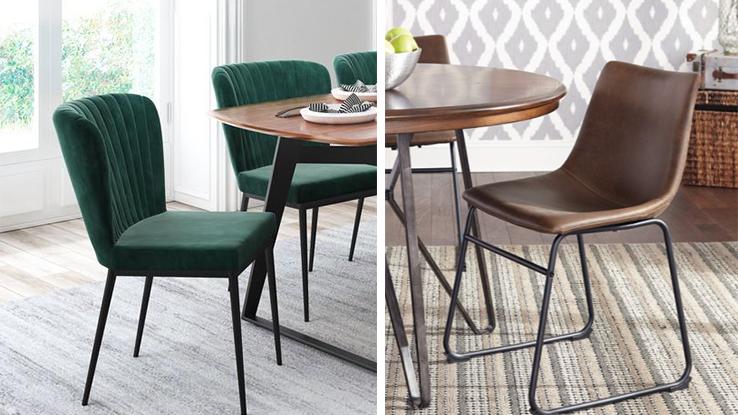 Want to get not only a full set of dining chairs but a table as well? If so, then the Brigham Dining Set has you covered. You'll get four vintage-style chairs with faux leather bucket seats and a charming walnut table to match. This is a great choice for transforming your whole dining room without having to worry about mixing and matching pieces.