Everything You Need to Know About Exterior Paints for Your Home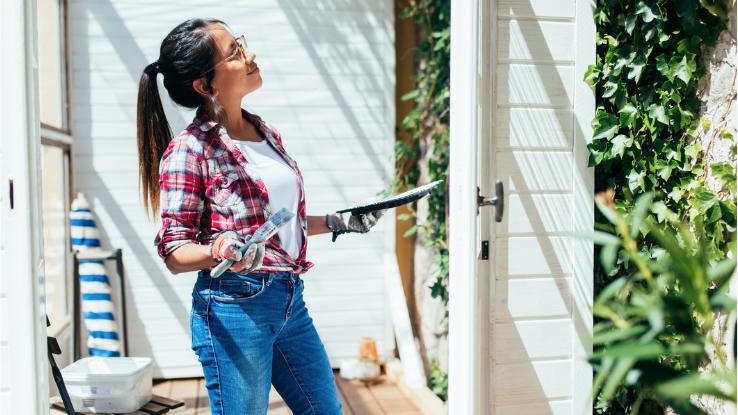 Without a doubt, a new coat of paint is one of the best and easiest ways to freshen up your home, but that doesn't mean you won't have questions about the process. After all, it's a big commitment and long-term investment, so you've got to get it right. Whether you're worried about weather damage or picking a color that really pops, we've got all the tips and tricks you need when it comes to selecting the perfect exterior paint for your home. Grab your brushes and rollers — it's time to paint (without the pain and hassle)!
How Much Exterior Paint Will I Need to Paint My Home?
When it comes to painting your home, it's important to do things the right way. That is, don't choose between quantity and quality. Instead, find a high-quality paint — and enough of it. In the long run, a more expensive, longer-lasting paint choice will save you money even if the upfront cost feels a bit high.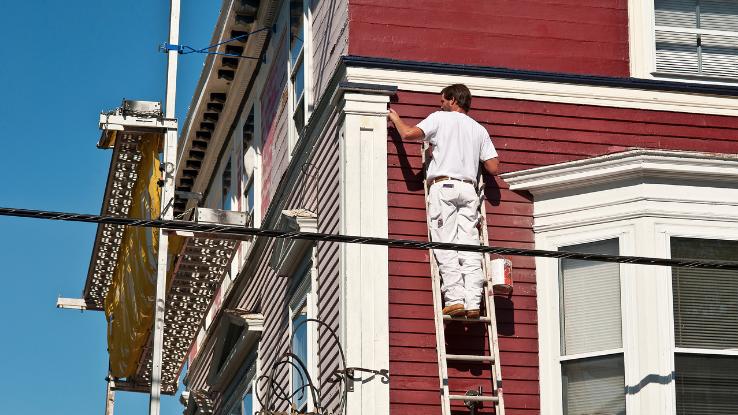 On the quantity side of things, we recommend using a handy paint calculator, which translates square footage into paint gallons with ease. More of a mental math person? The low-tech way to calculate your paint needs is pretty simple: It takes roughly two coats to cover a home exterior and, on average, a single gallon of paint can knock out 400 square feet of your home. Pro Tip: When in doubt, professional painters over at HomeAdvisor recommend adding an extra 10 or 20% to your overall square footage.
How Do I Calculate the Total Cost for Painting My Home?
According to the fine folks over at HomeAdvisor, repainting the average house costs homeowners between $1,700 and $3,700, but the experts also acknowledge that you can save a fair bit of cash by making some smart choices. Before investing in gallons and gallons of exterior paint, it's important to consider your endgame.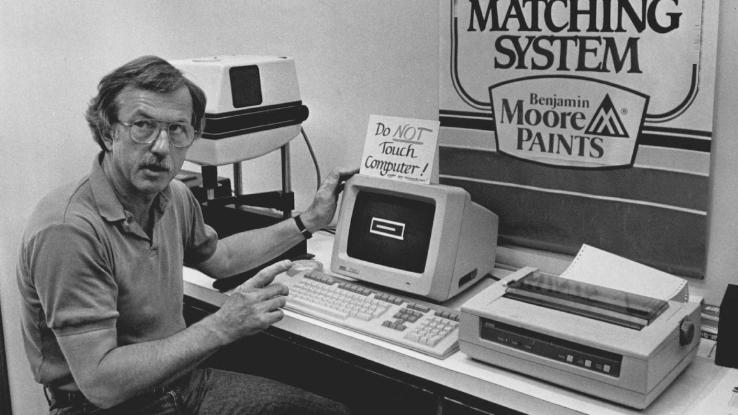 That is, are you hoping to boost your home's retail value, add some much-needed curb appeal or simply try something new? Your goals can often dictate how far you're willing to stretch the ol' wallet. Another factor to consider is that cost often varies by location, so make sure you shop around for competitive quotes in your area, especially if you're working with contractors.
Can You Paint Your Home's Exterior Yourself?
When breaking down the expenses, it's often tempting to look for ways to slash the total cost of a paint job. HomeAdvisor estimates that the average cost to paint a house totals roughly $2,581, though, of course, exact amounts vary from contractor to contractor. More often than not, professionals will charge homeowners by the square footage of their house, which means having a smaller space might, for once, work in your favor.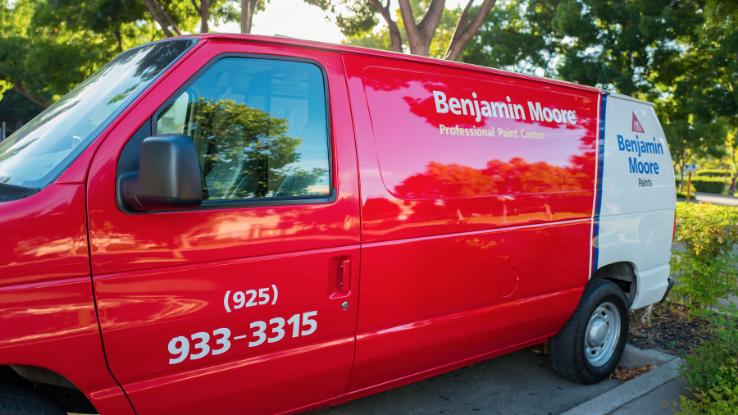 On average, the pros will charge between $1,000 and 3,000 for a single-story home, whereas a two-story home can run about $4,000. Between labor and paint costs, you might think, "Hey, I can handle this myself!" When it comes to exterior paint jobs, we recommend thinking twice before going the DIY route. Even if you're comfortable on a ladder, the pros will give your home a neater look (especially if you're painting windows!). Bonus: If anything unforeseen arises, chances are they'll know just how to deal with it.
How to Choose the Right Paint Color for Your Home
Now that you have a better understanding of the costs, it's time for the fun part: choosing a color! This is a big decision. After all, unless you plan to move (or shell out even more money every few years) you'll be saddled with your color choice for a while. "The color you paint your home's exterior can make or break people's perception of your house," says Erika Woelfel, director of color marketing for Behr Paints.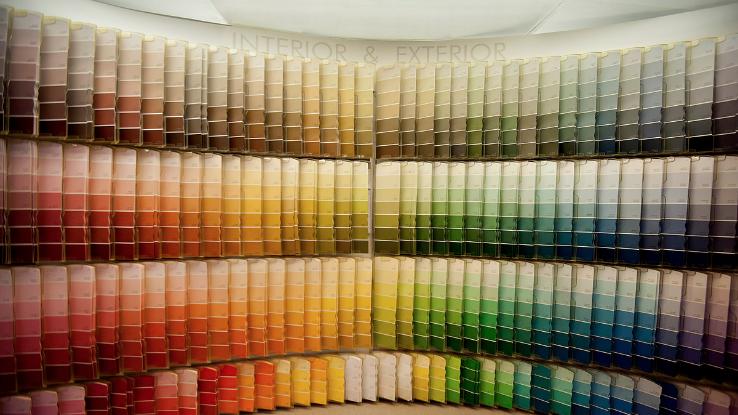 That is, if you're a bolder, brighter person, just know that a flamboyant purple may negatively impact your home's resale value, unlike a more neutral hue. Looking for some suggestions? We've got you covered. Here are our paint picks:
Can You Paint Your House in the Winter? Here's the Best Season for Exterior Painting
When it comes to real estate, you'll hear the refrain "location, location, location" quite a bit. And when it comes to painting your home, location, location, location is also key in deciding when to start the paint job. If you live in a place with all four seasons, autumn might be your best bet, since the cooler air means the paint will dry faster and without complications.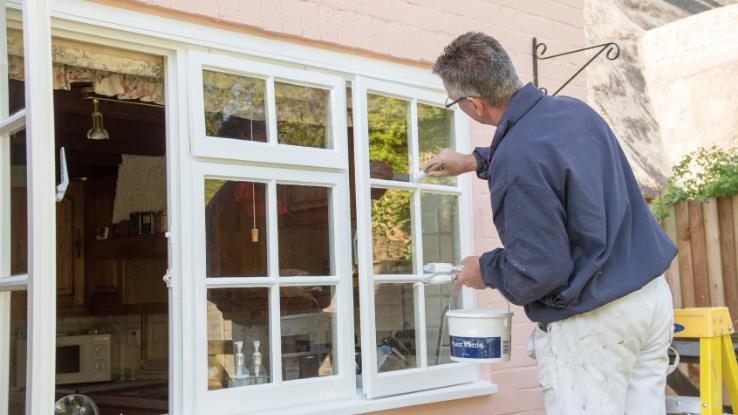 Summer is another popular time for massive paint jobs and other at-home projects. However, besides being hot as heck for whoever's on the ladder, summer weather can cause other complications. That is, rainstorms are an obvious hindrance to exterior painting and, moreover, humid conditions can interfere with paint's ability to dry properly. When it comes to winter (or even late autumn) painting, be wary of the temps outside. "Improved paint technology lets you push down as low as 35 degrees Fahrenheit," The Spruce notes. "In Northern states, stop around November. In Southern states, stop around December."
How Do You Paint on Stucco, Stone or Concrete?
Whether you're going the whole DIY route or simply touching up an old exterior paint job, it's important to understand how different surfaces interact with paint. Various surface materials need to be prepared beforehand, but they'll also affect your wallet a bit differently too. That is, while vinyl siding will run you around $600 for 250 square feet, the trickier material stucco will cost roughly $900 for around 500 square feet.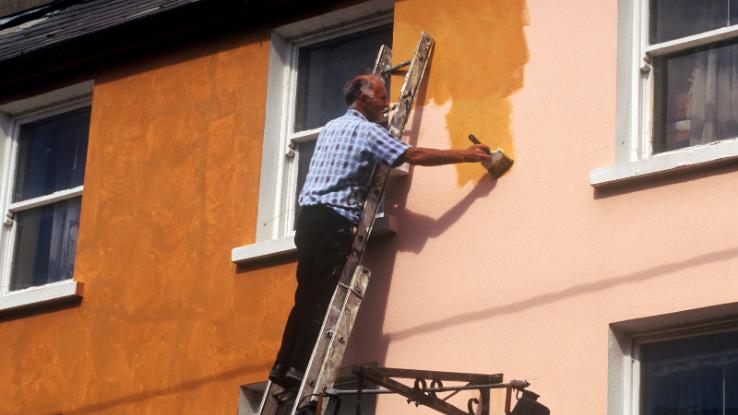 Here's a quick rundown. First up, vinyl siding, the easiest and quickest surface to paint, may require more protective finishes than other types of materials; easy-to-paint wood siding may require a stain, which can protect against humidity and the sun; metal siding, often made of aluminum or steel, just requires a good cleaning beforehand (and, of course, removal of any rust); concrete walls require special sealants and primers, but, once they're prepped, the paint job is a cinch; and, finally, stucco remains one of the trickiest materials to paint on — not only does it cost the most per square foot and require a special paint, but stucco prep work (cleaning and caulking) is also extensive.
Need some paint recs for each material? Here are ours:
What Are Some Creative DIY Uses for Leftover Home Exterior Paint?
Even if you tried your best to efficiently calculate the amount of paint needed to cover your home, it's not uncommon to be saddled with an extra gallon or two. Looking for a way to use some of that leftover paint? We recommend painting outdoor furniture. Using the same color to refresh an old Adirondack chair can pull your whole yard together because the piece will accent your home.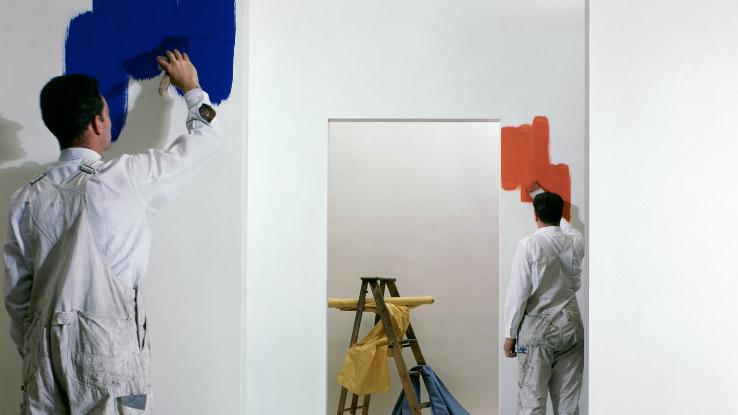 Want something fun for the whole family? Try painting some flower pots or wooden planters. This kind of thing is low stakes, but the end result can, again, help to accent your property. If the whole DIY thing isn't for you, either store the paint in a cool, temperate location for future touchups, or find the most eco-friendly way to recycle it.
Can I Use Exterior Paint on My Deck?
Wondering if you can use some of that leftover exterior paint on other larger-scale projects? One popular use is repainting decks and porches. While you'll lose the charm of the wood grain, a fresh coat of paint can make an outdoor area pop. We recommend paying close attention to the label on your paint.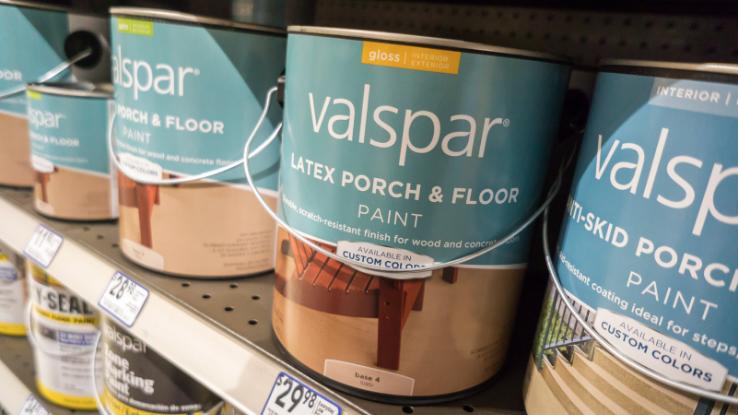 That is, some latex paints can be used interchangeably between projects, while others are engineered with specific surfaces in mind. According to HGTV, "Deck paint can be either oil-based or acrylic — both are good products. Oil-based paint has the advantage of being slower-drying, which makes outdoor application easier and more mistake-free." On the other hand, using faster-drying acrylic paint means you can get back to enjoying your deck sooner.