These Fans and Air Conditioners Will Cool You Down at Any Price Point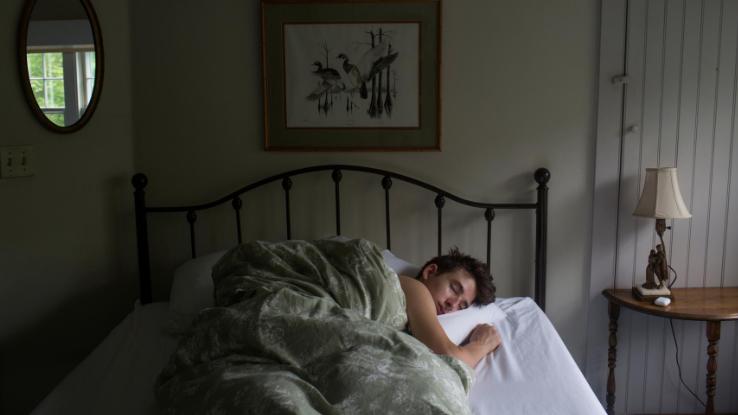 There's nothing worse than a night of restless sleep — plagued by the discomfort of trying to get comfy or find that right balance between too many blankets and not enough. There's perhaps no season that's more meddlesome to one's sleep than summer. Whether you're dealing with excessive humidity or a dry heat, high temps mean a lot of tossing, turning and sweating. Thankfully, no matter what your price range, we've got just the right products to help you beat off the heat, even while you're catching some Zzz's.
Under $50: Kick It Old "Cool" with a Window Fan or Box Fan
You know it, and you love it — it's the window fan. This tried and true method for piping in fresh air is also a great way to ventilate your room and get the hot air circulating. Does it feel hotter in your room than it does outside? No worries. The easy-to-install Comfort Zone Twin Window Fan with Reversible Airflow Control can be used to push hot air out or pull some cool night air in.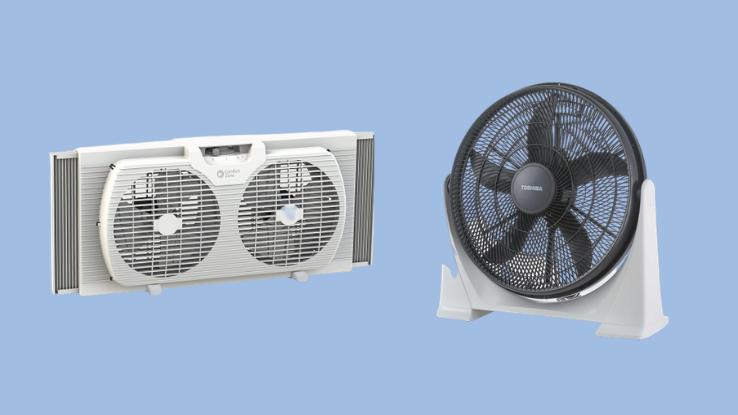 In addition to having both intake and exhaust modes, it's also a very quiet fan, meaning you won't hyperfocus on some disruptive sound while trying to count sheep. If you don't have a window that can accommodate a fan like this one, we recommend grabbing an equally affordable box fan like this three-speed model from Toshiba. Stand it up in your room or — lifehack! — prop it in the window as best you can to achieve the benefits of a window fan.
Under $100 — and Under $200: A "Chillow" and a Cool Comforter
Complete with luxurious, breathable bamboo covers, Qutool Cooling Bed Pillows are an easy solution for creating a healthier — and more comfortable — sleeping environment. These "chillows" use premium shredded foam, which allows the pillow to let in air. Better yet, these lifesavers (or sleepsavers) are also infused with temperature-regulating cooling gel particles, meaning all that comfy foam stays free from heat build-up.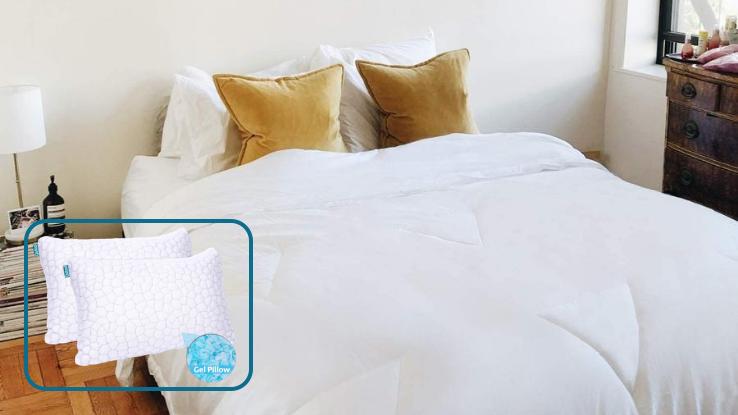 Even if you get a two-pack of these customer-loved cooling pillows, you would spend far less than $100 — and that means you can take the extra step in outfitting your bed with summer-friendly accessories. If you've ever listened to a podcast, you've probably heard an ad for Buffy — no, not the teenage vampire slayer, the comforter. Buffy's Hypoallergenic Eucalyptus Comforter is not only eco-friendly, but it's also perfect for hot sleepers who want to feel as though they're "sinking into a tub of whipped cream." Honestly, we're sold.
Under $300: Toshiba Window Air Conditioner
If you're looking to up the ante a little bit, but you love the idea of a window fan-like experience, we recommend upgrading to Toshiba's 6,000 BTU 115-Volt Touch Control Window Air Conditioner. With the power to cool up to 250 square feet, this sleek, Energy Star-certified bestseller features four fan speeds for cooling, plus four-way air direction that ensures even cooling, no matter where you're sleeping (or standing) in the room.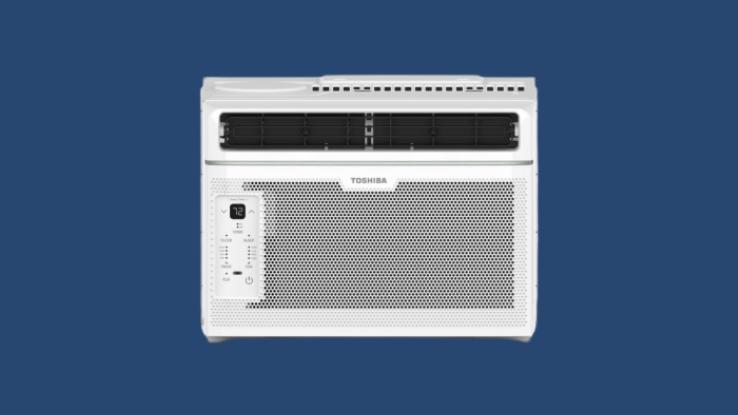 Want to save on energy? Switch to ECO mode or try out some of the unit's other intelligent features, including the 24-hour timer, Sleep Mode and the Filter Clean warning, all of which help you personalize your experience. Cool, dehumidify and ventilate your home all in one — we promise it's a (literal) breeze.
Under $500: Dyson Multi-Functional Fans at Every Price Level
While you may associate Dyson with great vacuum cleaners, the company has a slew of other top-of-the-line products that can go a long way in improving your quality of life. Our favorites this summer (and every season, really) are these blade-less, multi-functional appliances that act as fans, heaters and air purifiers all in one.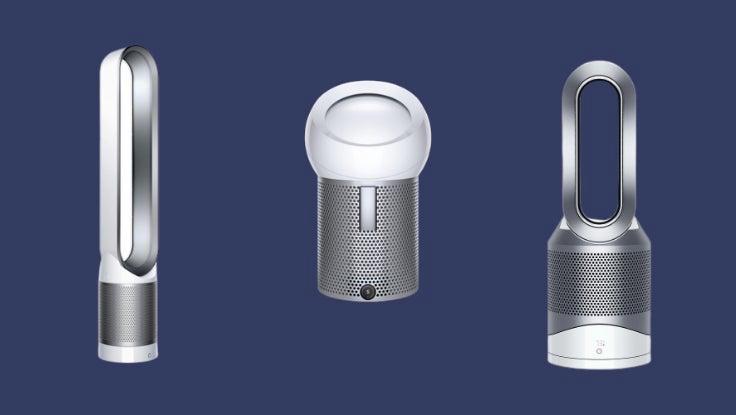 Living that apartment life? Try the Dyson Pure Cool Me Personal Purifying Fan (center). This ultra-quiet machine also cools the purified air, making it the perfect summer sleeping companion. In need of an option that works for larger spaces? The Dyson Pure Cool Air Purifier + Fan, TP01 (left) is an incredible, powerful, bladeless tower fan that cools and recirculates all at once. Finally, if bells and whistles are your thing, the Dyson Pure Hot + Cool Air Purifier, Heater + Fan, HP01 (right) is the one for you. This three-in-one appliance purifies, cools and heats air, making it a year-round must-have.
Around (or Over) $500: A Smart and Portable AC That Cools Any Large Room
Trying to cool a large space? Normally, that's not an easy task for a portable AC unit, but, lucky for us all, Frigidaire's 13,000 BTU Portable Air Conditioner is a cut above the rest. This appliance can cool rooms up to 700 square feet in size, and its handy wheels allow you to cart around the relief to whichever room needs it most.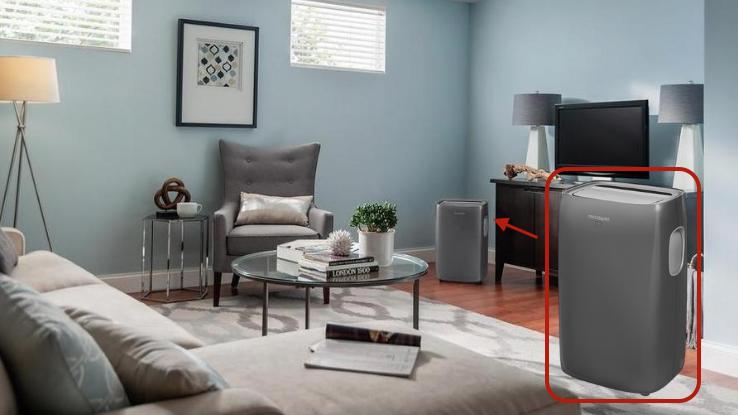 Equipped with a remote, three fan speeds to regulate airflow and a 24-hour timer to reduce energy waste, this portable air conditioner really has it all. The only drawback might be its comparatively steeper price tag, but if you're a fan of instant gratification, then the immediate relief this unit provides is simply unparalleled.