Find the Right Garden Shed at Any Price Point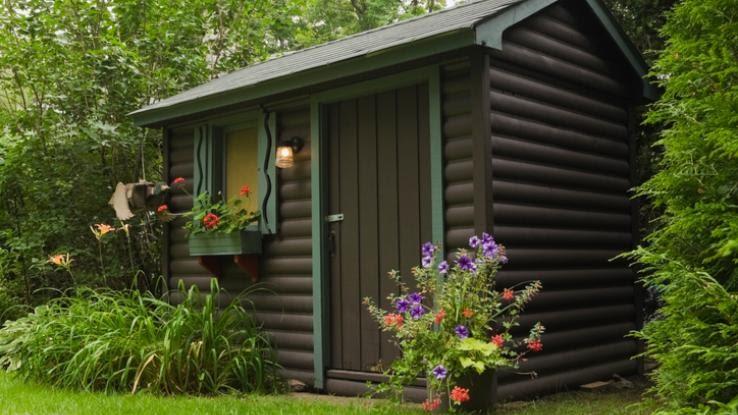 Are you tired of pawing through your cramped basement every time you need to find a particular lawn or garden tool, or is your garage so full that you'd like to be able to park in it again without running into the lawn mower? If you feel like you're constantly at a loss when it comes to finding extra space for your outdoor home equipment, it may be time to invest in a garden shed.
These handy home helpers add a little extra square footage of storage space where you need it most and can even help you create the hobby hut of your dreams right in your own side yard. Whether you're ready to assemble a quick DIY option or you're looking for something glam and ready to go, we've got a list of great picks you'll love at every price point.
What to Consider Before You Buy
Outdoor sheds come in a variety of different materials and configurations, and it's important to understand the functionality and benefits of each to determine the shed that's right for your backyard situation. Consider the following elements as you start your research: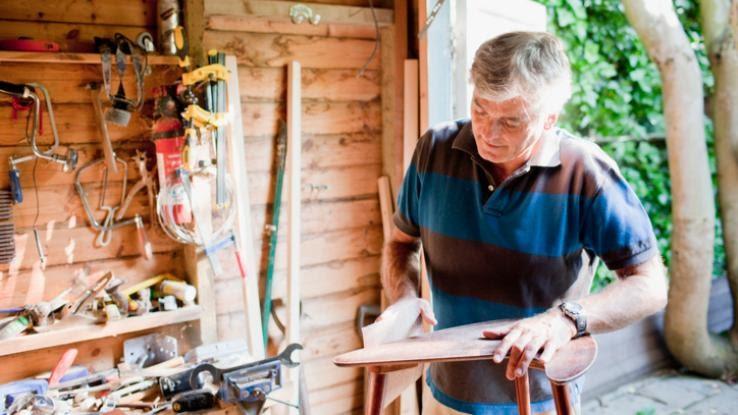 Size: Not only should you take the length and width of the shed into consideration, but you should also note the structure's finished height. Make sure that you have enough room to comfortably move around inside and that it's tall enough to hold any tools you may want to store. If you're not too worried about being able to stand up and walk around in the shed, this may be less of a concern — but it still needs to fit what you're planning to store. You'll also want to keep the size of your yard and the shed's footprint in mind. If your yard is on the smaller side, mark out the perimeter of the shed you like to determine how much space it takes up. This helps you better visualize and plan for the structure.
Intended Purpose: From workshops to pet houses to hobby spaces, sheds can serve a variety of purposes beyond storage alone. Making sure you're clear on how you intend to use your new shed goes a long way in helping you make the right choice. For example, if you're planning to spend time in the shed working on craft projects, windows that let in natural light might be a must-have feature so you can see what you're doing.
Materials:Consider the long-term viability of the materials used in the shed you select. Although outdoor storage sheds are designed to, well, stay outdoors, different materials can still perform better in different climates. Wood, for example, is likely to last longer in sunnier, drier climates than wet ones. A metal shed, on the other hand, can get hot quickly, so it may not be ideal if you plan to work inside it and live in a warmer climate. Resin and wood sheds also stand up better to impacts — they're less likely to dent — so they tend to last longer in windy areas.
Planning Ahead: Before you invest in a new shed, consider both what you need right now and what you might want in the future. While a certain shed may be the perfect fit at the moment, is there a possibility that your needs will outgrow it in the coming years? Take into account things like sporting equipment, bikes and lawn tools you intend to purchase later when making your choice — if you're thinking of getting a riding mower down the road, a shed that only fits your current push mower might not be the best option.
Under $250 – Versatile, Space-Saving Storage at an Affordable Price
BAHOM's lockable garden shed and yard organizer is an ideal option if you're looking for a shed that's on the smaller end but that will stand up to wilder weather. Made from galvanized steel, it's built to withstand wind and precipitation without leaking, rusting or corroding, and its petite 4-foot by 6-foot dimensions ensure you can wriggle it into the tightest corner of a smaller yard or keep it unobtrusive in a larger space.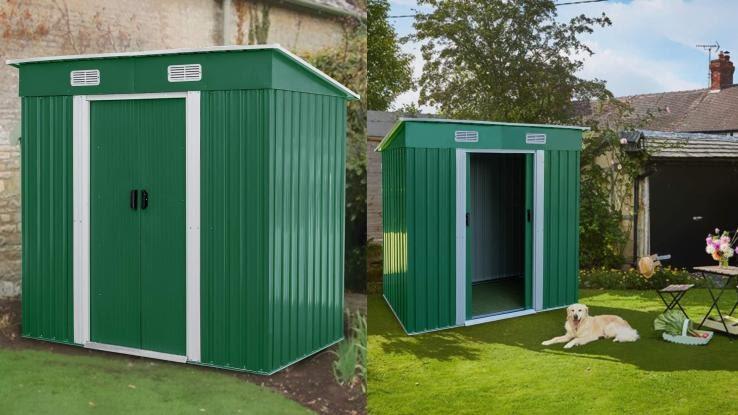 Although it's a basic, budget-friendly model, this shed isn't without some functional extras. It comes with two sliding doors that you can lock for extra security, and an optional matching floor base is available for an additional cost. The angled roof facilitates easy drainage and prevents standing water from pooling. Two large vents near the roof provide ventilation and let in ambient light, making this a great option if you're interested in storing your gardening bench, seed starters and other plant supplies inside, too.
Under $400 – Compact Size by the House or Garden
Another great option if you're looking for a smaller shed is Arrow's 4-foot by 5-foot Brentwood lean-to storage shed. One of Arrow's best-selling products, it offers 93 cubic feet of storage space for many of your lawn and garden essentials. It's also ideal for keeping supplies like pool treatments and fertilizers out of kids' and pets' hands and paws; it comes with pad-lockable door hardware, and you'll just need to provide your own lock.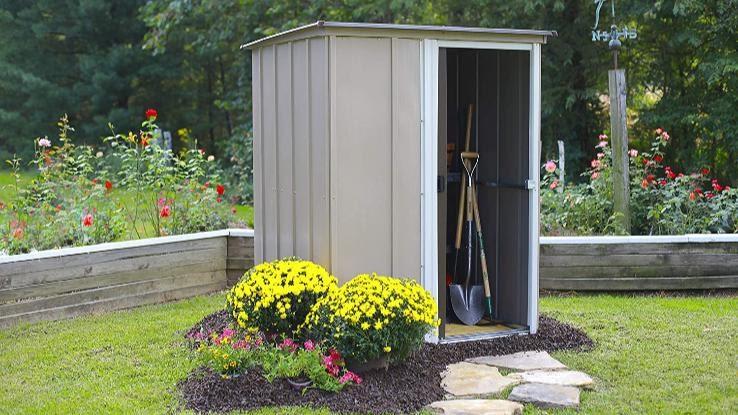 The fact that this shed is just 4 feet deep may also be a plus if you're looking for a storage structure that won't take up too much space, even on the patio area of a condo or townhome (where the pad-locking door may be equally important). In addition to its almost-portable proportions, you'll also appreciate the sloped roof design that limits pooling water and even provides a bit of headroom, depending on how tall you are.
Under $500 – Durable Option for DIYers
Longing for a little extra storage room that won't break the bank? The vidaXL metal storage shed is a top contender for your consideration. For an affordable, DIY-friendly price, the shed provides roughly the same amount of storage space as a large walk-in closet; it measures about 6 feet wide, 4 feet deep and 6 feet tall.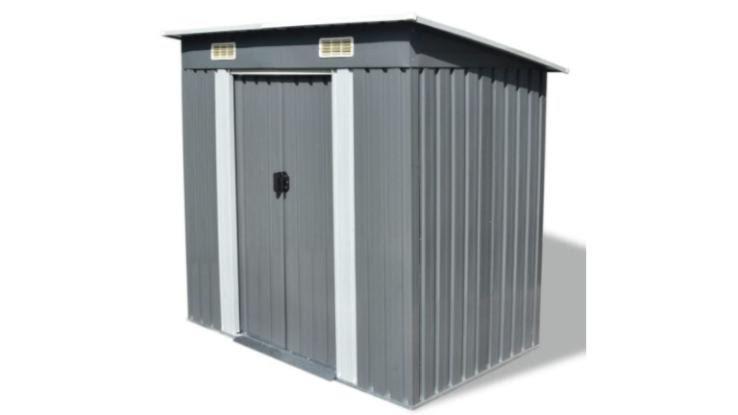 The shed's front wall features two vents for improved humidity and heat control inside the structure, and the double sliding doors provide easy access to every nook and cranny — not that there are too many — where you've tucked things away. Galvanized steel for added durability means this shed is also less likely to incur damage from extreme weather conditions, and rusting is virtually a non-issue.
Under $500 – Lots of Space for a Low Cost
If you're looking for a nice and roomy — but still budget-friendly — shed, then Arrow's Arlington steel shed is a great option. For less than $500, you can enjoy 440 cubic feet of space contained inside a space-saving 10-foot by 8-foot perimeter. And with a door that's 55 inches wide, you can easily turn this shed into a mini garage for your ride-on lawn mower; with that much room, you can drive right into it. Unlike some other shed designs, the doors on the Arlington slide open instead of swinging in or out, which is more convenient when you're moving items around or into the structure.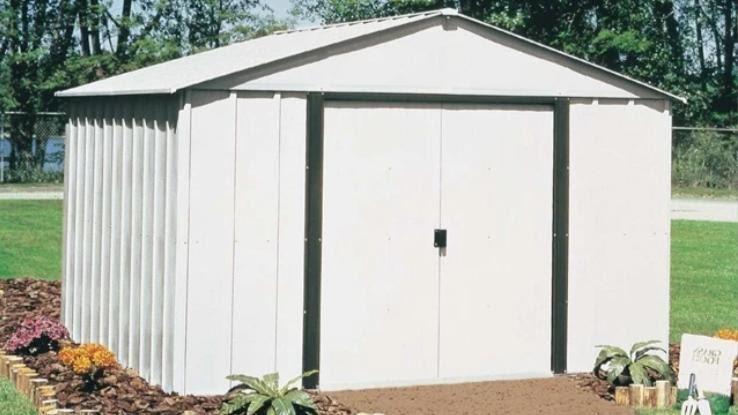 The walls of this shed are made from electro-galvanized steel to resist corrosion, and the roof is also reinforced for added protection against falling debris and wilder weather. Although this is a build-it-yourself shed that comes in a kit, everything is pre-cut to size and pre-drilled for easy insertion of all the necessary hardware.
$2,000+ – A Charming Exterior With Ultra-Durable Construction
Lifetime's outdoor storage shed offers all the perks of a traditional outdoor shed with twice the style — and twice the number of doors for extra accessibility thanks to its dual-entry design. The 15-foot by 8-foot shed provides plenty of room to meet all your storage needs, and the two sets of double doors on both the front and side make getting at what you need to get out of the shed even easier. This delightful design also comes with skylights, shatter-proof windows, screened vents, shelving and decorative shutters, making it as charming and durable as it is usable.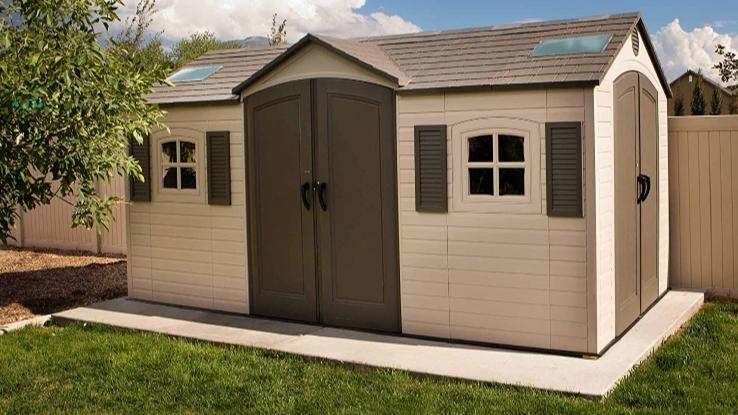 Covered by a 10-year limited warranty, it's also equipped with UV-protection to prevent fading, slip-resistant floors and a stain-resistant exterior. But what's inside counts, too; the walls are made of heavy-duty HDPE — a type of durable plastic with excellent strength and impact resistance — that's reinforced with steel, as are the roof trusses. If you're looking to invest in a shed that's got it all and will cover your needs for years to come, shortlist this Lifetime model.
$2,000+ – Beauty and Function in One
Leisure Season's Cedar Gable Shed measures in at a perfectly proportioned 7 feet wide and 7 feet deep and is a gorgeous addition to any backyard. While this cabin-style shed doesn't feature the same charming windows as other options on this list, that might be a good thing — it safely conceals whatever you choose to store in it without giving away what's inside. This shed doesn't come pre-built, but it does come with all the necessary hardware and pre-cut materials you require to put it together (with a buddy's help, per manufacturer recommendations).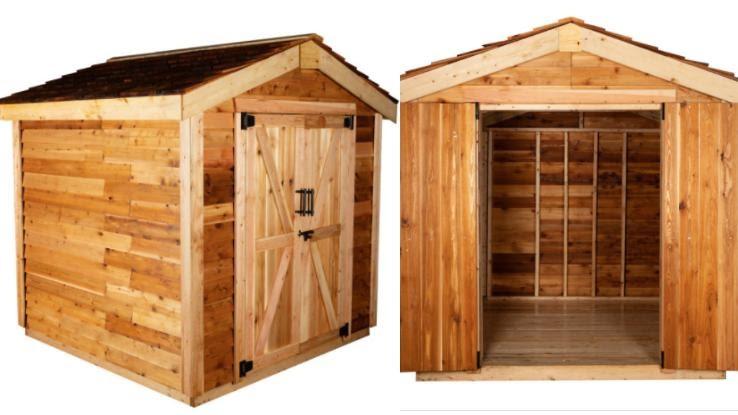 Once you're done building this model, however, you'll have a rustic spot for storing lawn and gardening tools, pool equipment, sporting goods or whatever else you might need to pop inside to free up some space around your home. If you're looking for a shed to suit a smaller yard but still want something that retains a little country charm, this Leisure Season design is a great option — and one that'll satisfy any DIY inklings you might have.
$2,000+ – Endless Uses With Great Space and Looks
If you're looking to go all-out with a shed fit for backyard royalty, it's time to feast your eyes on Cedarshed's Western Red Cedar Garden Shed. While it does require some assembly, no cutting is required — the walls and shutters are pre-built and the windows are pre-hung. It also includes a floor, although you have the option to install the structure onto a poured foundation if you choose. Once you've assembled it, you'll enjoy a beautiful, boathouse-style storage shed (or the world's coolest playhouse or lounge) that'll look perfectly at home poolside or garage-side.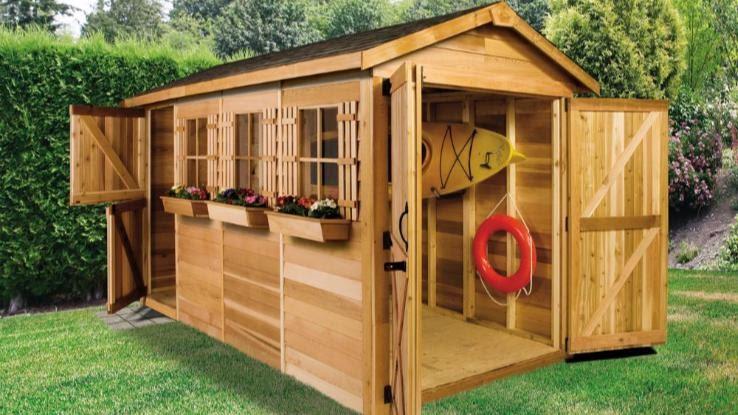 Inside the 12-foot by 8-foot shed, you'll have plenty of room for bikes, lawn mowers and even bulkier items like kayaks, which you can retrieve and store easily thanks to the double doors on the end that open up to a spacious 5-foot width — that's enough room that you could drive your ride-on lawn mower directly into it. There's also a smaller Dutch door you can use to access gardening tools and other items. The three paned windows lining the front panel come complete with flower boxes and fixed shutters that further enhance the shed's rustic-yet-refined charm.