These Budget-Friendly Hot Tubs and Jacuzzis Will Help You Unwind at Home
When I was a kid, any family vacation that involved stopping at a hotel wasn't complete without a trip to the jacuzzi. Why's that? A hot tub — an item with the sole purpose of helping folks relax — seemed like the height of luxury. As we navigate the COVID-19 pandemic this summer, however, it looks like trips are going to be a bit closer to home. Whether you're creating a staycation oasis or just eager to soothe your tired muscles, there are plenty of wonderful hot tubs out there to fit your needs. Read on to soak in our team's favorite options.
On the Move? You Can Take This Hot Tub with You
Maybe you share a backyard with neighbors — or you don't want to commit to a year-round hot tub — but the idea of spending summer nights in an at-home jacuzzi does sound appealing? Coleman, the maker of all things outdoors, has you covered with the SaluSpa Inflatable Hot Tub. That's right — inflatable.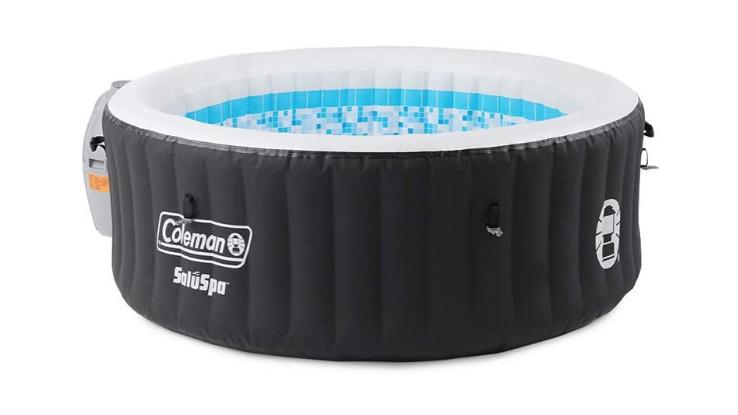 But this isn't your average flamingo pool float. Durable, portable and easy to set up, this Coleman model can comfortably fit four adults and heats up to a toasty 104 degrees Fahrenheit. At the touch of a button, the tub heats up and 60 air jets — yes, you read that right — work with the hot water to provide a soothing massage. Bonus: If you're an avid camper, toss this in the car along with your tent if you're heading to a campground with amenities.
The Plug-and-Play Hot Tub That's Just as Soothing for Your Wallet
Few tubs make the leadup to relaxation as much of a breeze as the relaxation itself than the American Spas 2-Person 28-Jet Premium Acrylic Triangle Spa Hot Tub. The term "plug-and-play" applies quite literally when it comes to this jacuzzi, but, despite the ease of setup, this tub doesn't sacrifice top-of-the-line features like similar tubs might.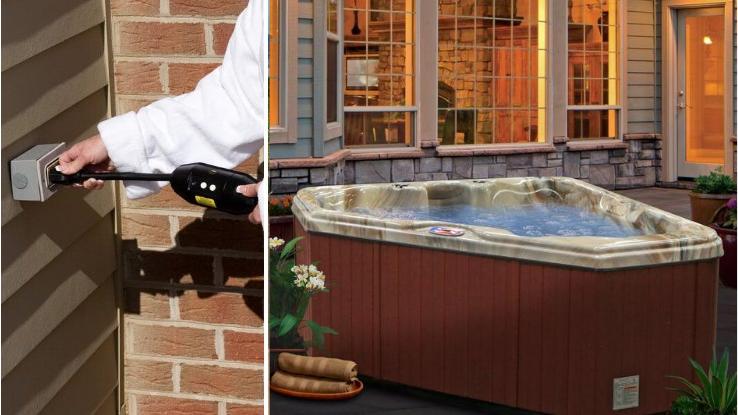 For those unfamiliar with the plug-and-play concept, this jacuzzi doesn't require a special electrical outlet and, instead, allows owners to plug it into any standard 120-volt outlet. The less home renovation the better — because that means more time feeling toasty and relaxed. Perfect for couples, the spa features two lounger seats with jets that follow the contours of one's body, making for an unparalleled hydrotherapy experience. This hot tub is also exceptionally durable, meaning it holds up in all seasons and types of weather.
Soak in Style with a Spa Day-Level Experience
If you're one for creature comforts, choosing the right at-home hot tub can be tricky. So many jacuzzis seem to have all the bells and whistles — and the price tags to go along with those features. However, few stack up in performance to American Spas Freedom 7-Person 40-Jet Premium Acrylic Bench Spa Hot Tub with 2 Backlit LED Waterfalls and Steps. It even promises users they will "achieve ultimate relaxation." Does it get any better than that?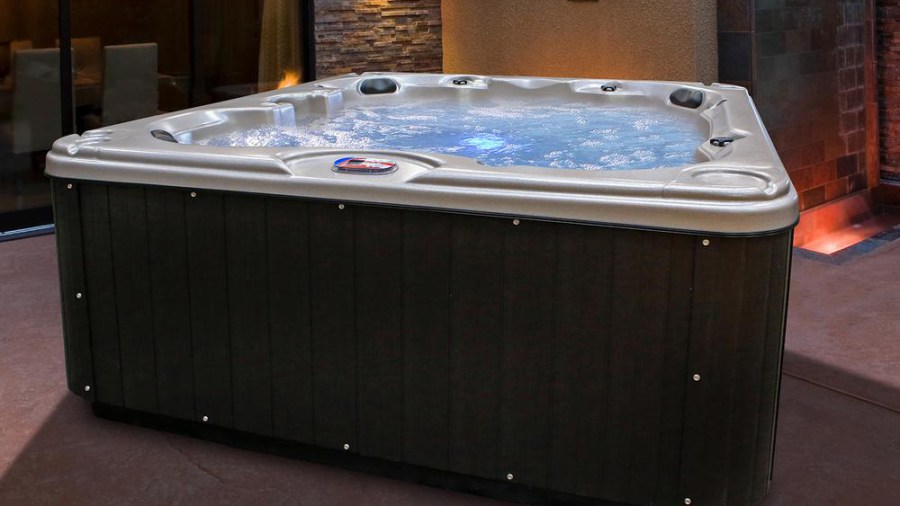 That claim is backed by a ton of incredible features, such as 40 adjustable hydrotherapy jets, meaning hot tub users can pick a seat and then adjust their jets' pressure flow and direction to target specific stress points. Long story short, this tub can provide personalized, spa-level back massages. In addition to providing comfort for up to seven adults, it also boasts fun, atmospheric lighting features, including two backlit waterfalls that oscillate between seven colors and two different color modes. With this jacuzzi, you'll want to stay in until your skin prunes — maybe even longer.
Want to Be Green? Soak in This Energy-Efficient Hot Tub
Worried about a new hot tub increasing your energy bills? The Corsica 8-Person 90-Jet Standard Hot Tub with Ozonator, LED Lights, WOW Sound System and Polar Insulation is a great option if that's among your chief concerns. To save valuable resources (and money), the Corsica spa utilizes an energy-efficient Econo-Boost heat recovery system that reuses recycled heat to further warm the tub's shell and water instead of venting it away.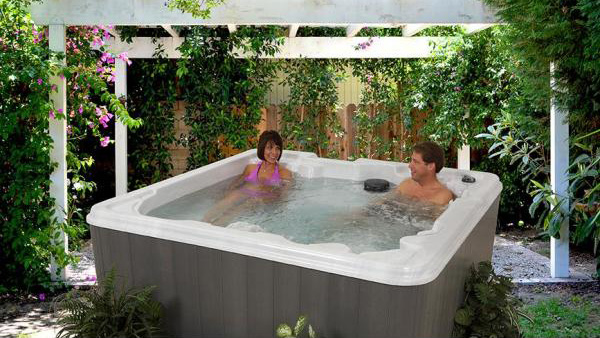 Sounds snazzy, right? Well, that's not all the spa has to offer. With two Super Hi-Flow energy-efficient pumps and a whopping 90 jets, the Corsica hot tub requires far less power than other spas in its class but doesn't sacrifice luxury. In fact, up to eight adults can soothe their sore muscles at one time while lounging around on multi-level seating contours. Without a doubt, this hot tub will be the star of your next backyard BBQ.
A Spacious Hot Tub with Room for the Whole Family
If you have a big family, live with tons of roommates or simply love playing host, then a roomy backyard hot tub is a must. The AQUA 6-person 45-Jet Premium Acrylic Lounger Spa Hot Tub is, without a doubt, one of the roomiest and most luxurious models out there.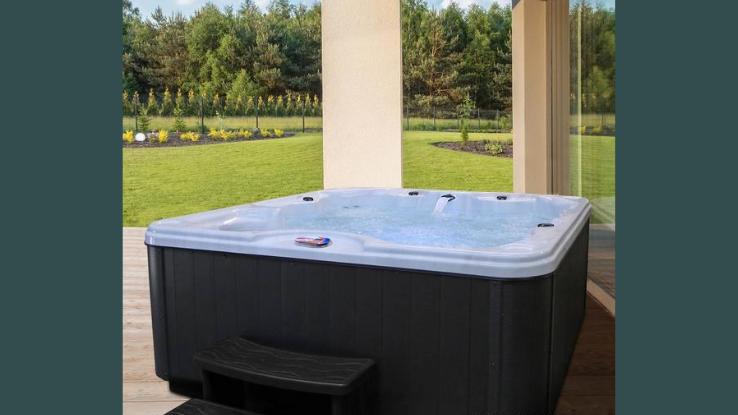 With contoured seating and 45 jets aimed at users' upper and lower bodies, this spa is a dream come true for those in sore need of a massage. But the spa's focus on comfort isn't its only strength: The hot tub's HydroClear Ozonator purifies the water, keeping things clean and clear with little need for chemicals or maintenance. Bonus: You'll have the flashiest backyard oasis around thanks to the spa's cascading, LED backlit waterfall.