The Best Luxury Bed Linens at Any Price Point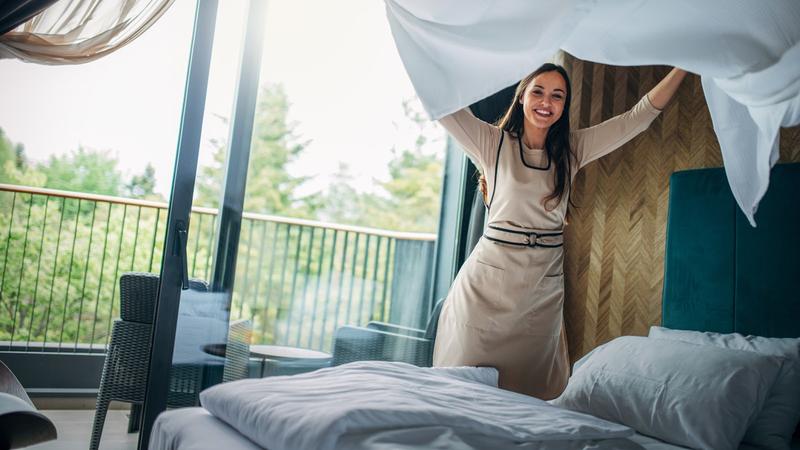 Looking to add a little bliss to your sleep life? Look no further than a soothing set of luxury bed sheets in various price ranges. Whether you sleep on a twin bed, a king bed or any size in between, we've got the perfect sheets to help you instantly up your sleep game.
From 1,000 thread count Egyptian cotton to 100% mulberry silk, the luxury fabrics in these sheets are some of the softest on the planet. Quality sleep is critical to every facet of your life, so why not treat yourself to the perfect sheets to help you enjoy restful sleep each and every night? Let's take a look!
Tips for Finding the Perfect Sheet Set
If you're new to the luxury sheet game, don't sweat it. We've got you covered with a few helpful tips to steer you in the right direction. When you're looking for the perfect sheet set, it's important to consider certain details.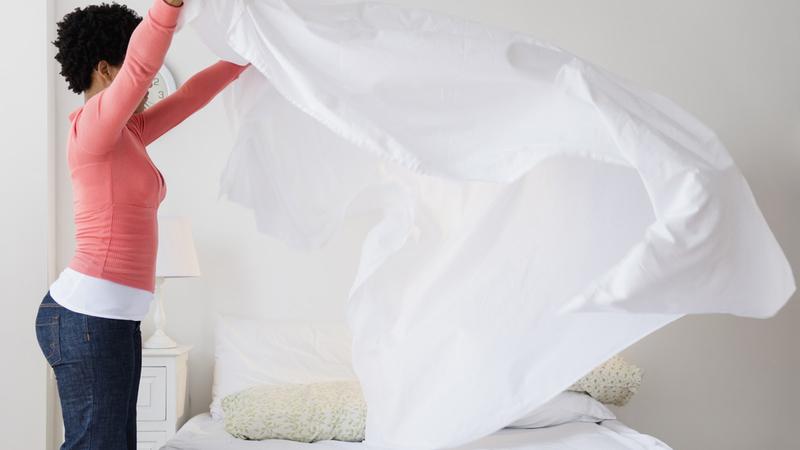 Materials: Do you prefer the feel of cotton, linen or silk against your skin? Cotton is traditionally one of the most popular choices because of its softness and easy care instructions, but linen is a better choice if you're looking for something a little more durable. It tends to be a bit heavier and is made to last. Silk, on the other hand, feels deliciously smooth and cool, but you need to wash silk sheets by hand to help preserve the sheen.
Thread Count: Thread count simply refers to the number of threads woven in a square inch of fabric. Beyond that, it's not as important as many people think and is often merely used as a marketing gimmick to sell sheets that aren't necessarily superior.
Long vs. Short Fibers: When it comes to cotton, sheets that use long-staple cotton tend to be both softer and smoother. Egyptian cotton is especially popular due to the longer fiber cotton commonly grown and handpicked in regions near the Nile.
Piece Count: When purchasing any sheet set, make sure you pay attention to exactly what's included. At the least, a good set should include both a flat and fitted sheet and the appropriate number of pillowcases for your bed size.
Now that you know what to look for, check out our top picks for luxury sheets in every price range!
Under $100: Egyptian Cotton Solid Bed Sheet Set
Who says that investing in a set of luxuriously soft sheets has to break the bank? If you're looking to snooze in stylish comfort, then check out this 1,000 Thread Count Egyptian Cotton Solid Bed Sheet Set by Egyptian Bedding. For less than $100, the set includes a flat sheet, fitted sheet and one or two pillowcases, depending on whether you buy a twin set or a larger set. Each piece is made with a 1,000 thread count sateen weave for an end result that is both durable and ultra soft.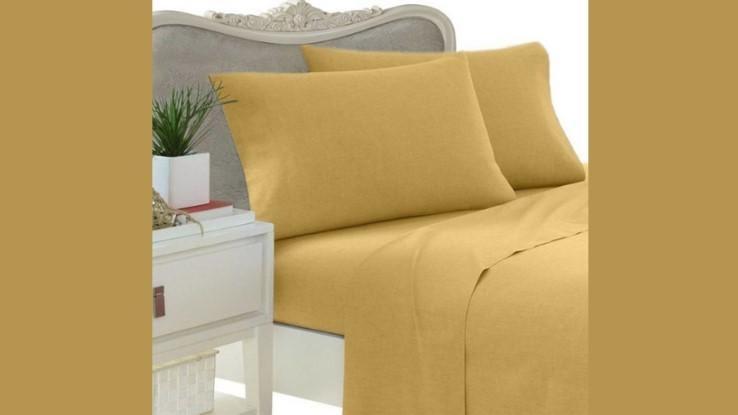 Made from 100% long-fiber Egyptian cotton, these sets are a great deal if you're looking to bring the comfort of a high-end hotel into your home bedroom sleep experience. The sheets are available in seven different sizes and 13 different colors, so you shouldn't have a problem finding a set that fits your decor and bed size. Not only are they durable, but they also get even softer with every wash. Score!
Under $200: Portofino Luxury Italian-Made Sheet Sets
Did you know that linen was once reserved for royalty? Due to its durability, this former royals-only fabric was once all the rage in the villas of the Italian countryside. But what about cotton? Isn't it one of the softest, coziest materials in the world? You bet it is, and Portofino Luxury Italian-Made Sheet Sets combine the best of both those worlds.
If you've got a queen-sized bed, then you're in luck. For less than $200, you can score a beautiful set of stonewashed, Italian-made sheets. (King sets will run a bit more.) The sets include a natural linen/cotton blend duvet paired with 100% cotton percale woven sheets and pillowcases. Not only do the sheets feature a crisp, cool feel you're sure to love, but they also add an element of upscale style to any bedroom.
Under $300: Percale Supima Cotton
Looking to try out a luxurious set of sheets risk-free? Check out this Thomas Lee Percale Supima Cotton Bed Sheets and Pillowcases Set. Whether you have a full, queen, king or California king bed, you can experience all the magic these 500 thread count sheets have to offer, complete with a 30-night guarantee. If you don't fall completely in love with these sheets, simply send them back for a full refund. Warning: The odds of dissatisfaction are extremely slim!
These high-quality sheets are made from 100% pure Supima cotton grown in the U.S. that provides a crisp, cool touch that only gets softer with age. Put to rest any worries you may have about harsh resins or chemicals making their way into your bedding, because this bedding is as pure and natural as it comes.
Available in either white or ivory, each set comes with a flat sheet, a fitted sheet with deep pockets and two pillowcases. Hand-sewn by highly skilled craftsmen, these sheet sets are sure to make a lasting impression.
Under $400: Brooklinen Luxe Sheet Set
You can enjoy the bestselling comfort of a seven-piece Brooklinen Luxe Sheet Set for less than $400, no matter what size bed you have. Available in every size from twin to California king, these 480-thread count sheets offer the rich, smooth feel provided by 100% long-staple cotton. Each sheet features a sateen weave, which exposes more thread surface for a heavier, more tightly woven finish. Not only are these sheets super warm, but they also feature a buttery soft texture that you're sure to love.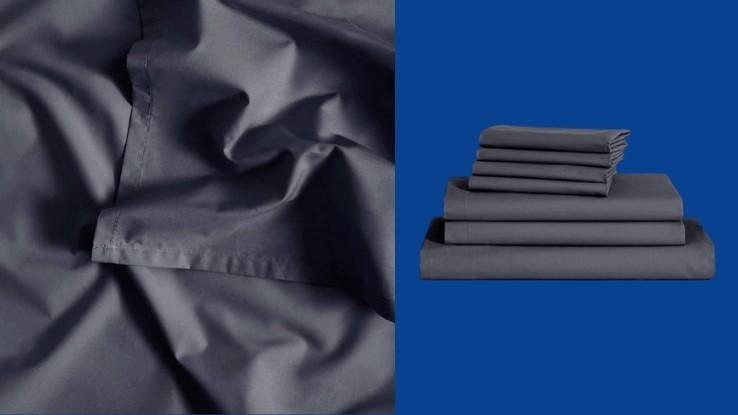 The seven-piece sets include a fitted sheet, a flat sheet, four pillowcases and a duvet cover. It's also worth noting that Brooklinen sheets are Oeko-Tex certified, meaning they are completely free of harmful chemicals and great for Mother Earth as well as your delicate skin. Bonus: This company stands behind its products so strongly that it even offers a lifetime warranty!
Under $500: Premium Silk Sheets
If you're in it to win it and looking to full-on treat yourself to an unbelievable sleep experience, then feast your eyes upon this Premium LilySilk Four-Piece Raw Silk Sheet Set. Made with 100% mulberry silk, these sheets are the perfect natural temperature regulator to help you enjoy both cool summer nights and snug winter evenings.
As an added perk, they even come with some extra health benefits. Natural silk fabrics contain 18 different amino acids that help keep your skin moisturized, thus slowing down the signs of aging — while you sleep! Plus, you'll never have to worry about mites or bacteria lurking beneath your sheets, as both have a notorious hatred of silk products.
Each set contains a flat sheet, a fitted sheet and two pillowcases that will make bedtime a daily luxury. Even if pure silk is out of range, hopefully other choices on this list will fulfill your quest for the perfect sheet set for your bed. Sweet dreams!