The Best Space Heaters No Matter Your Needs or Budget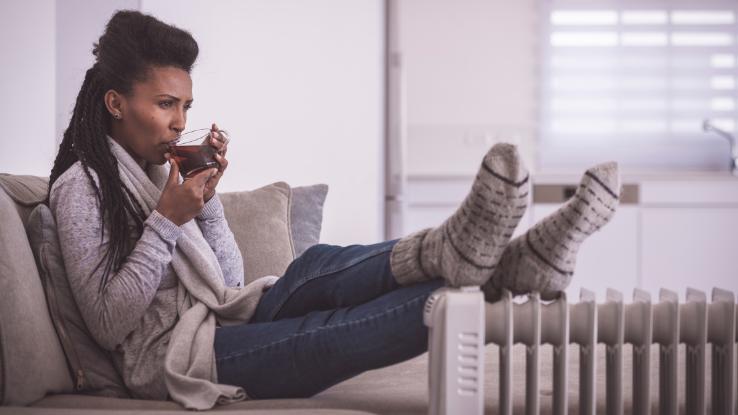 Staying warm all winter long can be tough, even if your home has central heating. There's always that one room — or one spot in your apartment — that stays chilly no matter how high you set your thermostat. One solution? Invest in a quality space heater.
Of course, depending on your needs, picking the perfect appliance out of a lineup can be tough. For the uninitiated, there are several common types of space heaters:
Convection: The most efficient way to heat an entire room, convection heaters draw or blow air over a heated surface in order to provide warmth. As the heated air rises, the cool air moves toward the floor, creating that much-needed air circulation.
Radiant: Some of these space heaters harness the power of fans to send a warm blast of air into their immediate vicinity, while others heat up quartz or ceramic plates to radiate heat. While radiant heaters can eventually warm up a large room, they are a better bet for smaller spaces.
Kerosene, Propane & Natural Gas: Finally, we have "unvented combustion units," which are powered by oil and gas and are, as you might guess by the sound of that descriptor, the most dangerous type of space heater. In addition to being a fire hazard, these units also release carbon monoxide and nitrogen oxide, meaning they need to be used in well-ventilated spaces. With this in mind, these heaters are ideal for outdoor use, as the flame-producing appliances are sure to heat any patio or screened-in porch in a cinch.
All of this to say, before investing in a space heater, you'll want to consider your needs. Some essential questions we recommend asking yourself before you add anything to your card include:
Use: Will the heater be your primary source of heat or a supplement to central heating?
Environment: Are you looking to heat a large room, a small space or an outdoor area?
Savings: Is energy efficiency important to you?
Safety: Do you want extra safety features, like automatic thermostats and sensors that prevent overheating?
Feeling overwhelmed? Don't sweat it. Luckily, there's a space heater for every type of situation — and we've rounded up the best of the best right here.
Best Eco-Friendly Space Heater
As mentioned above, ceramic heaters warm quickly and are perfect for thawing a small, cold space. In just three seconds, the PELONIS Ceramic Tower Space Heater heats up to 70 degrees Fahrenheit, offering a steady, reliable source of warmth. One of the unit's three heat-level options is an ECO mode, which allows you to customize your temp setting while saving energy and maximizing efficiency.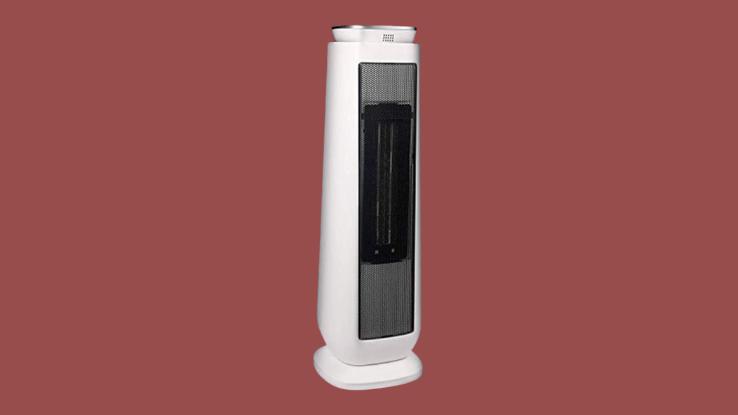 Another benefit? This appliance is easy to use. With both touch control and remote control configurations, a handy oscillation feature and an 8-hour timer setting, the PELONIS Ceramic Tower Space Heater is packed with must-haves. Quiet, portable and effective, this space heater is a thoughtful choice for a green-minded consumer who needs to heat their bedroom or office.
Best Space Heater for Large Rooms
Looking to make your living room that much cozier? The Dr. Infrared Portable Space Heater, which is perfect for heating large rooms, can help. The makers of this heater compare its mode of heating to sunlight, but instead of warming the air, it warms objects in the room. Not only does this equate to energy efficiency, but the heater's state-of-the-art technology also helps the air retain moisture, putting it ahead of those convection heaters that blast hot air and lead to dry skin and irritated sinuses.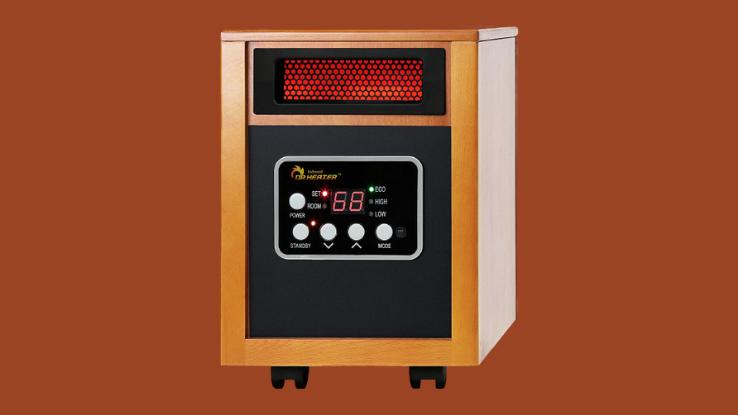 If you're already settled in under blankets and pillows, you can adjust your space heater's settings from the comfort of your couch, thanks to its handy, easy-to-use remote control. Better yet, if you're someone who loves a routine, pre-program your unit to automatically shut off after a certain period of time. An added bonus? It's so quiet you'll forget it's there — but if you do forget it's there, you can rest without worry, thanks to the appliance's impressive tip-over protection and auto shut-off overheat production features.
Best Budget-Friendly Space Heater
We promise — if you buy this space heater, you'll never get cold feet again! Ideal for your office or bedroom, the andily Space Heater Electric Heater is the perfect personal space heater, both in terms of size and budget. For less than $30, you can nab this portable ceramic space heater, and with more than 4,000 five-star reviews, this one is worth every penny.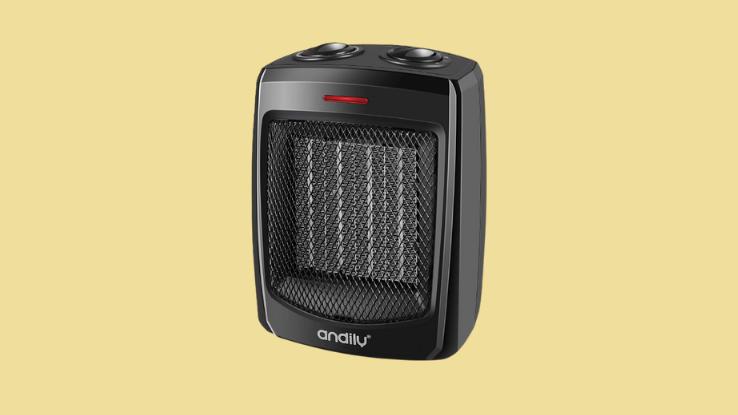 Just because the andily heater is budget-friendly, that doesn't mean its makers are cutting corners when it comes to safety. In fact, it's quite the opposite. An automatic overheat system will shut off the unit when parts of the heater get too warm, and the tip-over switch makes sure the unit turns off if the appliance is tipped forward or backward. Easy to use and quick to heat up, this heater's customers love the little handled unit that "packs a punch."
Best Space Heater for Small Rooms
Looking for a space heater that screams mid-century modern chic? The GAIATOP Space Heater is one swell egg in terms of both aesthetics and functionality. With a removable, triangular stand and no-slip silicone legs, this little heater is perfect for small spaces — bedrooms, offices, studio apartments and dorms — and it heats up in mere seconds. And if it overheats, gets knocked over or is left running for more than six hours, the unit will turn off on its own, letting you (literally) rest assured.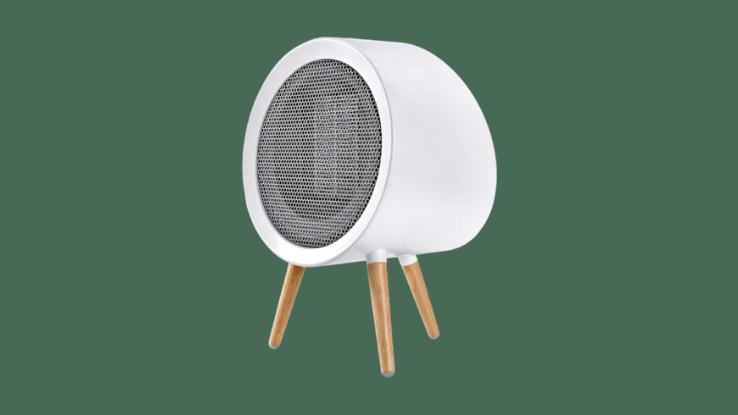 Both powerful and quiet, this unit also boasts three heating modals — high heat, medium heat and a fan mode — to keep you comfy no matter your needs. Another perk? This one is more efficient than traditional heaters, meaning you can lower both your thermostat and your energy bills. Across nearly 500 five-star reviews, customers agree on one thing: This space heater is the definition of "small but mighty."
Best High-End Space Heater
If you're someone who wants all the bells and whistles, the De'Longhi Oil-Filled Radiator Space Heater is certainly worth the investment. Portable, effective and efficient, this appliance promises to lower your electric bill by helping you maintain an optimal room temperature without consulting your thermostat. Simply press the ComforTemp button, and — voila! — all the radiant heat you need.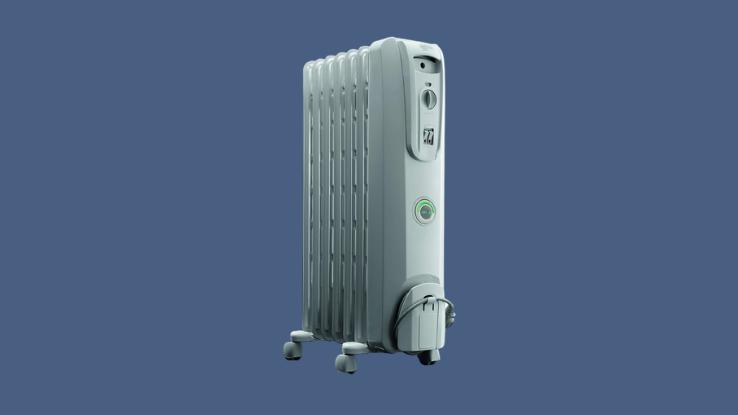 This space heater boasts a user-friendly control panel, three customizable heat settings and a bunch of safety features, including a thermal cut-off to prevent overheating. Best of all, this portable, pre-assembled unit also requires virtually no maintenance. The oil system is permanently sealed, meaning you'll never have to refill the heater, and unlike a kerosene or natural gas heater, it's safe for indoor use. To date, nearly 2,700 customers have posted five-star reviews for this De'Longhi product, praising its ability to slice heating bills and warm up multiple rooms.
Best Multi-Use Space Heater
Although you may associate Dyson with great vacuum cleaners, the company has a slew of other top-of-the-line products that can go a long way in improving your quality of life. Our favorite this winter (and every season, really) is the Dyson Pure Hot + Cool Air Purifier, a blade-less, multi-functional appliance that acts as a heater, fan and air purifier — all in one.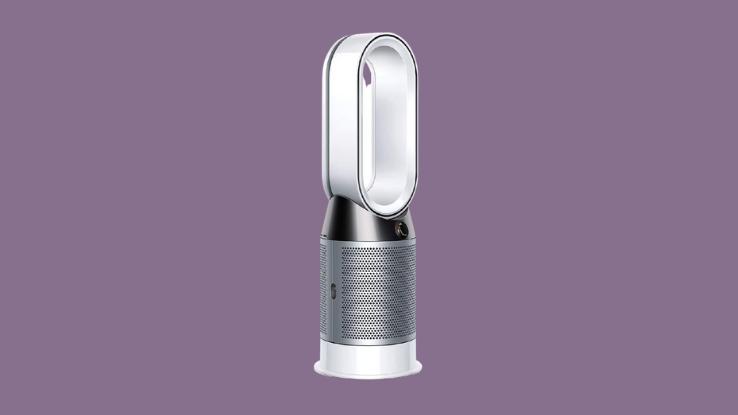 Dyson certainly offers a range of heating and cooling products — from the apartment-friendly Dyson Air Multiplier AM06 Table Fan to the more powerful, homeowner-loved Dyson Pure Cool Air Purifier + Fan, TP01. Nonetheless, the Pure Hot + Cool Air Purifier is probably our favorite. In addition to checking off all the multifunctional boxes, this year-round must-have is both Alexa- and Wi-Fi-enabled, allowing for ease of use, real-time reports, and remote control and programming. As far as the heating component goes, this unit can be used for both personal heating or to bring warmed, purified air into larger rooms. All of this to say, this highly rated Dyson product is worth every penny — in both the summer and winter seasons.