Comfy (And Cheap!) Sofa Beds Your Guests Will Actually Enjoy Sleeping On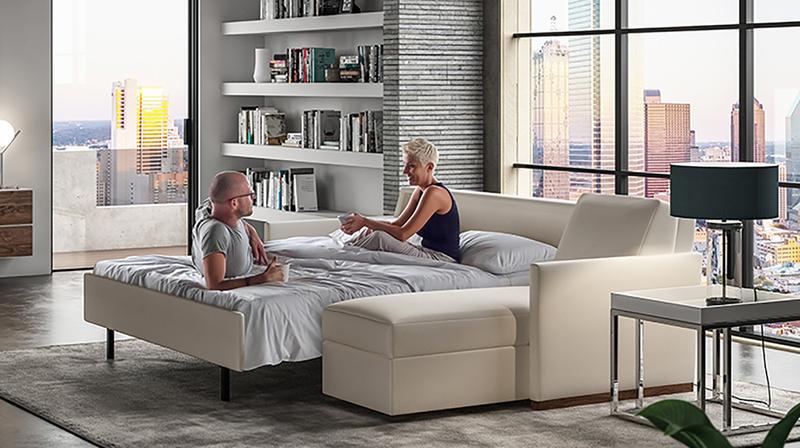 Gone are the days when sleeping on a sofa bed meant squirming on an impossibly thin mattress on a clunky, bulky frame. It was impossible to get a good night's sleep on one of the contraptions, but the furniture style endured because it was (theoretically) possible to get a slightly better night's sleep than sleeping on the floor.
Fortunately, modern sofa beds have come a long way since those days of nighttime torture devices. Many comfortable options are now available in a variety of styles to provide your guests with some real rest during their stay. If you're in the market for a sleeper sofa and aren't sure where to start, then check out our list of great sofa beds for a wide variety of budgets.
Tips to Help Narrow Your Sleeper Sofa Search
When you're looking for the perfect sofa bed for your home, it's easy to be overwhelmed by the sheer volume of options out there. Before you panic and buy the first one you find at a good price, take a look at these tips and tricks to help you focus your search on the best options for your needs and budget.
Don't overlook measurements. There's nothing worse than waiting in anticipation for a new piece of furniture to be delivered, only to discover that the piece you bought is way too large for your space or much smaller than you imagined. Make sure you measure the area where you plan to place the sleeper sofa and consider the amount of room it takes up both in the sitting and in the sleeping positions.
Check out the folding mechanisms. Look for a sofa bed that offers a safe and simple opening and folding mechanism. Models with Serta's click and lock Finger Protection Technology are good examples. With all the variety available these days, there is no reason to buy a sofa that could pinch your fingers or throw out your back.
Pay attention to the mattress and upholstery quality. It's worth noting the type of upholstery and fillings in a prospective sleeper sofa. While polyester and leather both offer long-term quality, they have two entirely different feels when you actually lay down to sleep on them. Even if the sofa will only occasionally be used for sleeping, keep in mind that you will probably use it as a couch. You want to make sure it's filled with quality stuffing and covered with a high-quality material that will make you and your guests comfortable.
Under $500 – Boyel Living's Supportive Sleeper
Do you need a sleeper that's designed to hold more weight than the average sofa bed? Check out Boyel Living's Sleeper Sofa Bed for the perfect solution. By day, the sleeper acts as a comfy couch with a bonus feature of a center cushion that folds down to reveal two cup holders. If you want to use the sofa as a guest bed, simply adjust the back cushions to lay flush with the seating cushions to create plenty of sleeping space for two.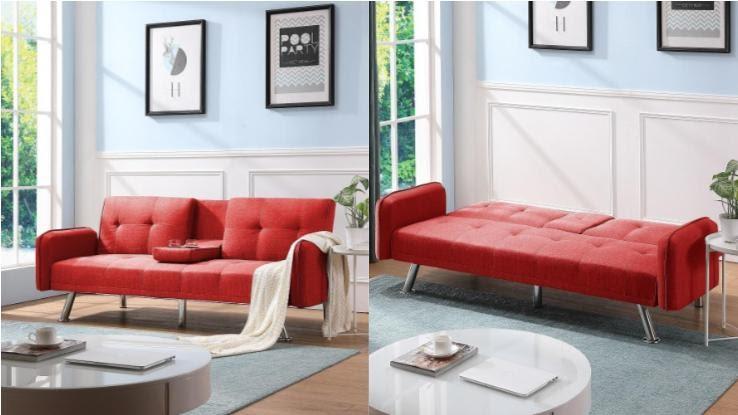 Under $500 – Boyel Living's Luxurious Velvet Sleeper
Looking to add a little vintage class to your living room? Well, look no farther than the Tufted Velvet Sleeper Sofa from Boyel Living. Featuring soft, velvety upholstery and wooden legs, this sturdy sleeper makes a stylish addition to any living room. It's even got an old school remote control and magazine holder pocket on the side of the couch for a dash of throw-back functionality that is just as convenient as ever. Bonus: This model has a lounging position as well as sitting and sleeping.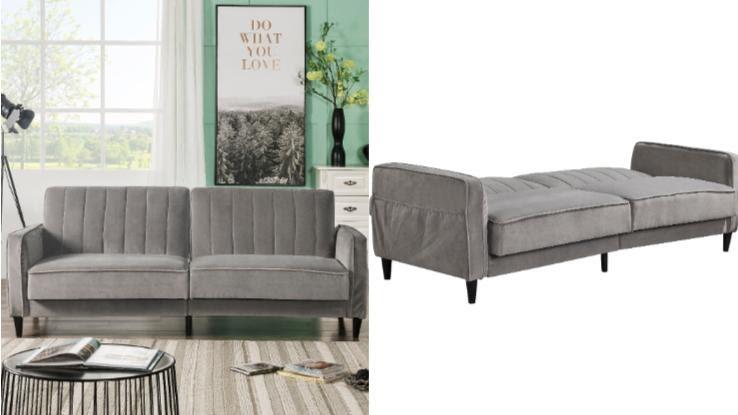 Under $500 – Boyel Living's Functional Two-Seater
This stylish Two-Seater Sleeper Sofa from Boyel Living, lets you show off your contemporary style. With a compact yet comfortable design, it makes the perfect addition to small rooms and tight spaces. The slipcover features high-quality cotton in a neutral dark gray color, making it both comfortable and easy to clean with mild detergent and a damp cloth.
Under $600 – Boyel Living's Decorative Two-Seater
If you're looking to add some colorful personality to any room, you can't go wrong with the delightfully artsy Twin Sleeper from Boyel Living. Made from multicolored linen upholstery laid out to create a patchwork effect and a sturdy wooden frame, this loveseat-size sleeper doubles as a cozy lounging space during the day. Both the arms and back fold down to form a twin-sized bed that's perfect for accommodating an adult guest and a young child.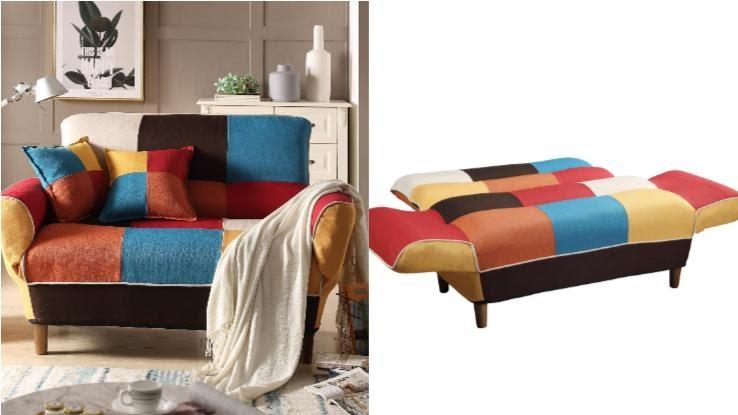 Under $600 – Noble House's Modern Day Bed
This Tufted Sleeper Sofa from Nobel House provides an alternative take on the traditional sofa bed concept. It doesn't actually transform or fold in any way — think of it more as a daybed with an extra comfy, couch-like feel — but it's worthy of inclusion because the seating cushions are wide enough and comfortable enough to easily double as a prime sleeping spot for a single guest.
Under $700 – Boyel Living's Sturdy Queen Sleeper
This comfortable Two-Cushioned Queen Sleeper gives you a strong, sturdy option for taking care of your guests' needs. The sofa's high-density, hypoallergenic foam filling combines with the sturdy steel frame to provide a relaxation spot with a lot of visual appeal. Featuring the simple yet stylish mid-century look, the sleeper is compact enough to use in small spaces, despite the overall queen mattress size.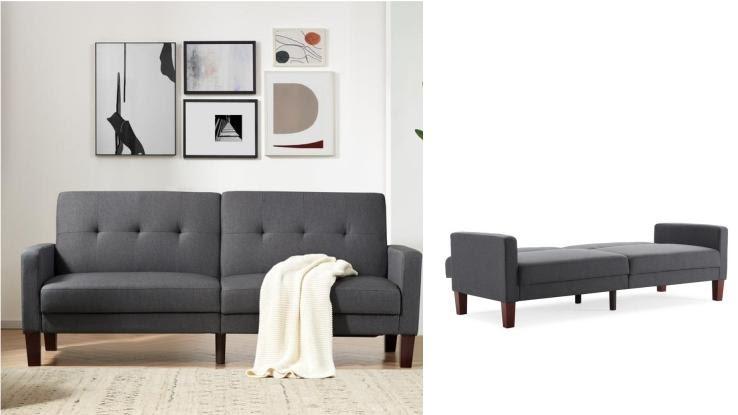 Under $800 – Serta's Augustus Queen Convertible Sleeper
Treat your guests to a comfortable overnight stay with the Augustus Convertible Sofa Bed made by Serta. One of the best additional perks is the Finger Guard Protection, which features click and lock technology that will make accidental finger pinches a worry of the past. This sofa bed is also outfitted with high-density foam cushions and Serta Dream Coils to ensure a cozy experience for both sitting and sleeping.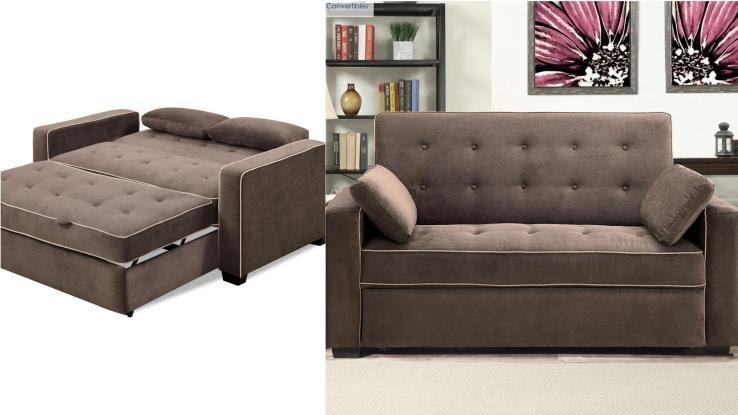 Under $1000 – Iconic Home's Dafna Velvet Plush Sleeper
If you're in the mood to make a mod-style statement, then the shamelessly retro Dafna Velvet Plush Couch may be the perfect choice for you. Be aware that this particular design is more of a daybed style when it comes to sleeping. The back doesn't fold down like a traditional sleeper. Instead, it features a "shelter" frame, along with plush velvet upholstery and a brass-finished stainless steel frame.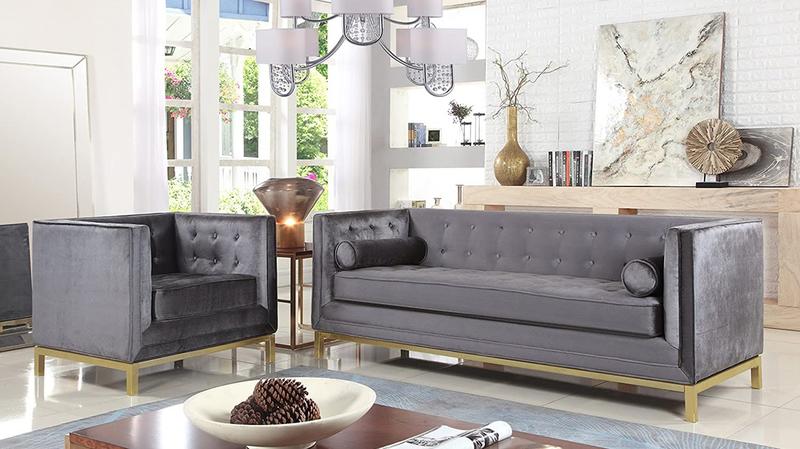 Under $1,500 – Serta's Dream Convertible Leather Seville
When you want to indulge in the luxury of genuine leather upholstery for seating comfort while also providing a comfortable extra bed for guests, turn to the Serta Seville Convertible Sofa. With a wooden frame and legs, this sleeper is sturdy and adds a touch of elegance to any room. Adjust the back in seconds to enjoy lounging, upright and sleeping positions.
Under $1,500 – Living Innovation's Unfurl Sofa Bed
If you love sleek, refined looks, you can add a touch of understated modern design to your living room — along with some extra guest sleeping space — with Living Innovation's Unfurl Sofa Bed. Compact yet comfortable, this sleeper comes with a five-year limited warranty and a design aesthetic that is simple enough to never go out of style.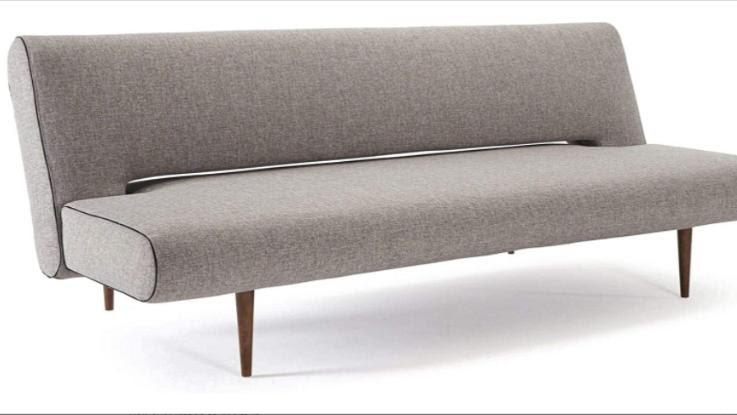 Under $1,500 – Corrigan Studio's Detwiler Microfiber Sleeper
This minimalistic Sofa Bed from Corrigan Studio comes in your choice of either gray or yellow upholsteries. Crafted with a geometric design, it fits in with many different styles of contemporary interior decor. Supported by a wooden frame and featuring microfiber and microsuede upholstery, this trim sofa bed folds down into a twin bed in seconds.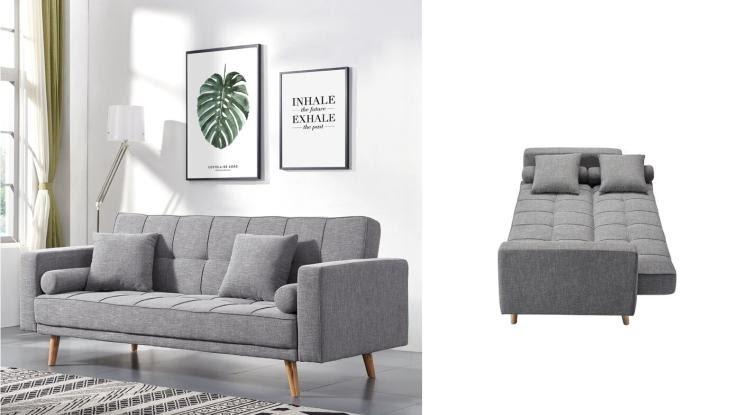 Under $1,750 – Amazon's Rivet Alonzo Contemporary Leather Sofa
If you're looking for a luxury sofa that's perfect for enjoying a comfortable afternoon nap or soothing your guests aching travel muscles, check out Amazon's Rivet Alonzo Sofa. The genuine leather upholstery and brass legs provide the ideal visual touches. This one is also not a sleeper sofa in the traditional sense, but it features removable back supports to give your adult guest plenty of extra room to stretch out.