Spruce Up Your Home for the Holidays With These Festive Door Wreaths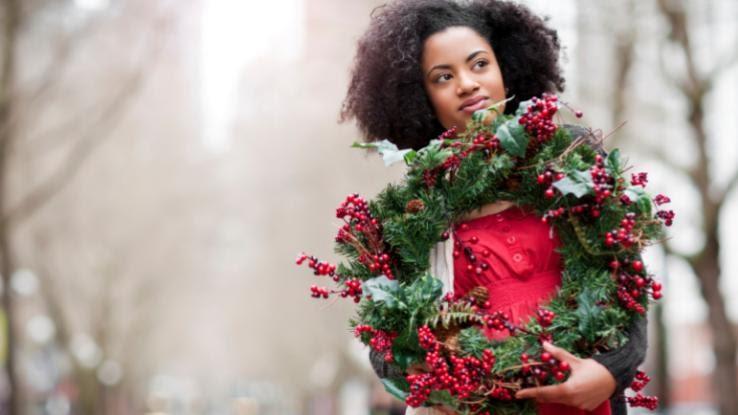 Each winter, front doors, living rooms, hallways and banisters alike usher in holiday spirit by bearing beautiful wreaths that deliver a fresh, green touch of the outdoors into homes across the country. In addition to spreading cheer, wreaths help create an earthy, warm vibe and boost a home's coziness factor with their delicate lights, pretty florals, fresh evergreen scents and colorful ornaments — who says the Christmas tree should have all the fun?
To help you bring some bright plantlife into your home during Mother Nature's usual off season, we've rounded up a selection of gorgeous real and faux wreaths that'll make spirits bright. From basic and traditional lighted options to ornate and uniquely shaped choices, there's a wreath on this list that'll suit your budget and your decorating vision.
How to Hang a Wreath Without Damaging Your Home
It's happened to all of us — we get so excited to put up our decorations that we don't stop to consider the logistics of how we're actually going to display them. While wreaths are beautiful and fit in just about anywhere in your home, you probably don't want to simply set them on a table and let them be (although they do make great centerpieces when lying flat with a few battery-powered candles set in the middle). They're meant to hang, and if that's your plan, you'll want to take a few things into consideration for installation.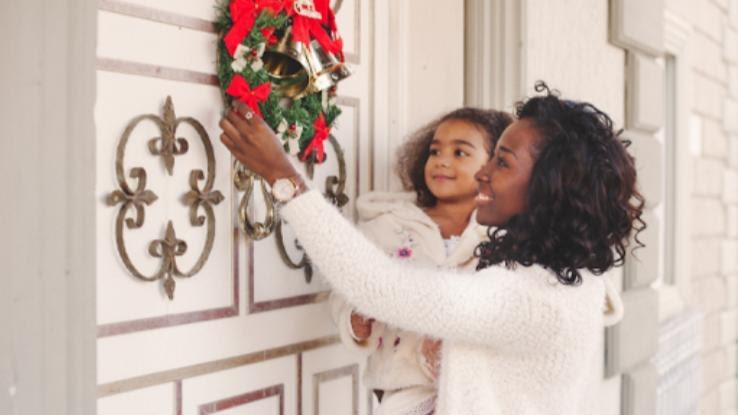 Some homeowners make peace with the idea of holes in their walls and doors and opt to use nails and screws. While you might be comfortable with this — you can use them year-round for displaying other decor — what should you do if you're renting or simply don't want to riddle your door, window frames, walls or railings with holes? Thankfully, you can turn to plenty of other great ways to hang a wreath indoors and outside.
Magnetic Wreath Hangers: If you've got a glass or steel door, then a magnetic wreath hanger may be your best bet. These don't require nails or screws, won't scratch or rust, and can usually hold wreaths weighing up to 10 or so pounds. Using magnetic force, they secure directly to metal doors, and double-sided options stick to each other on windows, with one magnetic component outside and the other inside.
Wreath Hooks: Wreath hooks are another solid option for hanging a wreath on a door without tools. Just slip the flat section over the top of your door and place your wreath on the hook at the bottom.
Command Hooks: Command hooks are another great way to display wreaths, no matter where you want to hang them. They come in a wide variety of sizes, so be sure to take the weight of your wreath into account. You can hang them on pretty much any surface via their special adhesive backing that comes off easily without ruining painted surfaces.
A Classic Ornamented Wreath to Add a Splash of Color to Your Home
Usher in a traditional holiday season with this gorgeous 24-inch Christmas Classic Wreath. This impressive handcrafted design glows with the warmth of red and gold ornaments in a variety of sizes, and it's a great choice for displaying either indoors or out thanks to its durable steel frame. Despite its completely lifelike look with different types of sprigs and boughs for plenty of visual interest, this wreath is actually artificial — which is great news for your decorating during plenty of holidays to come. Although it's unlit, you can easily wrap it with a strand of battery-powered string lights for extra sparkle.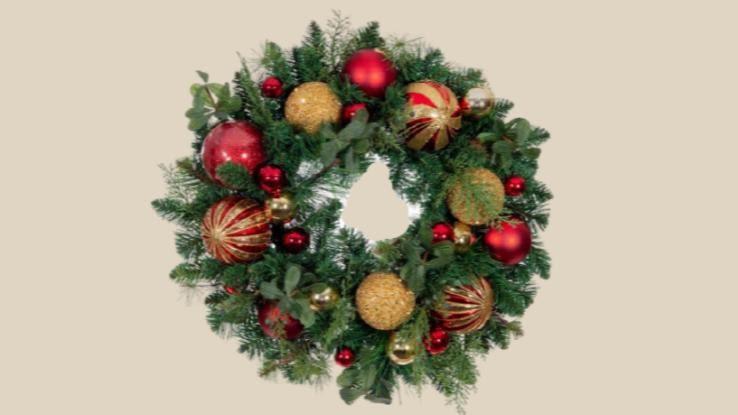 This Pre-Lit Wreath Comes With 100 Warm White LED Lights
If you want to go even merrier and brighter this holiday season, lighten your spirits on a cold winter's day with this Pre-Lit Mixed Pine Christmas Wreath With 100 Warm White LED Lights. This 36-inch-diameter wreath is made from artificial pine boughs and comes pre-lit with 100 platinum-hued weather-resistant lights. At a size like that, this wreath becomes a total showstopper — it's about as wide as the average front door, so it'll become a great focal point in your entryway. It's perfect for customizing, too. One thing to keep in mind? Make sure you've got a power source handy, as you do need to plug this one in.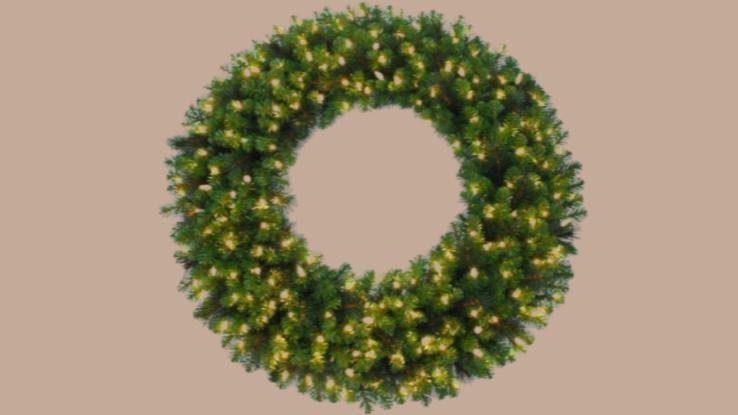 Break Tradition With a Square Wreath
Who says all holiday wreaths have to conform to the norm? Skirt the edges of tradition when you display this bold Tea Leaf and Poinsettia Artificial Square Wreath. At 16 square inches it's an ideal size for hanging on your mantel or in a holiday-themed decor vignette as an accent, and the intricate tea leaves give this wreath a unique appearance that demands a second look. Because of its delicate construction and silky materials, the manufacturer recommends that you save this beauty for indoor use only. But, you can remove the silk poinsettia, artificial berries and pine cones to create a decoration that'll look great in your home all year long.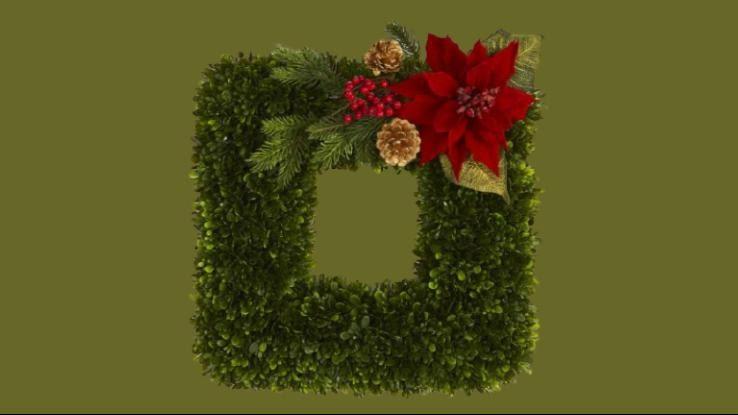 Spice Up Your Home With a Chili Herb Wreath
How cool and unique is this handmade Chili Herb Wreath? This stunning design doesn't look like traditional Christmas decor, but that's definitely part of its appeal. Incorporating real dried bay leaves, savory mint, sage, marjoram and dill and accented with piquant chile dé arbol, this is a decoration that'll smell just as good as it looks. At 18 inches in diameter, it's also the right size for adding some color anywhere in your home. Just be sure to hang it indoors and out of direct sunlight to keep this herbaceous wreath looking its best for months to come.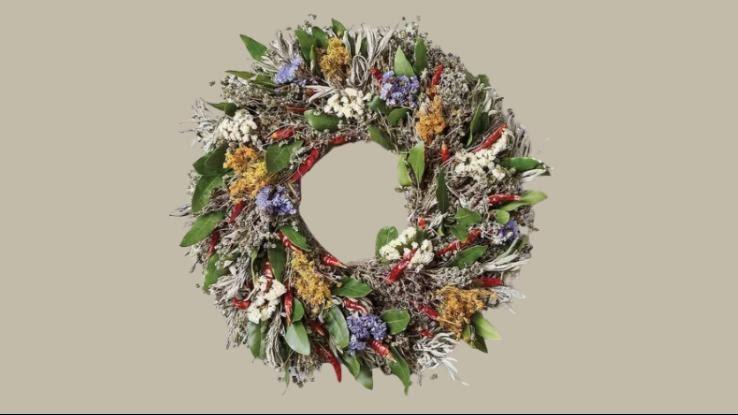 Save Money With This Pre-Lit Wreath
Who doesn't love a wreath that's both beautiful and on-budget? If a blend of affordability and wallet-friendliness is on your holiday wish list this year, you'll appreciate the Incandescent Prelit Decorated Christmas Wreath. This 24-inch artificial wreath is decked out in 35 prestrung lights, artificial cones and berries for a warm Christmas feel that keeps things simple and classic with the right amount of sparkle. As an added bonus, it's designed for both indoor and outdoor use — just be sure you have an outlet nearby for plugging it in.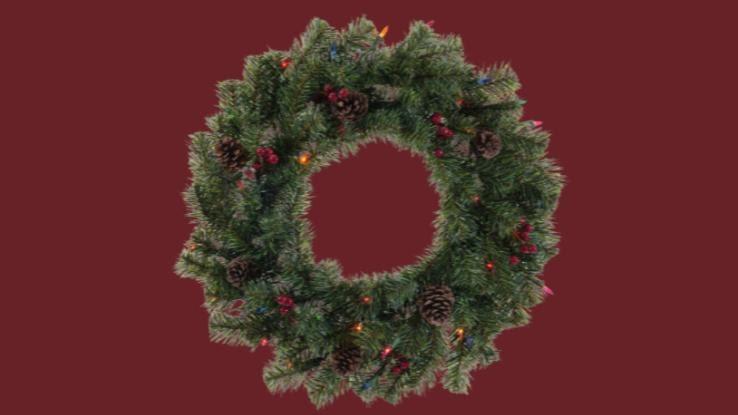 A Frosted Wreath for More Winter Wonderland Vibes
Got enough greenery around already? It's time for something crisp, icy and totally cool. You can bring snowy winter vibes into even the warmest of climates with this 30-inch Icy Fir Christmas Wreath Arrangement With Cool White LED Twinkle Lights. Made from beautiful artificial white needles, it's pre-strung with 300 — that's as many as some pre-lit trees! — glowing white lights. Thanks to its simple design, it's also super-easy to customize. Add some clusters of ornaments in your preferred color scheme to pair with your other decor — it'd look great with blue and silver baubles for Hanukkah, too.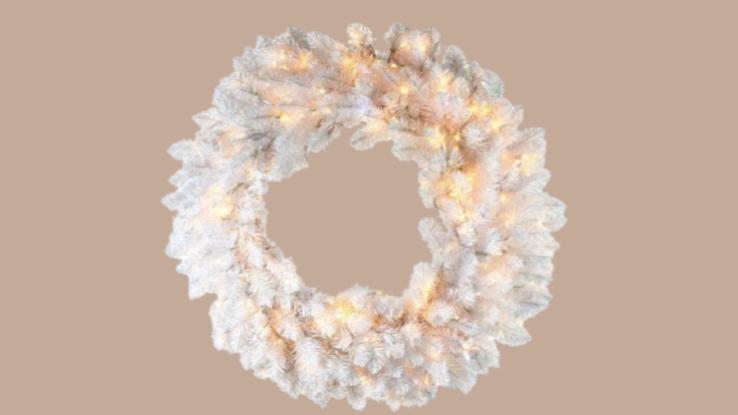 A Poinsettia Wreath to Create a Fairytale Space
Fluttery, fabulous florals like these really make a holiday statement and impart a woodland vibe at the same time. This lovely 20-inch Poinsettia Wreath on a Natural Twig Base couldn't get much bolder with its big red blooms. The entire wreath is composed of beautifully realistic artificial poinsettias arranged along a base of natural twigs. A perfect blend of rustic and glam, this poinsettia-packed popper actually isn't excessively Christmassy, and it would make a great Valentine's Day decoration if you feel so inclined to hang it up again.
This Wreath Is Made Entirely of Ornaments
A frosty seaside vibe is easily yours when you display this delightfully sparkly Coastal Ornament Wreath. The 22-inch ring is made up of a collection of alternating shiny, glittery and matte ornaments that are sure to spread cheer for many seasons to come. This one's a fun, unique choice that takes ornamented wreaths to a whole new level, and it's another option that can work for multiple seasons. Plus, it's kind of the perfect gift for the Seahawks NFL fan in your life.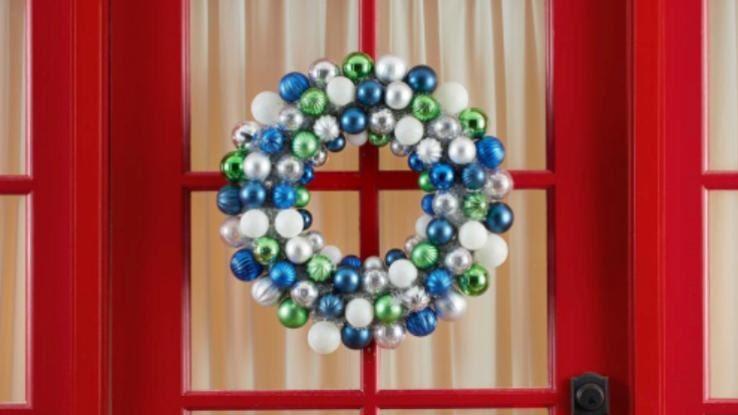 Splurge on a Wreath Covered in Magnolia and Fruit
Looking to go all-out with a wreath that's fit for a splurge-worthy occasion? Look no further than this stunning Holiday Magnolia Wreath. This 22-inch beauty is composed of real noble fir, fresh magnolias, dried tallow berries, pine cones, dried orange slices, faux apples, bronze plastic ornaments and a red wired bow — how's that for fully decking the halls? In addition to looking absolutely elegant, this wreath will fill your home with a blend of holiday-friendly scents that'll get your Christmas spirit ready for baking cookies and trimming the tree.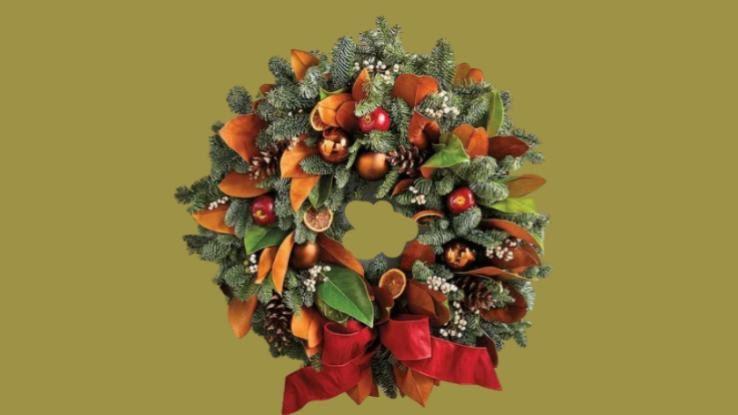 A Wreath With Real Natural Pine Cones
Enjoy the smell of freshly cut cedar, fir and pine branches with this handmade Fresh Cut Mixed Greens Wreath With a Buffalo Check Print Bow and Natural Pine Cones. Decked out with natural cones and a hand-tied buffalo check bow, it's a great gift that will maintain its look all season long in most climates, and it's another stellar option for leaving up well into the new year thanks to its subtly rustic and totally wintry look.