Keep Cozy in Quarantine With A Gas Fireplace at Any Budget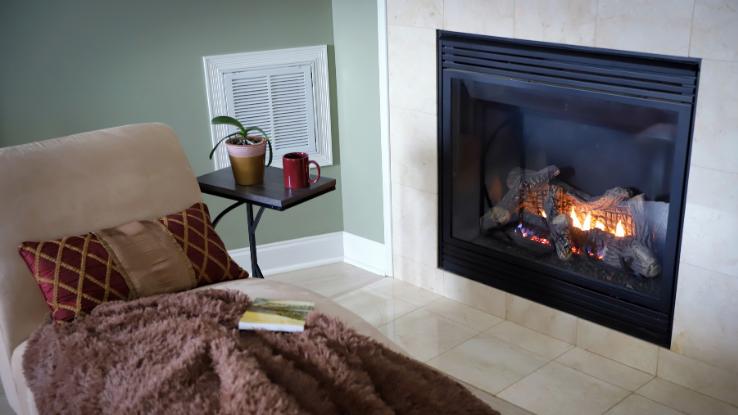 The COVID-19 pandemic has found many Americans spending more time at home than ever before. So, as we navigate the cold winter months, why not make this the year you transform your living room or den into a cozy oasis? While the idea of redesigning your home to install a traditional fireplace may not hold a ton of appeal, opting for a gas fireplace is a much easier alternative. Gas fireplaces offer the same allure as wood-burning fireplaces, but they're safer, cheaper and way easier to maintain. It's time to get cozy!
How to Choose a Gas Fireplace
When choosing a gas fireplace, remember that, like any appliance, there are features to look for and things to avoid. While perusing, you'll want to consider vents, installation style and what kind of fuel your selection burns. Need some help? We've got you covered.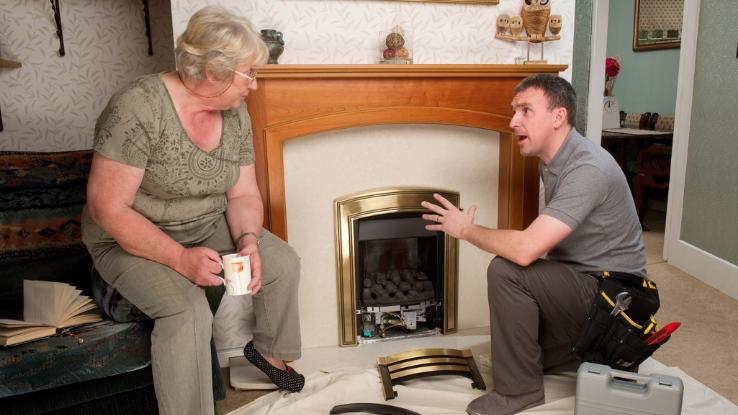 Here's a quick breakdown:
Vent Type: If you're buying an insert to transform a traditional fireplace into a gas one, then you may come across natural vent style options. These types of inserts are designed to work with your existing masonry, sometimes in combination with a pipe or liner that's installed through your chimney. Direct vent fireplaces, on the other hand, can be vented through a wall or up through the roof of your house. Finally, there are vent-free fireplaces, which automatically clean hot air as it leaves the fireplace, eliminating the need for a chimney or ventilation system altogether.
Freestanding v. Insert: It's important to decide whether you're looking for a fireplace that comes inside a pre-built case or one that's just an insert. Inserts can either be worked into pre-existing wall indentations or used as a base for new masonry to be built around.
Fuel Type: Gas fireplaces are designed to work with different types of fuels — namely natural gas or propane.
Indoor v. Outdoor: You'll soon discover that there are many great options for both indoor and outdoor gas fireplaces. For safety reasons, make sure you know which environment your fireplace was intended for before you buy it.
Additionally, while it's entirely possible to install a gas fireplace yourself, don't hesitate to contact a professional. There's nothing worse than damaging your home with a DIY project gone terribly wrong!
Under $300: Peterson Real Fyre Oak Log Set
If you're looking for a gorgeous gas fireplace that won't break the bank, feast your eyes on the Peterson Real Fyre, a 24-inch oak log set that comes complete with a vented burner and gas connection set. This natural gas fireplace's artificial logs have been crafted to look beautifully realistic, but, because the logs are made from superior refractory ceramics, they'll retain their heat even after the burner is off.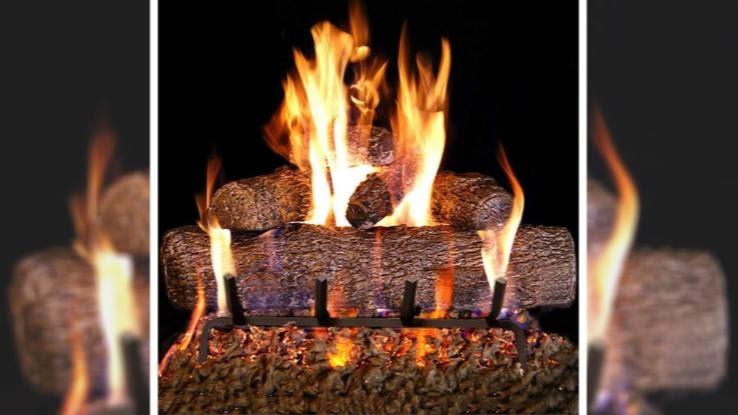 Under $400: ProCom Ventless Gas Firebox Insert
If you're worried that your living room may not have enough room for a fireplace, then check out this ProCom Ventless Gas Firebox Insert option, which is a great choice for tight areas. You can choose to position it in an existing wall recess or cabinet — or, if you're feeling extra crafty, you can even build a custom unit around it. While it comes with a draw screen and hood, do be aware that the log set and gas line and hookups need to be purchased separately.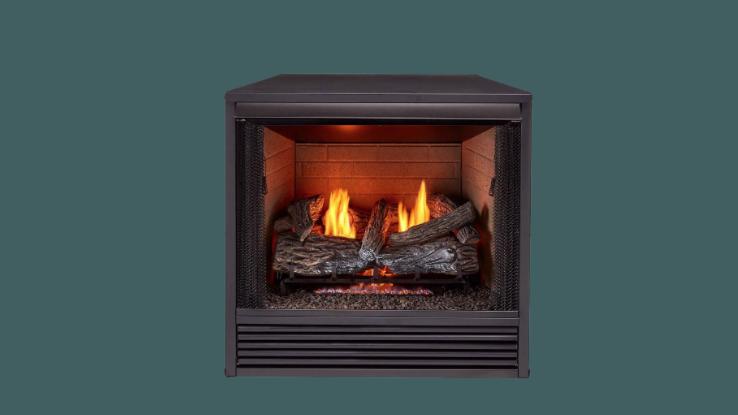 Under $500: Bluegrass Living Vent-Free Natural Gas Fireplace
This Bluegrass Living Vent-Free Natural Gas Fireplace Insert is a great choice for a zero-clearance natural gas fireplace insert. It comes with 5 hand-painted ceramic fiber logs, a ceramic fiber brick liner, and thermostatic control for adjusting the heat. Its classic arch-style makes for a cozy, classy addition to any room. Capable of a heat output of up to 10,000 BTU's/hr, it's a great way to save money on heating bills.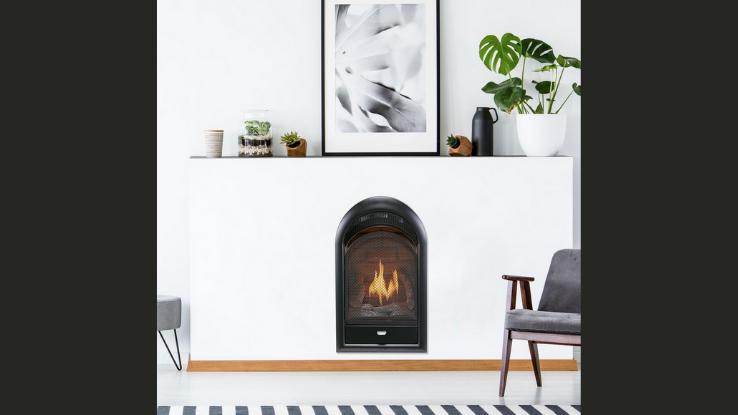 Under $600: Pleasant Hearth Vent-Free Gas Stove
Whether you're looking for a great natural gas or liquid propane-based option, then check out this gorgeous Pleasant Hearth Vent-Free Gas Stove. This one is a great option if you're not into having a traditional fireplace mantle or hearth, but want that cozy cabin feel instead. Best of all, this state-of-the-art vent free technology does not require a flue or chimney, making it an ideal choice for warming your home.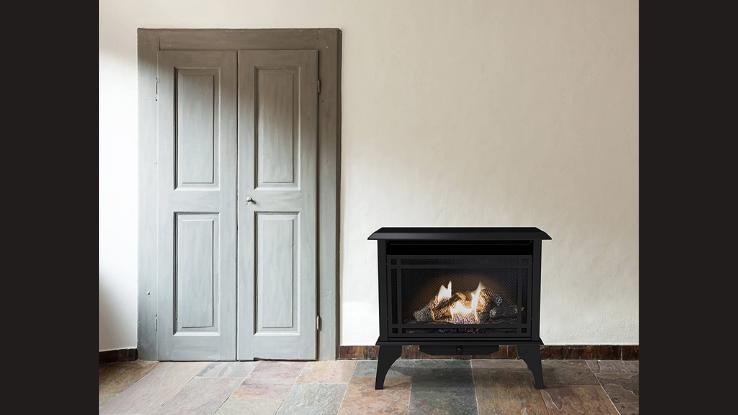 Under $1,500: Bluegrass Living Vent-Free Stainless Outdoor Gas Fireplace Insert
If you've always dreamed of having the most beautiful outdoor patio area on the block, then the Bluegrass Living Vent-Free Stainless Outdoor Gas Fireplace Insert may be just the choice for you. This 32-inch outdoor fireplace insert is designed with a sloped H-burner and a reflective interior that creates a gorgeous effect for the fireplace owner who wants both warmth and ambiance. While designed to use natural gas, a liquid propane conversion kit is also included.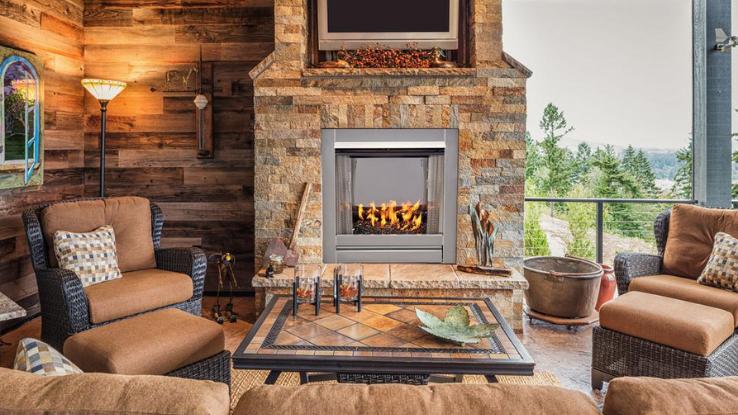 Under $4,000: Cal Flame Propane Gas Outdoor Fireplace
If you want to completely transform your backyard into a cozy oasis, look no further than this Cal Flame Propane Gas Outdoor Fireplace. Crafted from ameristone stucco and two-tone porcelain tile, this beautiful, dome-shaped fireplace is sure to elevate any outdoor space. Just attach a liquid propane tank and you're good to go. As an added bonus, it also comes with eight realistic-looking logs and lava rocks.