These Products Will Transform Your Backyard (or Balcony) into an Outdoor Oasis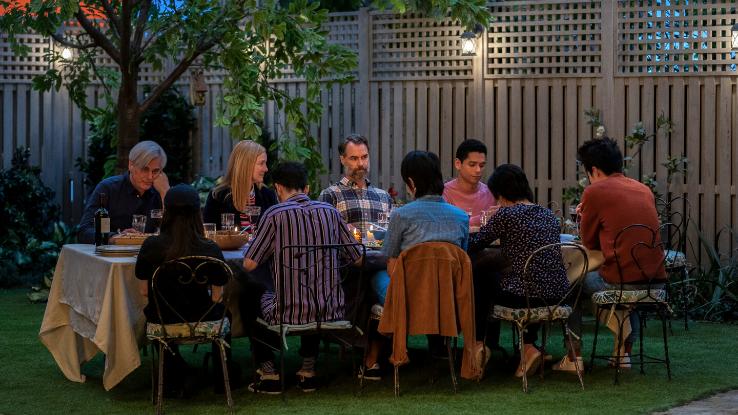 With novel coronavirus cases rising again across the country, it's clear that the pandemic has and will continue to alter the way we experience our daily lives for quite some time. For many people, enjoying the outdoors with others — a generally safer way to interact — will mean finding ways to do it closer to home without the need to travel. The only problem with that idea is that many of us have spent a lot of time at home since March and are experiencing high degrees of cabin fever.
If you have access to a backyard, a balcony, an apartment building roof or a patio, that prime bit of outdoor real estate could offer the solution you need. With just a few choice products, you can transform your outdoor space into an at-home oasis you can enjoy all year round. First, you'll need a few essentials…
A Few Adirondack Chairs for Lounging
Nothing says "relaxing in New England" or "lounging by the lake" like a couple of Adirondack chairs. They work well in a garden, on a front porch, on a patio — really anywhere you might have room for them. Unlike your office chair — or the kitchen chair you've been using as an office chair — their very shape encourages grabbing an ice-cold drink, leaning back and relaxing.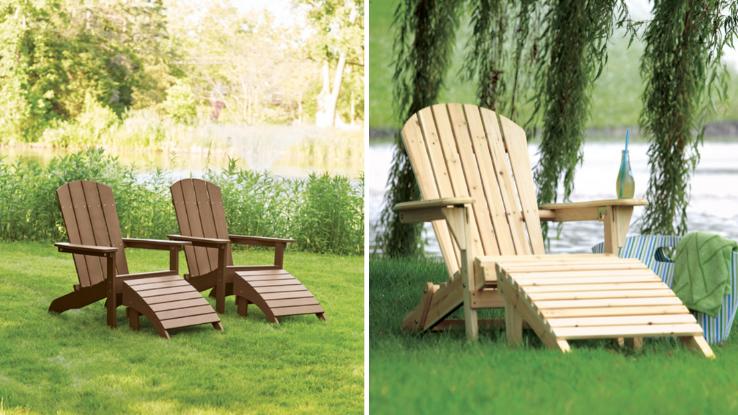 When it comes to Adirondacks, however, there are a lot of choices. Picky about color? You can find everything from an unfinished wooden chair to a bright teal one. Want to adjust your comfort level? Some chairs function like beach chairs, allowing you to pick the best setting for your back. And, of course, they come in a range of prices to fit any budget. Here are our favorites:
Best for Your Wallet: Looking to create an oasis on a budget? Try out a chair from this line of Adams High-Back Adirondack Chairs. Made from polypropylene, these do well in the rain and don't need a ton of maintenance. The higher back provides additional comfort, whether you're trying to sit up and read or lay back and snooze. Best of all, they come in a bunch of colors, from forest green to bright blue.
Marries Comfort with a Nice Price Tag: Maybe you want the Goldilocks of Adirondack chairs? The Keter Troy Adirondack Chair is a step above the Adams chair. If you're going for pleasing aesthetics, the UV protected resin is resistant to rust and peeling and keeps its eye-catching appeal for the long term. Yet the chair offers cozy, comfortable seating with a nice mid-range price tag and a 10-year frame warranty.
The Ultimate Lounger: Finally, if you're looking for a top-of-the-line lounger, the Living Accents Resin Adirondack Chair is the one for you. Easier to maintain than wood, this one still gets plenty of aesthetic points. Bonus: You can pair it with a matching Living Accents Adirondack Ottoman (sold separately).
Add In: The Perfect Atmospheric Lighting
In photography, the "golden hour" is the period shortly after sunrise or before sunset. Full of softer, redder light, this "magic hour" not only translates well to film, but it also creates a relaxing, beautiful atmosphere IRL too. Point being, the right kind of lighting can do more than set a mood — it can create an experience.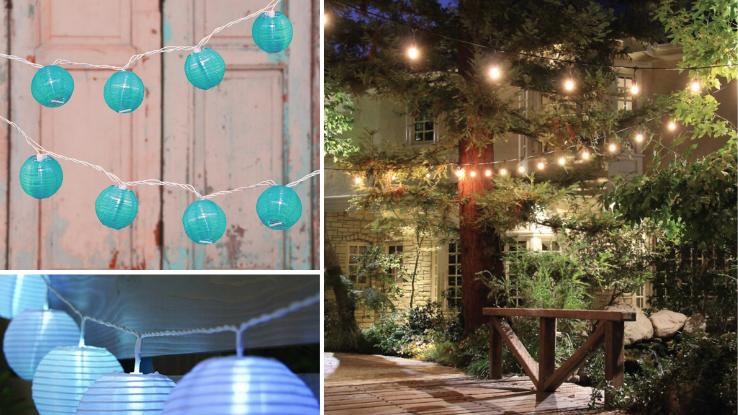 When it comes to decorating a patio or balcony, string lights are the way to go. You can fill the space with warm light — and it's all pretty hassle-free. Want to go the traditional paper lantern route? These Lumabase Nylon String Lights are a good starting point — and you can let your personality shine through by picking from fun colors like orange, lime green and turquoise. If you're looking to create more of a party vibe, pick up the Hampton Bay Indoor/Outdoor Paper Lantern String Lights, which change colors as they glow. Finally, if finding something charming yet weatherproof is of concern, we recommend the FEIT Electric Incandescent String Light Set to achieve a warm glow and sturdy design to illuminate in style.
Try a Canopy to Block Out the Sun
Sure, umbrellas get the job done when it comes to blocking out the sun, but they also just feel so… typical. If you want to add a little more pizazz to your patio, a canopy or awning will do just that. Of course, there are a lot of ways to go wrong when it comes to finding the right patio covering. For example, the more bells and whistles, the more of a hassle your awning will be to install or maintain.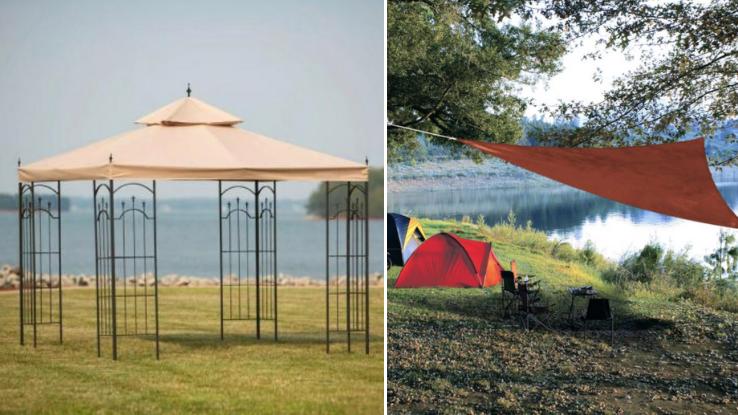 For that reason, we recommend something a bit more manual. For folks who have full patios and yards, the Hampton Bay Outdoor Patio Arrow Gazebo is a worthwhile investment. Measuring 10 feet by 10 feet, the canopy is rust-resistant, and in addition to blocking out the sun's rays, it also allows you to enjoy your outdoor space in the rain. For those of us who are a little short on space, the Coolaroo Ready-to-Hang Shade Sail Canopy is a perfect fit. Made of durable polyethylene, this easy-to-install, triangular canopy can be used on balconies or out on the trail if you go camping this summer.
Carry on into the Evening with a Tabletop Firepit
Want to kick your patio up a notch? This next suggestion is lit — literally. A firepit is the ultimate in luxury when it comes to making your outdoor space feel both cozy and fun, and luckily for us, fire pits have become both more affordable and more space-conscious. Enter the Chisolm Stone Propane Tabletop Firepit.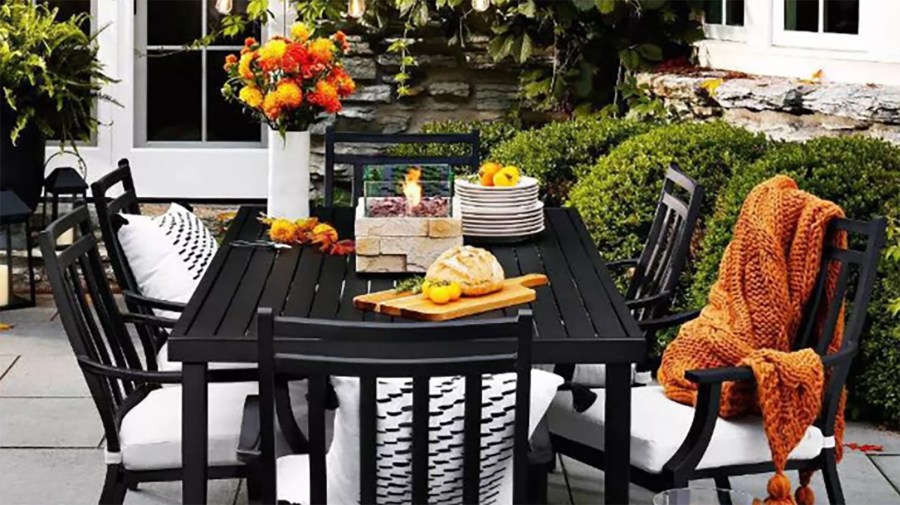 Several hundred dollars less than a free-standing fire pit, the propane-powered Chisolm makes a great accent piece in the center of any outdoor table. It features an attractive brick lower surround in a neutral, natural stone tone, brown lava rocks and a glass upper surround. It's an item that's sure to dazzle guests and complement the already lovely summer night atmosphere.
Need a Nap? Don't "Sleep on" Grabbing a No-Hassle Hammock
Finally, no outdoor experience is complete without a hammock — the ultimate means of lounging. If you're looking for a more traditional lounger, the Large Sling Hammock in Conley Denim blends both style and comfort. Measuring in at 13 feet long, this sling is made of a comfortable, quick-drying mesh fabric, making it perfect for the hammock-owner who doesn't want to worry about the pool or rainwater messing with their sling.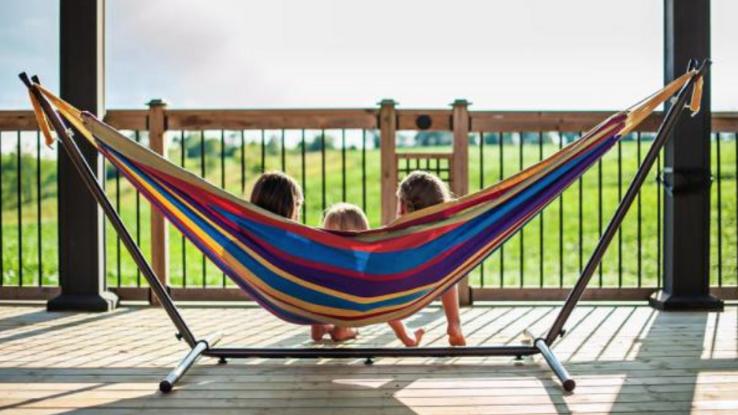 Another great option? The free-standing Vivere Double Cotton Hammock with Stand. Vivere asks, "Don't have 20 years to wait for those trees?" Then, don't fret. That's right: If you don't have the house, trees or other surface to attach a hammock to — we're looking at you, apartment dwellers — then this sling is the way to go. Durable, comfy and portable, this fun, brightly-colored hammock is ready to help you make the world your next napping place.