Find the Right Bunk Beds for Your Kids at Any Price Point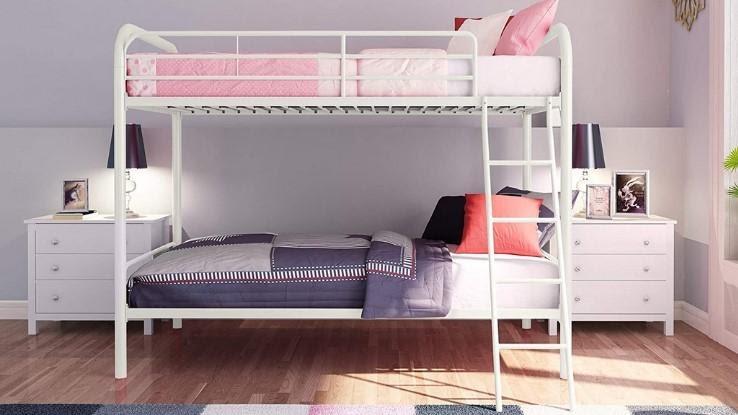 Want to be able to sleep multiple kids in the same room without sacrificing space — or while actually creating more open space? If so, a bunk bed is a great way to go. Kids love the novelty of the easy-access ladders and fun, high-perch perspective, and you'll love the ability to sleep several children (or adults in some cases) comfortably in the same space. Whether you're looking for a light, sleek design or a solid bunk bed that comes complete with built-in storage space, there are plenty of excellent options available. To get started, check out our top picks for bunk beds and loft beds that can instantly transform the look and feel of any children's room.
How to Select the Perfect Bunk Bed
New to the wonderful world of space-sparing bunk beds? If you've never bought a bunk bed before, it's important to know a few things before you start shopping. Consider the following features and factors as you evaluate different models and designs.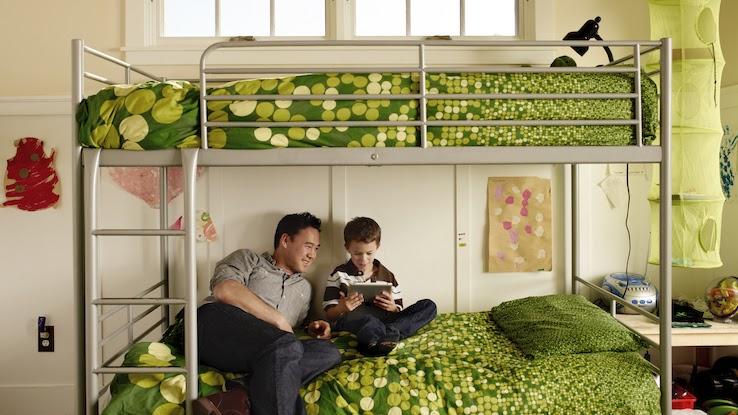 Bunk Beds vs. Loft Beds: While bunk beds are essentially two beds stacked on top of one another or perpendicular to each other, loft beds feature just one bed that's built much higher than a normal bed. The idea of a loft bed is that you'll enjoy a great deal of room beneath it, which you can use for anything from storage to a play space for your kids. Both options present great ways to free up extra space, especially in smaller bedrooms, but bunk beds are ideal if you have several children sharing a room or your child often has sleepover guests.
Safety Features: Bunk beds are elevated and usually require kids to climb ladders to access the top bunk. This means you'll want to pay some extra attention to safety so your kids can use them comfortably. As you're looking into different bunk beds, always make sure to keep safety features in the forefront of your mind. Any bed you buy should be made from a sturdy, solid material. The top bunk should incorporate a guardrail to keep kids from accidentally rolling off, and this should be at least 5 inches tall. Kids under age 6 should never sleep in the top bunk.
Weight Limits: While bunk beds and loft beds alike are popular choices for kids, they can be great for saving space in combination guest rooms/offices and varied-use basements. With this in mind, you might choose to provide these types of bed as sleeping options for adult guests. Just make sure that you check the weight capacity for both the top and bottom bunks; this helps you ensure the frame can comfortably hold an adult guest's weight without compromising the bed's structural integrity or breaking the ladder.
Storage Considerations: Bunk and loft beds both free up space due to their compact, stacked designs, but some offer extra storage space as well. For example, the solid bases of some bottom bunks may feature dresser-style drawers, and other beds may incorporate stairs with a drawer in each step. Finding a bed that offers added shelving or drawers can be a great way to supplement the storage in the room.
Under $250: Twin Bunk Bed With Ladder
If you're looking for a sleek, simple bunk bed that won't break the bank — perhaps you're on a budget or you want to see how your kids like a bunk bed before investing in a model for long-term use — the DHP Twin-Over-Twin Bunk Bed With Metal Frame and Ladder may be the best bed for your needs. The light metal frame weighs in at just 74 pounds without mattresses — you'll need to buy those separately — making it easy and convenient to maneuver the setup into different positions or other areas of your home.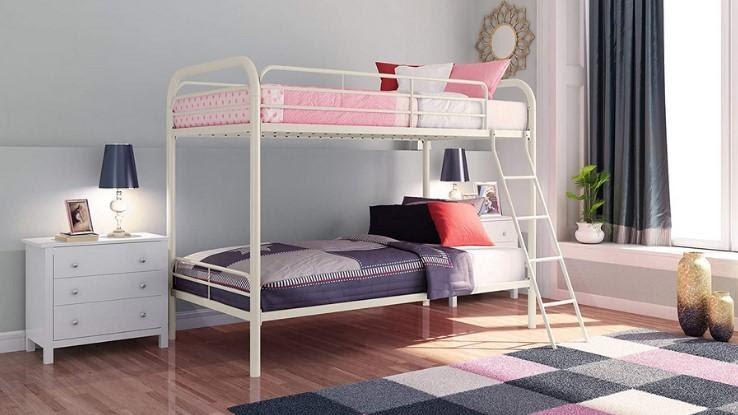 Despite its sleek design, it's built to last for years, holding a maximum weight of 200 pounds on the top bunk and 225 pounds on the bottom. You'll also rest easier thanks to the included full-length guardrails that line the top bunk all the way around for added protection. Complete with a built-in slanted ladder, which provides safer access to the top bunk than vertical ladders, it's a great choice for sleepovers, siblings and overnight guests alike.
Under $300: Modern Wooden Bunk Bed With Ladder
If you prefer the look of wooden furniture or want something that'll feel a bit more mature as your kids age, then this Modern Bunk Bed from Custom Kids Furniture is an ideal choice for you. Made from sturdy pine with a rustic mocha walnut finish, this handsome bunk bed design presents a classy way to add some style to a room as you also add more functionality.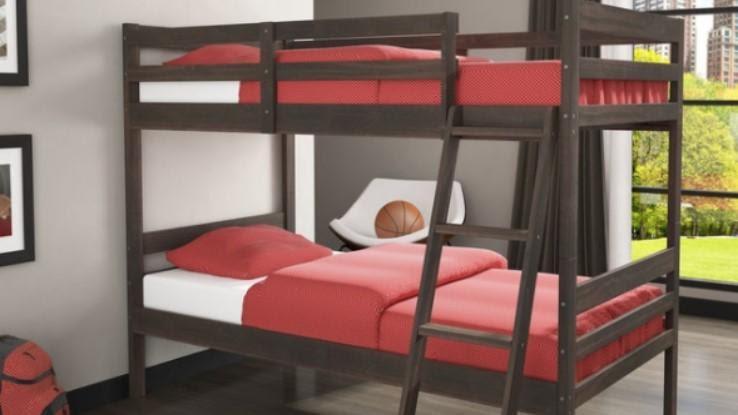 Once assembled, the frame can hold two twin mattresses and sleepers who weigh up to 150 pounds each. It comes complete with top bunk guardrails and a matching wooden ladder — again, it's a slanted design that's easier to climb and more stable for kids. You'll also need to purchase mattresses separately for use with these bunk beds, but this gives you the freedom to select options with different firmness levels that can transition to other bed frames if your children outgrow this design.
Under $500: Twin-Over-Full Bunk Bed With Storage Drawer
If you're in the market for a roomy bunk bed with the added bonus of beautifully concealed storage, then the Hillsdale Furniture Rockdale Espresso Twin Over Full Bunk Bed is a great solution. Made from sturdy solid wood, it's available in both cherry and espresso finishes that definitely add a more grown-up feel to the bedroom. And it's sized nicely for those grown-ups and for kids alike; both bunks are roomy enough for adults to sleep on, and the weight limit for the top portion is a generous 250 pounds.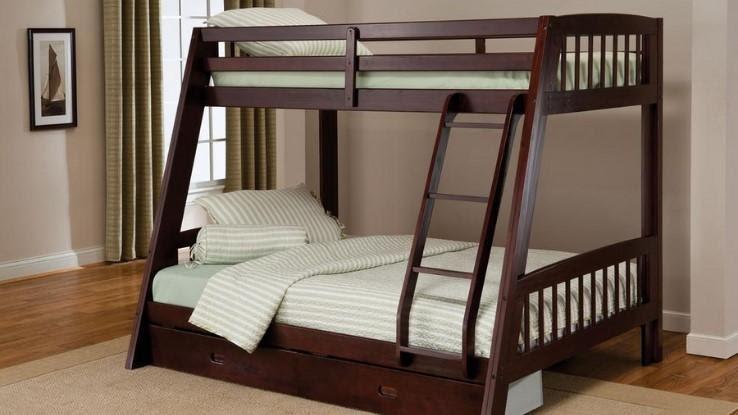 The top bunk is designed to hold a twin-sized mattress and comes with a guardrail and slanted ladder, while the bottom bunk can hold a full-size mattress for some extra spaciousness. Best of all, this design boasts under-bed storage drawers that are great for stashing toys, clothes and extra blankets and keeping them accessible to the person on the bottom bed.
Under $600: Floor Loft Bed With Storage Stairs
If you're looking to create a little more space in your child's room, a loft bed is a great way to do it. The Harper & Bright Designs White Twin Size Floor Loft Bed With Storage Stairs raises your child's mattress to a height of over 46 inches, creating extra play space or storage room underneath.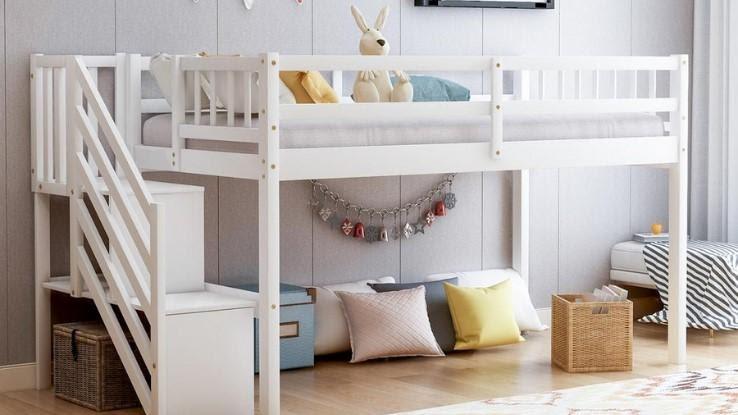 Made from a sturdy pine frame, the bed holds a twin mattress — no box springs necessary here — and can support a total weight of 150 pounds. You'll also love that it comes complete with slats and a guardrail. Best of all, your child will be able to access their bed via a set of cool stairs that also double as added storage space with open shelving on the sides. You can always add a second twin mattress beneath if your child wants one for sleepovers, but the open space really does make for a great fort or reading nook, too.
Under $700: Convertible Bunk Loft Bed
Not sure whether to go with a bunk bed or single twin beds for your kids? Get the best of both worlds with the Convertible White Twin Binne Over Bunk Loft Bed from Harper & Bright Designs. The two single twin beds can stack on top of each other to create a traditional perpendicular bunk bed arrangement, but you can also separate them into a regular twin bed and a slightly lofted bed that can fit storage bins underneath.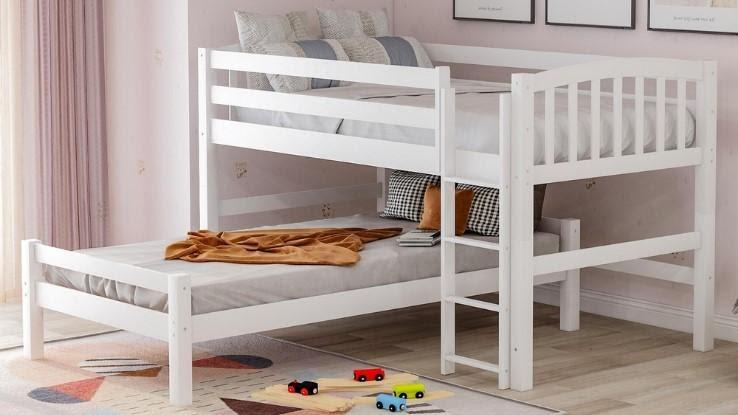 Complete with sturdy slats, each bed holds a twin-sized mattress with no need for box springs. Each frame is also made of solid pine and can hold up to 250 pounds, making this setup a definite contender for a guest room that's suitable for adults. This sturdy, bright bed is a versatile choice that ultimately enables you to customize your kids' space and create extra room with some quick rearranging.
Under $800: Bunk Bed With Trundle Bed
If you're looking for a bunk bed with all the bells and whistles, check out this Grey Twin-Over-Full Stairway Bunk Bed With Trundle. With an upper bed, lower bed and a pull-out trundle bed beneath the bottom mattress, you can easily sleep three or four people in the same space — and then slide the trundle back for easy neatening in one swift motion. If you're looking for even more versatility, you can also separate this design into one twin bed, one full-size bed and a trundle bed that stores under the full mattress.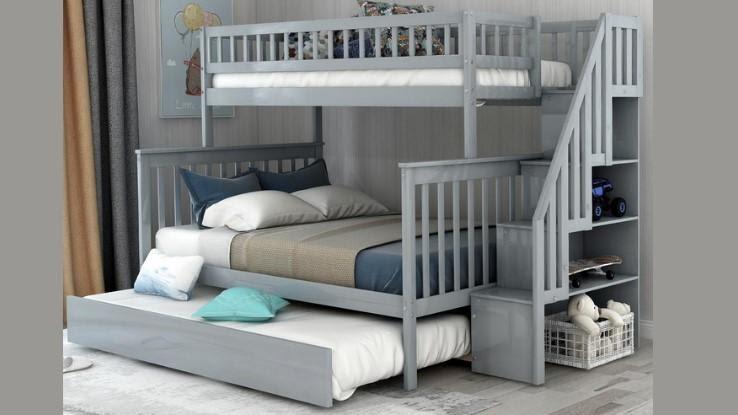 Each bunk is made from high-quality pine wood that boasts steel reinforcements for peace of mind and added durability. The top bunk can hold up to 150 pounds, the bottom bunk can support sleepers up to 200 pounds and the trundle bed can hold up to 175 pounds. This is convenient, of course, but when it comes to standout features this bed also shines. It features a set of actual stairs to the top bunk, so there's no navigating tricky ladders in the middle of the night. The stairway is open on the sides, too, to display exposed shelving for super-practical storage.