How to Make Delicious Beef Stroganoff No Matter Your Diet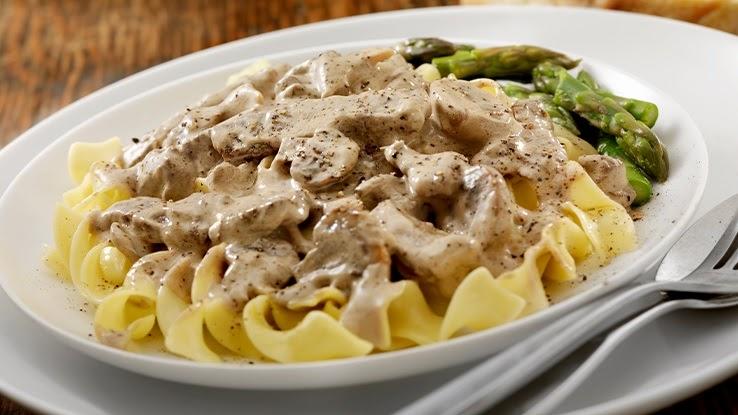 Homemade beef stroganoff is a special slice of heaven, especially during the chilly season. With tender beef, warm egg noodles and a creamy sauce at its core, this savory dish is the perfect meal for the end of a long day. Although it isn't a particularly complex dish, there are plenty of ways to prepare beef stroganoff to meet your dietary needs. With this in mind, we've rounded up a few of our delicious favorites!
Classic Beef Stroganoff
This beef stroganoff recipe from Betty Crocker is rich with flavor. Not only is it super simple to prepare, but it's also extremely savory, from its buttered mushroom and onion mix to its tender beef chunks. Additionally, sour cream and Worcestershire sauce add flavor and creaminess to the meat base. Although the recipe is bursting with taste, it only calls for a handful of ingredients and 20 minutes of active prep time, making it a perfect dish for chefs of all skill levels.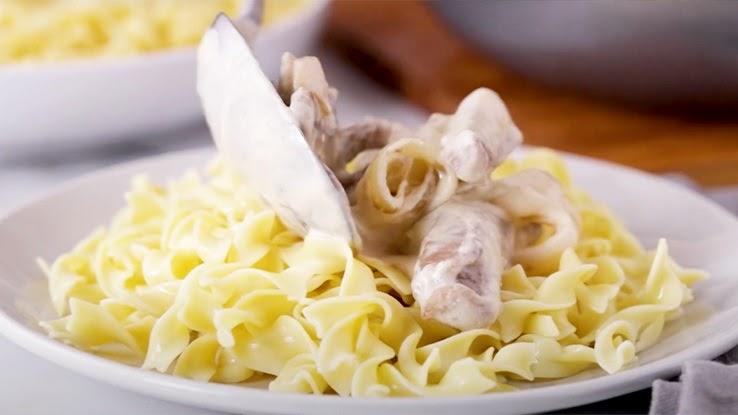 Preparation for this recipe requires cooking and simmering ingredients in a skillet, so you'll want to have a large and durable skillet available. This Pre-Seasoned Cast-Iron Skillet is a stellar option for this recipe, especially since it's so roomy. The skillet also comes equipped with a silicone-grip handle, which will ensure you don't burn yourself or drop your beef stroganoff while dishing it out.
Slow Cooker Beef Stroganoff with Healthier Ingredients
Well Plated created this yummy version of beef stroganoff for folks who need to cut down on certain food groups for health reasons. For example, the recipe calls for sirloin, a healthier cut of beef with less fat than other cuts. It also swaps trades sour cream for Greek yogurt, which works similarly to enhance the texture of the cream sauce while providing a nice dose of protein. Additionally, the recommended whole wheat egg noodles are rich in protein and fiber. With thyme, parsley and dill weed added in for flavor, this healthier spin doesn't sacrifice taste.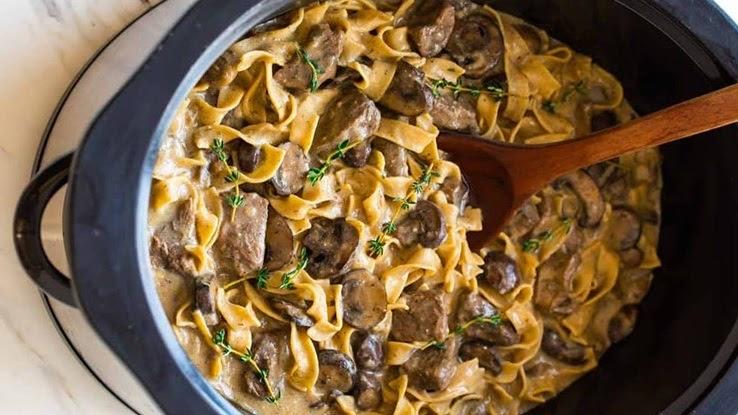 One convenient part of this dish is that you can prepare it in a crockpot, meaning less time in the kitchen and more time enjoying your meal. This Slow Cooker from Hamilton Beach is a great choice for beef stroganoff and other slow-cooker-compatible dishes. With multiple temperature settings and an easy countdown timer, the slow cooker's interface is easy to navigate. This 8-quart crock pot flips itself to warm once the cook time runs out, ensuring your stroganoff remains toasty warm without overcooking the beef.
Vegetarian "Beef" Stroganoff
If you can't imagine beef stroganoff as a vegetarian dish, think twice. This delectable recipe from Spruce Eats is so well-flavored that you can hardly tell there's not any meat in the meal. Rather than preparing this dish with classic beef, the ingredient list calls for a beef substitute from the popular vegan brand Gardein. While some beef stroganoff recipes require beef broth as a soup base, this recipe uses cream of mushroom soup, as well as sour cream and white wine. Rest assured that there's no flavor lost in this recipe's veggie spin.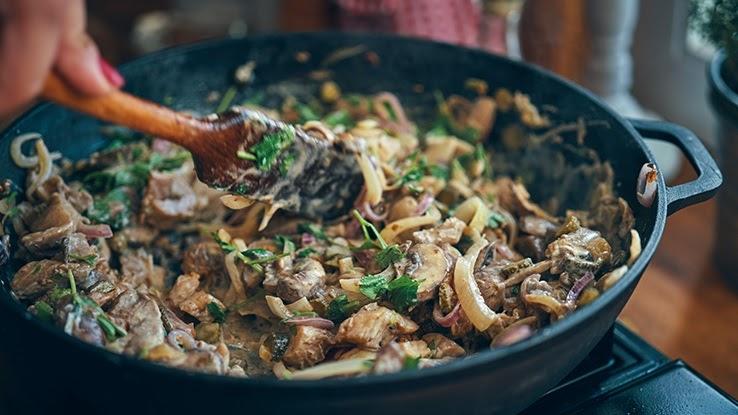 You'll be mincing, slicing and dicing plenty of ingredients throughout this meal, so it's worth investing in a quality knife set. This set of Chef's Knives from Home Hero are experts' preferred kitchen tools. The five stainless steel utensils are sharp and versatile, which means they can easily slice through ingredients of any texture or density. The knives also come with an acrylic display stand and an accompanying knife sharpener, making them both elegant and practical.
Seafood Blackened Shrimp Stroganoff
Seafood fans will fall in love with this under-the-sea spin on beef stroganoff. This blackened shrimp stroganoff from All Recipes is extremely savory, creamy and creative, with plenty of herbs and spices bringing the flavor of the seafood forward. It should be noted that the seasonings and veggies within this recipe are chosen to accompany fresh shrimp rather than beef, but, so long as you're on board, the Cajun powder and red bell peppers are sure to add a rich flavor to this tasty meal.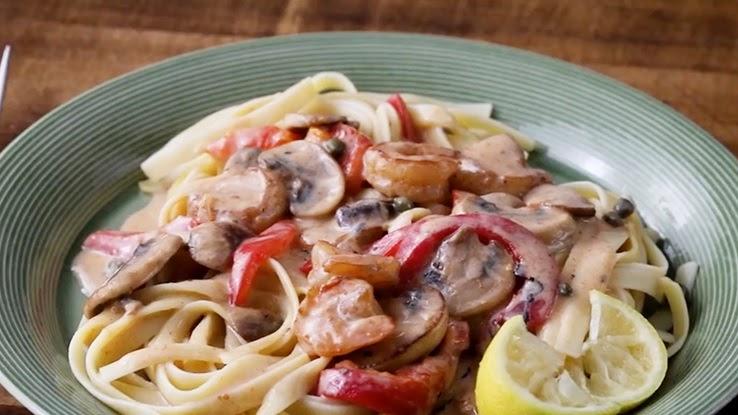 This stainless steel colander from Sur La Table is great for dishes like shrimp stroganoff, or any other noodle-based meals. The professional piece of kitchenware is capable of handling high levels of heat, making it ideal for draining pasta water before the noodles overcook themselves in a smoking pot. Three metal prongs line the bottom of the dish and keep it balanced, giving it an ideal edge for placing the noodles aside on the counter while you prep the rest of the stroganoff recipe.
Keto Beef Stroganoff
The keto diet may not allow for egg noodles, but that doesn't mean you have to give up on beef stroganoff. This inventive recipe from Delish swaps out noodles for a bed of cauliflower rice. Still, the focus of this recipe remains on the beef and the broth, with ingredients like garlic, cream cheese, Dijon mustard, paprika and Worcestershire sauce making up the creamy base of the dish. Although it's served over a bed of vegetable rice rather than noodles, this recipe is so yummy that you'll hardly be able to taste the difference.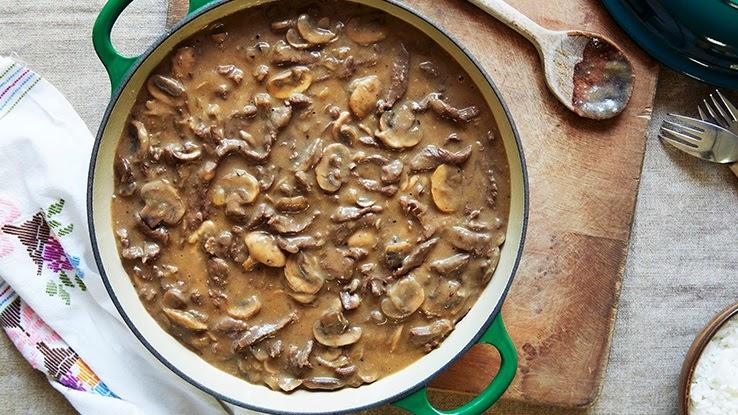 With so many vegetables to prepare for this recipe, you'll want to invest in a vegetable chopper that can help you knock out this seasonal favorite and others like it. This is especially true if you're planning on taking a swing at preparing your own cauliflower rice. This Hamilton Beach Food Processor & Vegetable Chopper will speed up your meal-prep by tenfold. With an easy feed shoot, multiple speed settings and a stainless steel blade, this 12-cup chopper will be your go-to for all veggie chopping and mixing.