How Much Freezer Space Do You Actually Need? Find the Best Option for Your Home
The COVID-19 pandemic has caused many of us to rethink how we stock our cupboards and kitchens. One tried-and-true way to ensure your stores of food are long-lasting? Freeze everything. Well, everything you don't plan on using immediately, be it meat, broth or prepared meals.
Of course, as with any appliance, there are so many different types of freezers out there to choose from. From chest-style freezers to refrigerator-freezer combos to portable ice chests, we've rounded up the best at-home freezers for any situation — so you can sit back, explore your options and, most importantly, chill out.
The Benefits of Upright Models and Chest-Style Freezers
Whether you're furnishing a home for the first time or looking to find some extra freezer space to accommodate your household's needs, there's a freezer out there for you. But, first things first: the basics. Freezers come in two standard designs, the upright design — not unlike your standard fridge/freezer combo — and the chest style — not unlike the freezers convenience stores use to keep ice cream cold. Regardless of the design, freezers come in three standard sizes: compact (5 to 9 cubic feet), medium (12 to 18 cubic feet) and large (more than 18 cubic feet.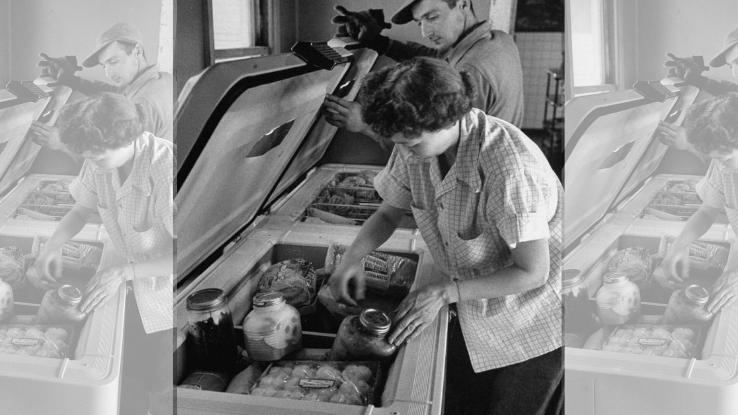 Before deciding which size is right for you, consider your available space. Short on room? The vertically oriented upright model can be a real space saver. However, if you live in an area that's prone to natural disasters or weather events that cause blackouts, you might want to consider a chest-style freezer, which, if left unopened, can maintain cold temps for up to 24 hours.
Of course, the size of the space isn't the only factor you should consider — the space's temperature matters, too. Experts recommend keeping your freezer in a cool spot, like a basement, which will stay a consistent, below-room-temp level throughout the year. If you don't have a basement or garage, most manufacturers claim their freezers will operate in temps up to 110 degrees Fahrenheit. (Cool, right?)
Best Overall Freezer
If you're looking for a top-rated freezer that does it all, look no further than the Whirlpool 19.65-Cubic-Foot Frost-Free Upright Freezer. If you thought that was a mouthful, just wait until you see how much food this freezer can hold. Have a full household with a lot of folks to feed? No worries.
This freezer's ample storage capacity provides as much space as many full-size refrigerator-freezer combos, which means you can buy all of your favorite frozen foods in bulk from Costco. (Those teriyaki meatballs are a must — trust us.) Not only is this model powerful, but it's also energy efficient, and, in terms of bells and whistles, it's got a few of those too. The Fast Freeze setting automatically drops the appliance to its lowest temperature to get foods frozen quickly after you add them, and the frost-free feature keeps ice from building up afterward. It even has a reversible door so you can access your food from either direction — a convenient feature if you don't have too many options for placement in your home, basement or garage.
Best Ultra-Compact Freezer for Your Office or Dorm
If you're in the market for a compact upright freezer that won't break the bank, the Koolatron Kool 3.1-Cubic-Feet Upright Freezer might appeal to you. Sure, the name Koolatron sounds a little surfer-dude-chic, but don't let that deter you from checking out this affordable, top-notch appliance.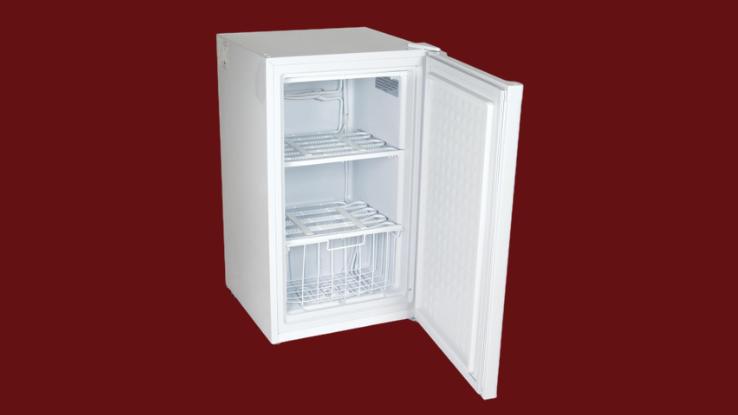 With convenient shelving and a removable drawer, the Kool allows you to make the most of your storage space and find a layout that works best for your needs. Reviewers love the compact dimensions of this freezer, noting that it's great for someone living in an apartment or who needs some backup space if their primary freezer is packed to the brim. While the storage basket, or drawer, is a bit difficult to adjust, this model definitely nabs extra points for running quietly and cooling food quickly.
Interested in something versatile and portable? Try this Whynter 1.1.-Cubic-Feet Portable Energy Star Freezer, which is perfect for unused kitchen corners and small offices. You can also toss it in the back of your car if you're one of those travelers who needs all their amenities without the hassle of the hotel minibar.
Best Refrigerator-Freezer Combo
Looking to replace your current refrigerator-freezer combo — or add a second dual-purpose appliance to your home? Whatever the case, the Frigidaire 18.3-Cubic-Feet Stainless Steel Top Freezer Refrigerator is one of the best combo appliances on the market. More than 1,100 reviewers have given this unit a five-star rating for its features, energy efficiency and value — and they aren't wrong.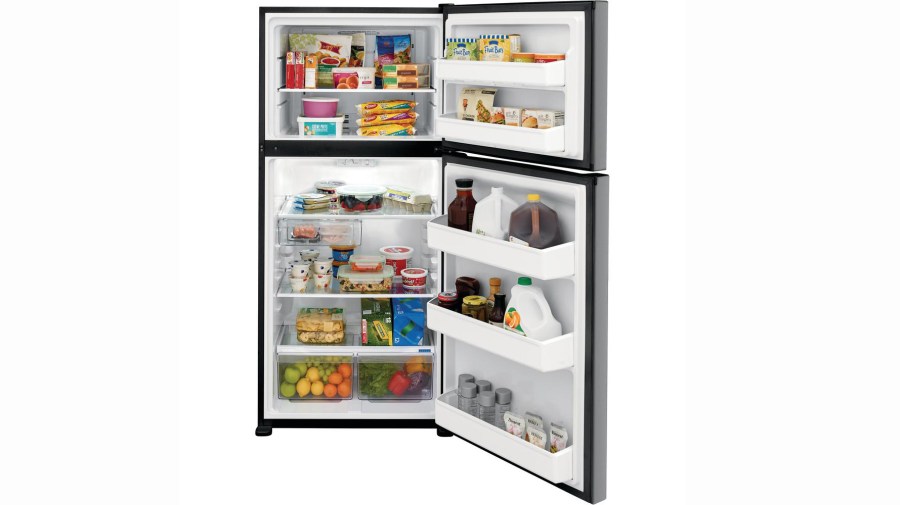 What we love about this combo appliance is its flexibility. You can store all sorts of food at various temperatures all in one place. Thanks to the adjustable shelves and full-size glass shelves, reconfiguring your appliance's interior is a cinch. The spacious interior allows you to store up to 18 bags' worth of groceries at a time, on average. Bonus: The EvenTemp Cooling system puts a stop to warm spots and unwanted freezing that can ruin your food.
Best Chest-Style Freezer
Whether you're an ice cream lover or just a fan of the horizontal, chest-style freezer, the GE Garage-Ready 7-Cubic-Feet Manual Defrost Chest Freezer gets the job done. A whopping 75% of reviewers gave this appliance five stars — and it isn't hard to see why. First, there's the adjustable thermostat: Conveniently located on the outside of the freezer, the control allows you to make changes to your ice cream's firmness and set manual defrosts with ease.
Inside, the freezer features two lift-out, sliding storage baskets so that all of your favorite frozen foods, no matter how bulky, have their own spots. Another great feature? This freezer's defrost water drain makes planning in advance easy — and mess-free. Reviewers also commend this GE chest freezer for being quiet and efficient and offering great value for the money.
Best Energy-Efficient Freezer
With the Whynter 3.4-Cubic-Feet Energy Star Compact Refrigerator Freezer, you don't have to sacrifice energy efficiency in the name of keeping your items frozen. This freezer is one of the most efficient small appliances on the market — in fact, it was dubbed Most Efficient 2020 Refrigerator by Energy Star, making both its physical and green footprints quite small.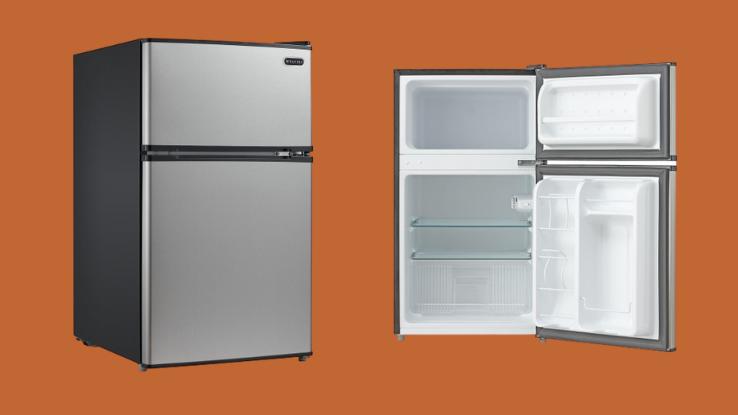 On top of that, it's a solid refrigerator-freezer combo, boasting two removable slide-out glass shelves along with convenient on-door can and bottle storage. This flat-back appliance was designed with saving space in mind: Whether you're tucking it into your office, kitchen or garage, this unit fits cleanly against the wall and into corners.