Easy, Must-Try Peach Cobbler Recipes for Any Diet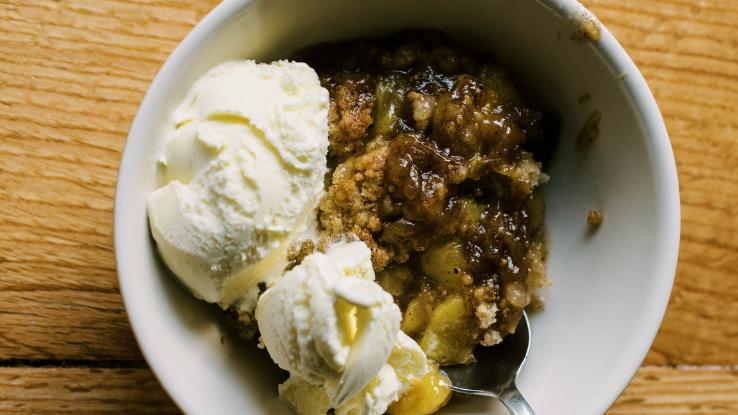 If you live in the American South — or just love their traditional foods — few desserts are as iconic as warm, gooey, homemade peach cobbler. This Southern comfort food is perfect for topping off a long summer day and warming up a chilly winter evening. It often steals the show at family gatherings and seasonal meals, sometimes topped with vanilla ice cream or cinnamon. With people all over the world facing a holiday season that may look a lot different this year, a comfort food that feels like home may be just what we all need.
So, if you're looking for some seasonal recipes to warm your heart and take the edge off your stress, look no further than these scrumptious cobbler recipes. We even went the extra mile and found some tasty offerings for those who follow very specific diets. Here's our take on a few of the best easy-to-prepare peach cobbler recipes for different dietary needs.
Best Traditional Peach Cobbler
For those who favor the classic cobbler, this recipe is definitely a must-try. This delicious dish cuts no corners and hits every requirement for maintaining traditional cobbler status by capitalizing on all the classic ingredients. One thing that makes this recipe stand out is the thin peach slices rather than the chunks and wedges seen in most cobblers. This small variation allows the flavors to blend perfectly during the baking process.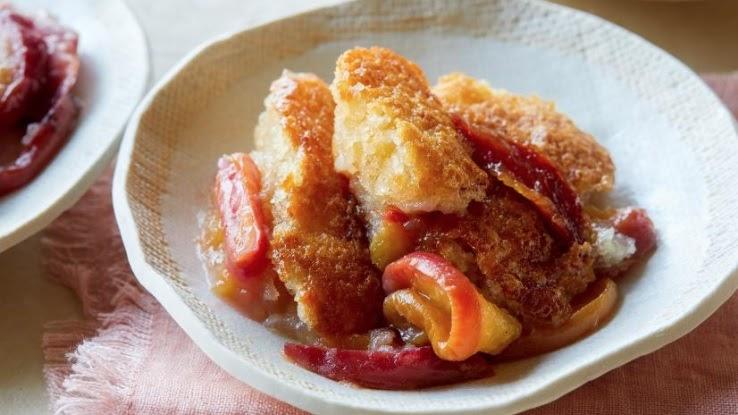 When it comes to preparation, this classic recipe starts with a classic serving dish — with melted unsalted butter in it, of course. Stir together flour, sugar, salt and baking powder, and then blend in milk without over-stirring. Add the batter blend to the buttered dish and set it aside. Boil peaches, sugar and lemon juice, stirring constantly to avoid sticking, and then pour this mixture on top of the batter in the baking dish. Top with nutmeg and cinnamon and bake the cobbler in a 375-degree oven for about 40 to 45 minutes.
For specific ingredient measurements as well as other great cobbler recipes, visit this cobbler's recipe page on the Food Network website.
Best Easy-to-Make Cobbler with Frozen Peaches
Peaches aren't always accessible or in season, but your cravings don't know that. If you're craving peach cobbler but don't have fresh or ripe peaches on hand, frozen peaches can save the day. In fact, with this popular recipe, you won't even be able to tell the peaches are frozen — that's how good it is! The fruit base calls for sliced frozen peaches, lemon juice, cornstarch and sugar, although fresh peaches are also great when you have them.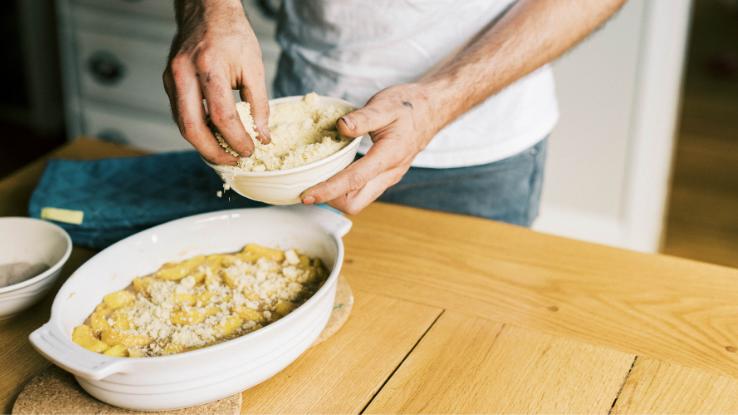 Prepare a pie pan, baking dish or non-stick tart pan by buttering the surface. Place thawed peach slices in a bowl and squeeze fresh lemon juice onto them. Mix cornstarch and sugar and gently add the mixture to the peaches. Evenly distribute the sweetened peach slices in the buttered dish. Mix flour and baking powder in one bowl and cream butter and sugar in another bowl. Beat the egg into the butter mixture, and then smoothly fold in the flour mixture. Drop spoonfuls of batter onto the peaches and bake the cobbler at 350 degrees for about 35 to 45 minutes.
Need a tutorial on peeling fresh peaches? Find this tip and full recipe measurements on the primary recipe page.
Best Gluten-Free Peach Cobbler
Being on a gluten-free diet can sometimes mean missing out on eating the dishes and desserts you love. However, going gluten-free doesn't mean you have to break it off with peach cobbler. This cobbler recipe is completely free of gluten and still delicious down to the peachy pit. Rather than using wheat flour to make a traditional cobbler topping, this cobbler calls for a gluten-free flour mix. As an additional perk, the entire dish only takes about 15 minutes to prepare (minus the bake time)!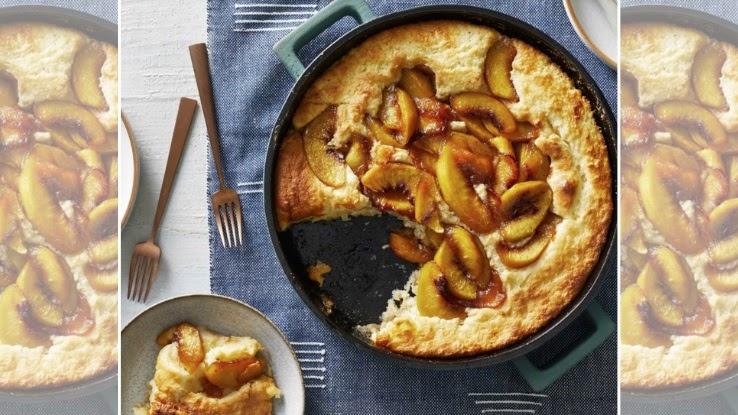 For cooking a cobbler like this, you need a good cast iron skillet to saute peaches, cinnamon, brown sugar and salt until the peaches are soft. Take the peach mixture out of the skillet and melt butter over medium heat. Thoroughly mix gluten-free flour, sugar, baking powder, milk, vanilla extract, egg and salt in a bowl and pour the batter over the melted butter in the skillet. Drop spoonfuls of the peach mixture on top of the batter and place the skillet in a 350-degree oven to cook for 45 minutes.
Ready to serve up a gluten-free peach cobbler no one will suspect isn't the real thing? Find the ingredients and step-by-step instructions on the Southern Living website.
Classic "Bisquick" Peach Cobbler
If you're worried about perfecting the topping, why not simplify the recipe? After all, it's hard to beat the simplicity of six ingredients, one of which is canned peaches that requires zero effort to prepare. This recipe also draws on ready-to-go Bisquick for the iconic cobbler topping, which takes all the grunt work out of preparing it. With only Bisquick mix, milk and nutmeg making up the batter, it's (virtually) impossible to mess up the topping during the mixing process.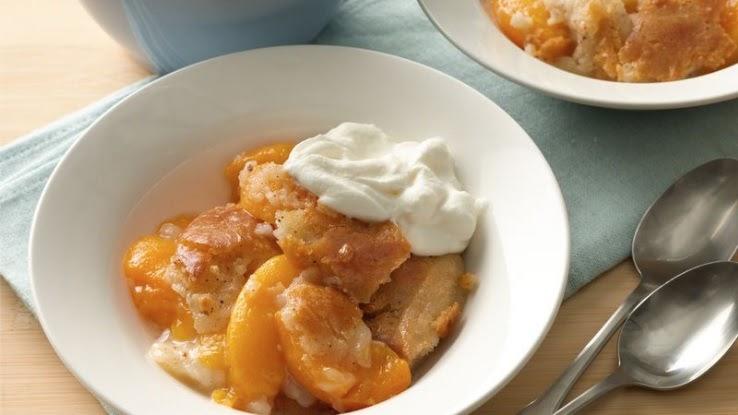 Pour the batter into a glass pie plate or baking dish, and then combine melted butter, sugar and canned peach slices to make the fruit mixture. Spoon the fruit blend onto the batter and bake for 50 to 60 minutes at 375 degrees. That's it! The Bisquick cobbler is simple, delicious and easy to prepare.
Need more simple recipes? The Betty Crocker website offers ingredient measurements for this peach cobbler as well as access to tons of other delicious recipes.
Healthier Alternative: Peach Crumble
A peach crumble dessert doesn't come down to the level of "diet" food, but it does dial the carbohydrate and fat counts down a few notches, making it a better alternative than traditional peach cobbler if you're looking to splurge on something sweet. With a lighter crumble on top versus the normal thicker, heavier crust, it has a higher fruit-to-topping ratio, but it certainly doesn't skimp on flavor.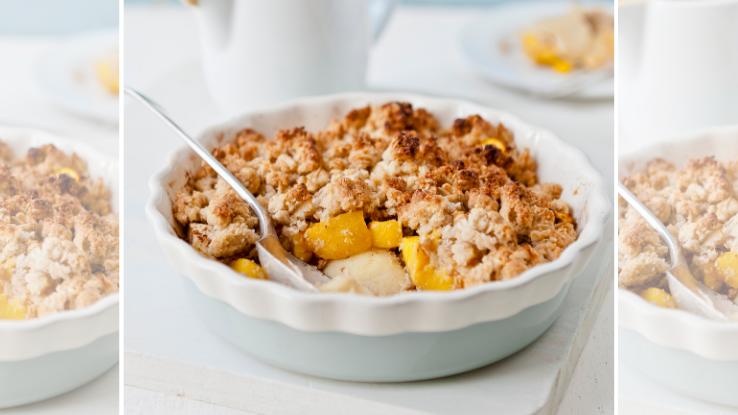 While your oven preheats to 375 degrees, coat sliced peaches with fresh lemon juice, cornstarch and salt and place them in a square baking dish or portion out individual servings into porcelain oven-safe ramekins that can go straight from your oven to the table. Beat unsalted butter and brown sugar with a mixer until it's light and fluffy, and then add flour and salt. Use your hands to completely blend and crumble the mixture into small chunks. Scatter the chunks over the peach filling and bake for 30 minutes uncovered. Loosely cover with foil for another 10 to 20 minutes. You will need to reduce cook times if you cook in single-serve ramekins.
For additional fruit add-in ideas and a complete list of ingredient measurements, review the full recipe information here.