Make These Spiced and Savory Homemade Stuffed Peppers for Easy Weeknight Dinners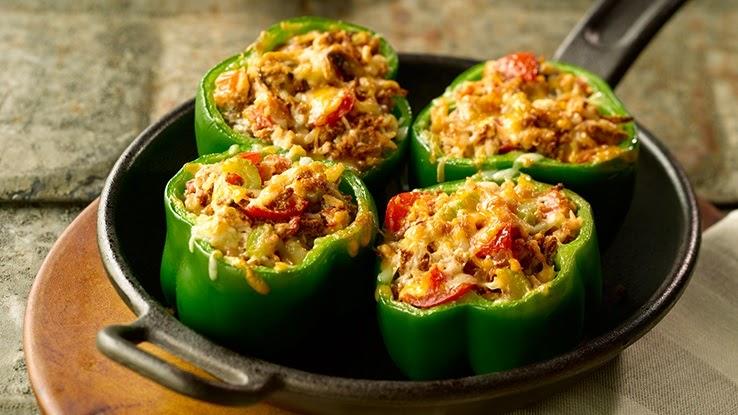 When you're looking for main courses that satisfy, sometimes nothing beats tradition. But what happens when tradition gets a little tired? You give it a twist to keep things interesting! That's especially true with a classic-yet-versatile recipe like colorful and delicious stuffed peppers.
This veggie-and-meat staple combines all the delicious ingredients that any good meal requires — protein, fresh produce, herbs, grains and spices, all baked together until they're hot and gooey. While stuffed peppers are traditionally prepared with beef and rice, you can keep on enjoying this tried-and-true favorite even if you don't eat some of its key ingredients. With the creative modifications in these recipes, you'll be able to enjoy stuffed peppers whether you follow a standard, keto or even vegetarian diet. Check out these five great options for tonight's dinner.
Classic Beef-Stuffed Peppers
Classic stuffed peppers are savory, cheesy and oh so warming, and it's essential to have a trusted recipe on hand for preparing this dish the traditional way. This beef-based option from Delish draws on garlic, tomato paste, onions, oregano and other seasonings to ensure that your meat filling boasts plenty of taste. With the simple cheese topping, parsley, and an oil drizzle, this recipe is a breeze to prepare, yet there's nothing average about its flavor. Best of all, prepping these tasty entrees takes just 10 minutes — most of the total time these take happens while the peppers are in the oven.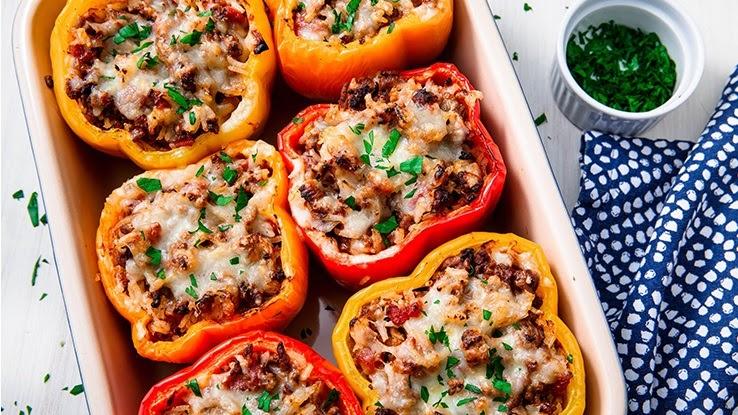 The cooking process for these classic peppers calls for them to be baked in an oven-safe dish. This Roasting Pan is an excellent choice for this specific recipe, as well as a variety of other dishes, from large roasts to smaller veggies. This pan is built to promote even heating throughout the base, so each pepper will get that just-right amount of baking required to roast the outside of the vegetables and bring out the delicious flavor of the stuffing mix.
Low-Calorie Turkey-Stuffed Peppers
Looking to lower your calorie consumption? Don't sweat it. These low-cal turkey-stuffed peppers from Skinnytaste swap out the dish's traditional beef for leaner turkey and rice in the stuffing. Best of all? You won't lose out on any flavor with the step down in calories. Ingredients like garlic, cumin, kosher salt, tomato sauce and parsley ensure that this dish tastes as scrumptious as the original. Topped with cheddar cheese and herbs, the melt-in-your-mouth filling is sure to please the whole family.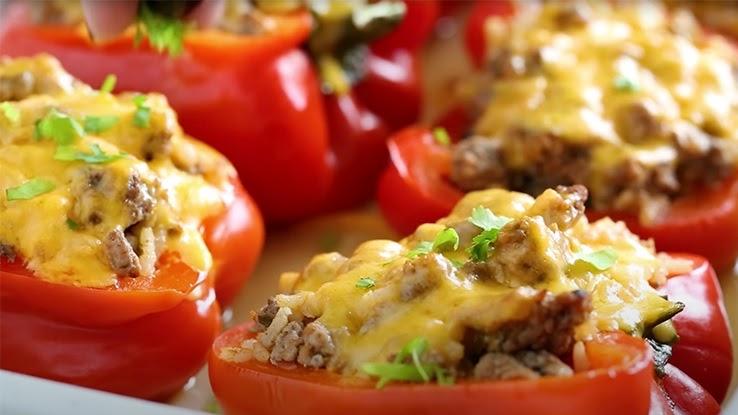 Preparing this dish is super simple, particularly when you have the right cookware to pull it off. This recipe calls for the stuffing ingredients to be cooked up in a skillet, and the Le Creuset Signature Cast Iron Skillet can help you take this meal's preparation to the next level. The ergonomic handle and the wide bottom of the pan ensure an effective and easy baking experience. The dish's protective enamel also helps ensure that this skillet will hold up to a range of baking temperatures without losing any of its integrity — including the 400 degrees Fahrenheit required for this recipe.
Vegetarian Quinoa Taco-Stuffed Peppers
Considering that this dish boasts a bell pepper as its base, having a vegetarian option is a must. Fortunately, the flavor masters at Tasty put together a delicious quinoa-based recipe to help you create vegetarian taco-stuffed bell peppers. The flavorful mixture is also protein-packed, boasting cooked quinoa and black beans rather than rice and beef. Chili powder, cumin, olive oil and vegetable stock impart rich flavors to the grain base, and the unique texture of this dish gives it an extra kick of intrigue.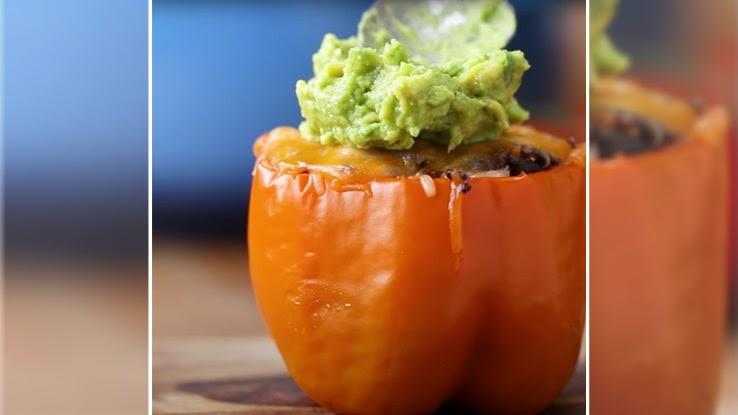 As far as preparation goes, you'll be making the bell peppers and quinoa mix separately from one another and then combining them — the peppers end up baking twice. Need a sturdy tool for taking care of the multiple processes the recipe requires? This Le Creuset Signature Oval Dutch Oven is a strong option for getting this veggie-based dish cooked evenly. The sand-cast dish is also excellent for slow-cook recipes, roasts and sautés, making it an ideal choice for oven-baked meals you'll be making on a regular basis. This cookware's finish is designed for long-lasting use, too, ensuring it'll hold up for years to come.
Seafood Shrimp-Stuffed Peppers
Do you prefer surf over turf? This recipe was designed with you in mind. These shrimp-stuffed peppers from Food & Wine are gooey and delightful, with cheese and shrimp combining into a melty, protein-packed filling. One unique feature of this dish is that it doesn't use bell peppers but instead calls for Hungarian wax or Cubanelle peppers — both are varieties that put a spicier spin on this classic meal. The mango-tomato salsa that tops the peppers provides a sweetened kick to the savory base, enhancing the flavor profile of the cotija, ricotta salata and Monterey Jack cheeses inside. This dish is a must-try for seafood lovers and spice fanatics alike.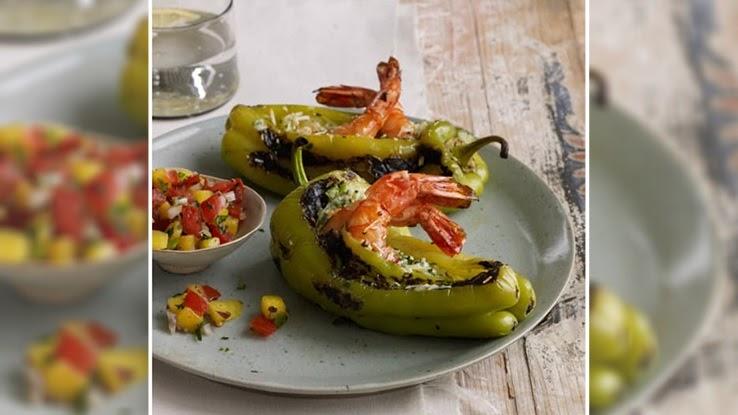 These peppers require a bit more preparation than some of the other recipes on this list, and, with so many ingredients on the docket, a fair amount of mixing, too. To rock this recipe and others like it, invest in these Stainless Steel Mixing Bowls With Lids. Each of the four bowls in this set is made of durable steel in varied sizes, allowing you to prepare mixtures big and small or hot and cold and keep them separated until it's time to use them. These bowls also come with lids so you can keep any additional shrimp and cheese fresh for another round of stuffed peppers.
Keto Stuffed Peppers
Although the keto diet has some pretty particular requirements, it's not necessary to give up stuffed peppers when you're on it. While stuffed peppers typically call for grains like rice for the filling, this recipe cuts those ingredients out to keep the carb levels down. This keto-friendly recipe from Delish is diet-compatible, cutting out the rice and replacing it with bacon and beef broth — as additions to the traditional ground beef — to meet keto requirements. With chili powder, cumin, paprika and oregano also sprinkled throughout the filling, the core flavor profile of the stuffed peppers remains even though the carbs don't.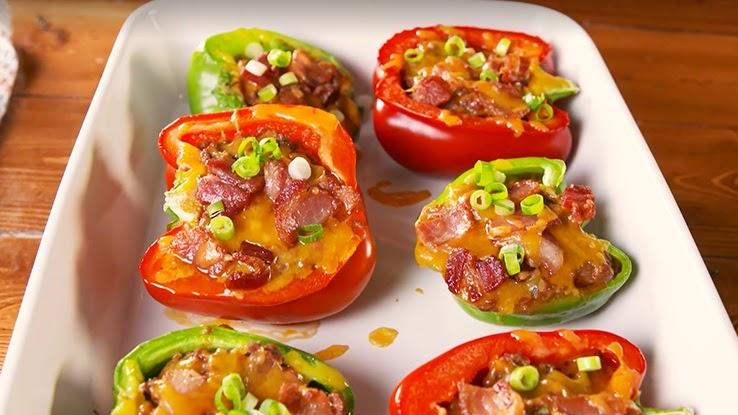 There are quite a few ingredients that need slicing and dicing for this dish, including bell peppers, green onions and bacon. This Victorinox Swiss Army Cutlery Rosewood Chef's Knife can help you get the job done with minimal strain on your kitchenware. Built for culinary experts and home chefs alike, this knife features a comfortable rosewood handle and a durable stainless steel blade that's great for cutting, chopping and dicing veggies, meat and cheeses alike. If you've got more great dinner recipes lined up, investing in this chef's knife will help you move through every cooking process more efficiently.