Bose or Sonos? Get All the Answers Before Picking the Sound System of Your Dreams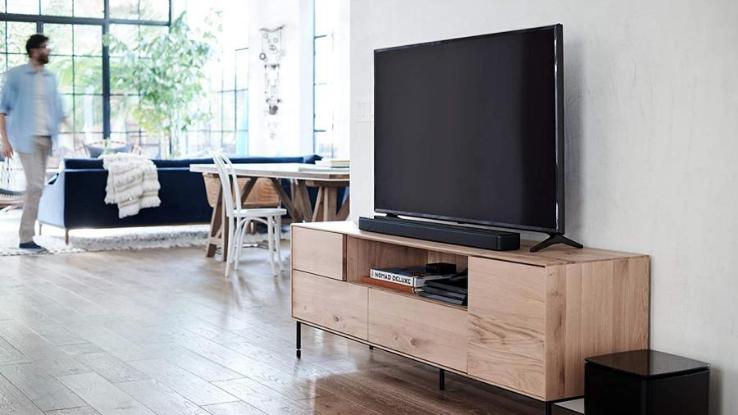 There are plenty of movie-theater quality sound systems to choose from, but when it comes to next-level sound quality that really transports you into the action, both Bose and Sonos products go the extra mile. In fact, the two top name brands have been duking it out in the acoustic ring for years. Today, we'll finally decide which brand is the real audio champ by taking an in-depth look at both the Sonos Beam, which we recommend pairing with the Sonos Sub and Sonos One SL Smart Speakers, and the Bose Soundbar 700, which we recommend pairing with the Bass 700 and Surround Sound Speakers.
Round 1: Build
When it comes to creating a setup that works for your home, flexibility can be key. Luckily, both the Bose and Sonos models in question offer the opportunity for users to create unique builds. First of all, based on the models we've chosen to compare, you may be wondering: Are soundbars worth it?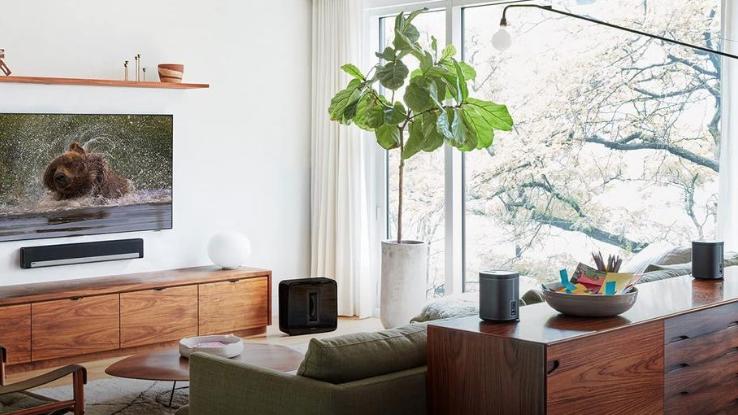 The short answer — absolutely. As TVs get thinner, there's less real estate for quality speakers — not to mention, TV speakers are often pointed down or away from where the viewers are seated, resulting in poor, tinny audio quality. A soundbar, which can be mounted just below your TV, drastically improves your audio experience simply by directing the sound toward you. Best of all, the soundbar's shortcomings — like its inability to provide a deep, immersive bass — can be compensated for by pairing it with subwoofers, surround-sound speakers and other accessories.
The Bose Soundbar 700 is (almost) unparalleled when it comes to delivering cinematic experiences and streaming music. To feel the real impact of the model, we recommend pairing the soundbar with the Bose Bass 700 and the Bose Surround Sound Speakers. Both the subwoofer and the speakers are small and compact, meaning you don't have to sacrifice the look of your living space for functionality. Better yet, the Bose setup is pretty plug-and-play friendly: Within minutes, you can wirelessly connect the receivers to your soundbar, hassle free. As an added bonus, music lovers can use Bose SimpleSync technology to pair their soundbars with Bose Noise-Cancelling Headphones 700 — you know, just in case your family or housemates need a break from your tunes.
As for the Sonos Beam, things couldn't be simpler — there's just two cords and an automatic remote detection system. And, like the Bose model, this one also allows you to build out your own setup. We recommend adding in Sonos Sub for that richer bass action and a couple of Sonos One SL speakers to create an immersive, surround-sound experience. Better yet, the Sonos speakers allow you to enjoy brilliant, synchronized sound in every room in your house, making these speakers great not only for home entertainment, but for streaming music as well.
Winner: Draw. You really can't go wrong here. If you want to focus on a one-room, immersive setup, Bose might be the way to go, but if you want a multi-room sound system, try Sonos.
Round 2: Features
If you're serious about investing in a home entertainment system, getting all the bells and whistles is often worthwhile. That is, if you're going for something top-tier, you may as well go all the way and get the most bang for your buck. So, what do each of these sound systems have to offer?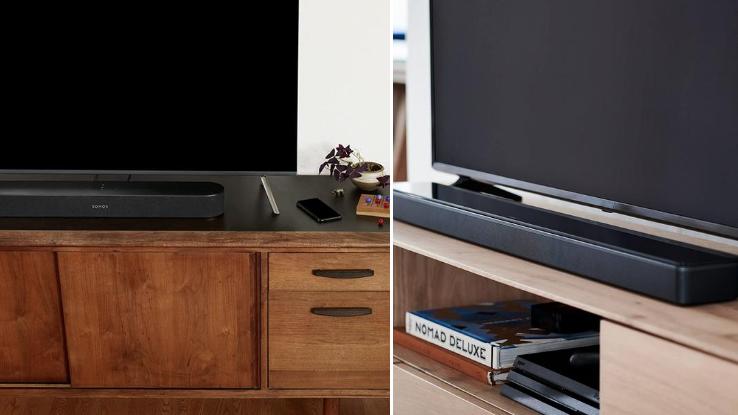 Let's start with Sonos this time. In addition to high-definition sound, the Sonos Beam is easy to control — use your voice, a remote or the Sonos app on your phone or smart device. The most appealing choice is definitely the voice control option: Amazon's Alexa is built right into the device, allowing you to play music, set alarms and check the latest headlines without the hassle of a remote. With the Sonos app, you can stream content from your phone directly to the sound system, meaning you can fill your home with the sounds of your favorite audiobooks, podcasts and music, all conveniently stored in one place. Additionally, the Sonos Beam supports Apple AirPlay 2, has a Night Mode feature and can either be placed in front of your TV or mounted on the wall. The only drawback? Sonos doesn't support Bluetooth functionality.
So, how does the Bose system compare? Like the Sonos model, the Bose 700 features built-in voice assistants, although you can either rely on Alexa or the Google Assistant. Thanks to the system's Wi-Fi, Bluetooth and Apple Airplay 2 compatibility, you can wirelessly stream your content with ease — and in whatever way works best for you. Switch between songs with voice commands, the Bose music app or the system's universal remote. Like the Sonos model, this one also comes with an optional wall bracket. The drawback here? Although it's stacked with features, the Bose app simply isn't as robust as the competitor's.
Winner: Sonos, by a hair. Despite not supporting Bluetooth, the Sonos app is unparalleled.
Round 3: Cost & Verdict
Well, money isn't everything, but the Sonos Beam and Sonos One SL smart speakers do deliver a narrow K.O. here, with a complete package running about $1,360, whereas a Bose Soundbar 700 with bass and speakers comes in around $1,800.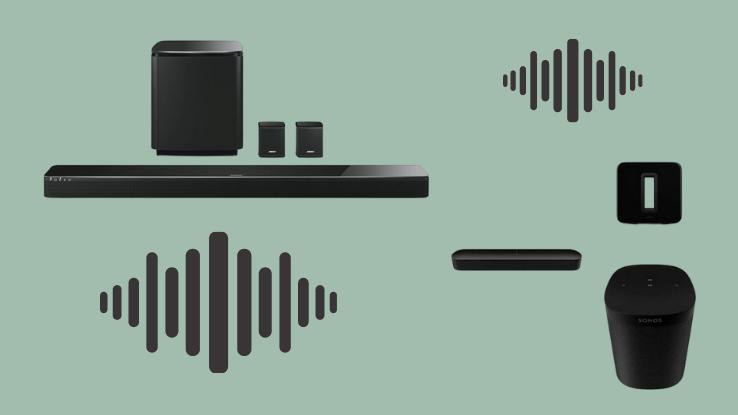 Verdict: Although both systems deliver truly incredible, top-of-the-line sound quality, Sonos ekes out a victory thanks to its price point, functionality and grade-A app. Plus, Sonos has been a leading brand in multi-room systems: The One SL speakers can create room-filling stereo sound on their own or be paired easily with a soundbar for all your home cinema needs. At the end of the day, Sonos offers both quality and versatility, making it a dream investment.
Looking for a deal on a whole system? Whether you're going with the Bose system or the Sonos system, these bundles can be found prepackaged at discounted prices.