How Starbucks Became an International Coffee House Sensation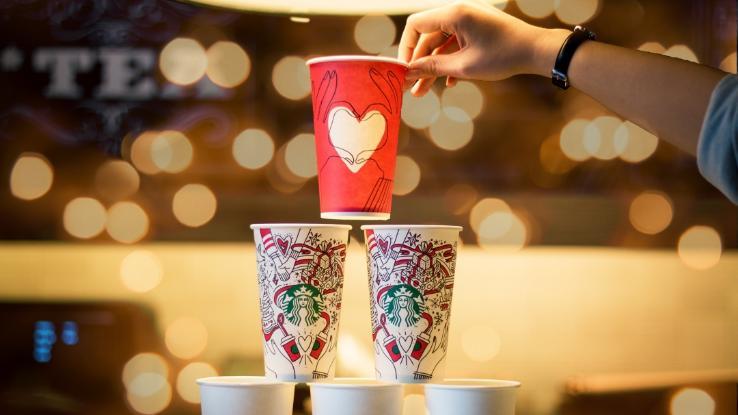 Considered by many coffee lovers to serve the best coffee in the world, Starbucks is an international conglomerate that took over the coffee scene in bold and unexpected ways. After starting with one little store in Seattle, the coffee giant climbed their way to the top in just a few short decades.
With more than 27,000 locations worldwide, Starbucks is ready to make your favorite cup of joe, no matter where you go. Let's learn more about the history of Starbucks and how it became an international coffee house sensation.
Starbucks Was Founded in 1971
The very first Starbucks store opened at 2000 Western Avenue in Seattle on March 31, 1971, right across the street from Pike Place Market. Jerry Baldwin, Gordon Bowker and Zev Siegl founded the company after meeting in college and realizing they all loved coffee and tea. It didn't hurt that they were all academics.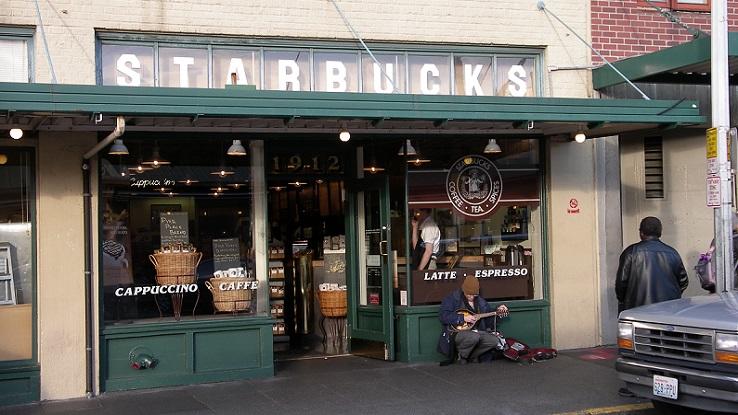 The trio met at the University of San Francisco. Both Baldwin and Siegl graduated and became teachers, while Bowker became a writer. Their love for coffee sparked the idea to open the first location and sell coffee made with high-quality coffee beans. They arranged to buy their beans from local growers.
The Name Was Taken from Moby Dick
The three men sat down and tried to brainstorm names that would speak to local coffee and tea lovers to help them get their store off the ground. They didn't offer brewed coffee to customers, so they had to have a name that would draw people in to buy their coffee beans and equipment.
They landed on the "St" sound because a friend of theirs told them it sounded powerful. Because of their love of academia, the three friends recalled a name from the Herman Melville novel Moby Dick. Starbuck is the chief mate in the book — thus Starbucks was born.
Starbucks Originally Sold Coffee Beans and Machinery
Considering Starbucks is now one of the biggest chains in the world for espresso beverages, it's hard to picture it as anything besides the unique coffee shop brand it is today. Nonetheless, the company didn't start out like that. Back when it first opened, the main attractions were the locally sourced coffee beans and machinery.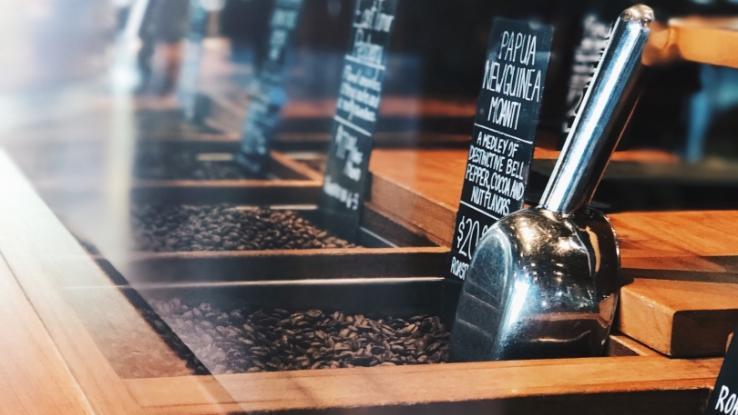 Their goal was to only sell the highest quality beans and only the best brewers and steepers in order to create an upscale product that competitors couldn't touch. Nothing was premade, and walking into Starbucks with the intention of getting a brewed coffee didn't cost a penny.
They Gave Away Free Samples of Brewed Coffee
The best way to get customers to give their coffee a chance was to give them free samples. They didn't charge anyone for coffee and only had small samples for people to try so they could decide to purchase (or not purchase) the coffee beans and brewing equipment.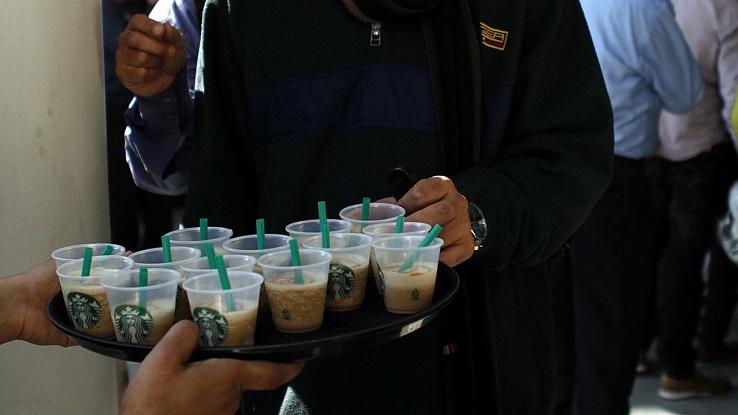 The friends were sick and tired of the bad cups of coffee served almost everywhere they went, and they hoped other locals would feel the same way. They believed the entire city of Seattle deserved good coffee, and they were convinced there would be no turning back once customers tasted their brew. They were right.
It All Began with a Single Store
Baldwin, Bowker and Siegl had no business experience and little to no money for a startup, but that didn't stop them from following their dreams. They managed to pool the funds they had, get a bank loan and rent out the location across from Pike Place Market.
They hit snags when opening the store but eventually got things up and running. A mutual friend stopped by to pay them a visit, bought some Sumatra beans and that was that. That first customer started a chain reaction that grew the business from simple local bean shop to billion-dollar coffee conglomerate.
Coffee Roasting Entrepreneur Alfred Peet Inspired the Idea
If it wasn't for Alfred Peet, a Dutch American entrepreneur and the founder of Peet's Coffee and Tea, Starbucks might not exist today. The coffee and tea magnate grew up in the coffee brewing business and brought his own special style to roasting coffee beans.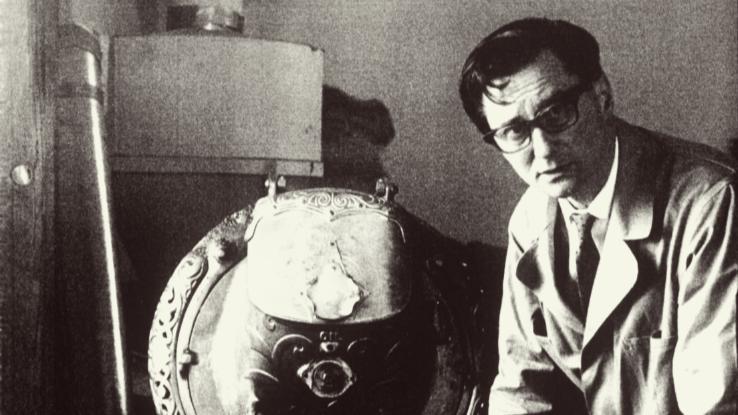 He taught this unique roasting style to the trio after he became friends with Siegl. Peet was impressed by Siegl's father, who was a concertmaster, and Siegl admired Peet's business skills. After the three men learned Peet's roasting style, he took it a step further and backed their aspirations to open Starbucks with a supply of fresh coffee beans.
Howard Schultz Joined the Brand
Howard Schultz originally worked for a Swedish company called Hammarplast, a manufacturer of kitchen equipment, housewares and, of course, coffee bean roasters. He was blown away by the number of orders the small shop consistently placed, so he paid them a visit.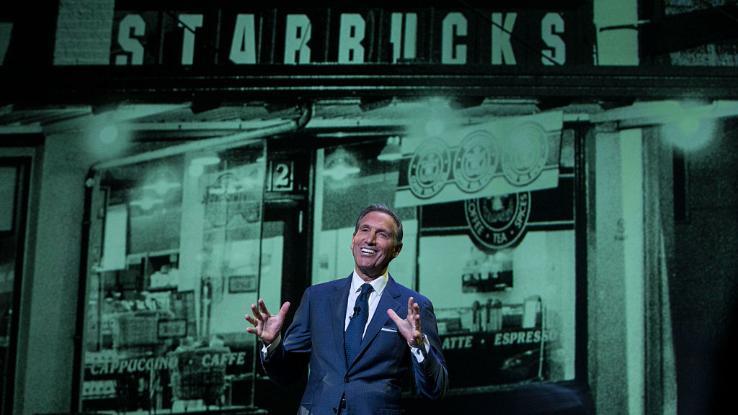 After seeing Starbucks up close and personal, Schultz knew he had to be a part of it. The company hired him as Head of Marketing in 1982. His marketing plan and staff training that was designed to put customers at ease, despite their lack of knowledge of fine coffee, worked wonders, and the business began to expand very quickly.
A Trip to Italy Led to Big Ideas
In 1983, Schultz went to an international housewares show in Italy on a business trip for the brand. During this visit, he spent a lot of time in cafés, and the idea of turning Starbucks into a European-style café hit him hard. When he got back to Seattle, he pitched the idea to the owners.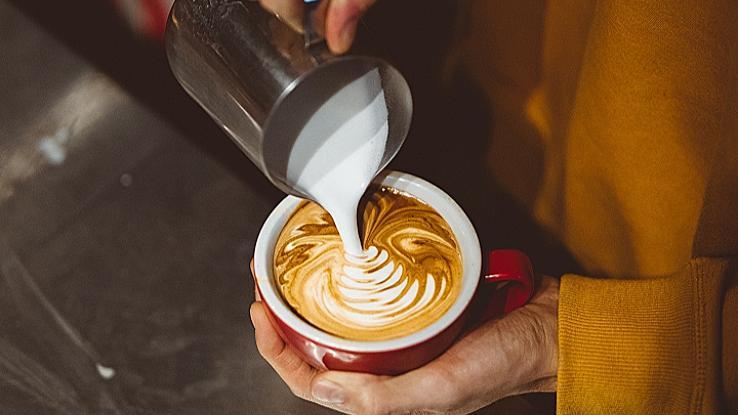 The trio turned the idea down at first. They were attached to their original business model and didn't want to see Starbucks changed into a café. Schultz soon realized they were stuck in their ways and weren't going to change their minds.
Schultz Left Starbucks and Opened Il Giornale
Still convinced the idea of a European-style café was gold, Schultz decided to leave Starbucks and go it alone. In 1985, he started his own venture by opening Il Giornale, the first in a chain of coffee shops.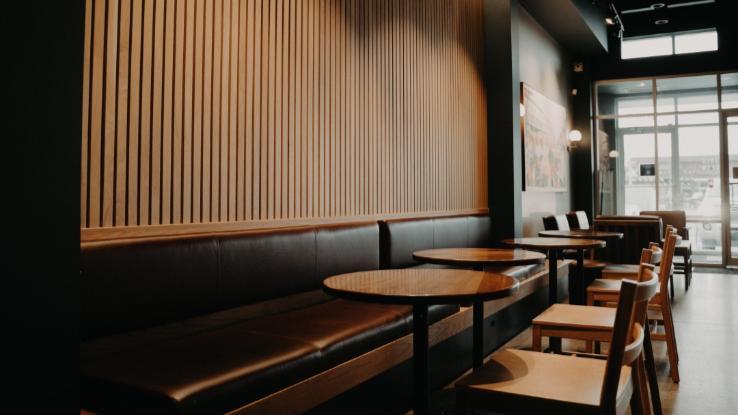 Il Giornale was well received by the public and became an immediate hit. Several locations were opened in different cities in a short amount of time, and Schultz realized he was definitely onto something big with his idea. He still sold Starbucks coffee that he brewed in the store, but he served it along with an Italian-style coffee menu featuring espresso drinks.
Starbucks Went Up for Sale
When the Starbucks partners decided to sell the Starbucks store and brand in 1987 to focus on Peets, Schultz knew exactly what to do. He snatched the company up quickly, combining Il Giornale and Starbucks and adopting the Starbucks name to create the international sensation everyone knows and loves today.
He kept his business model for Il Giornale and expanded it with the success of the Starbucks brand. Specialty coffee sales in the U.S. were skyrocketing, and more than 40 Starbucks stores were spread across the Northwest and the Midwest by 1989. From that point on, Starbucks really started to blow up in sales and locations.
Starbucks Stock Went Public
In June 1992, Schultz decided to take Starbucks public to further expand the brand by giving people the option to buy into the growing business. The brand was making more than $73 million a year at that point, and raising funds through an IPO allowed the company to expand even further.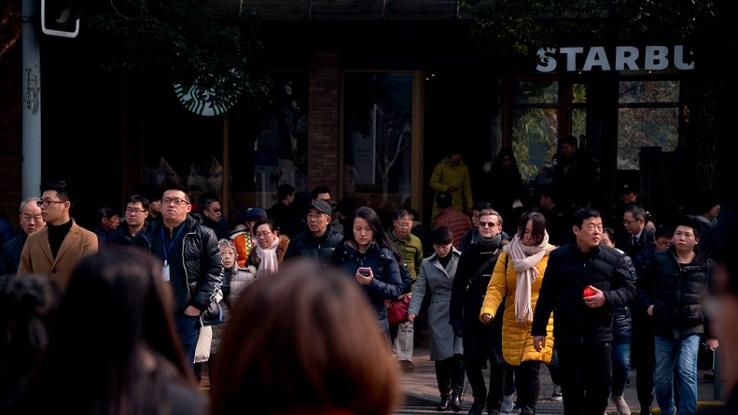 The IPO for Starbucks made the company more than $25 million and helped the company double the number of locations across the country. It didn't hurt that the share price was up 70 percent by September, making Starbucks one of the most profitable specialty coffee stores to ever exist.
Starbucks Experienced Fast Growth
When Starbucks stock opened on the market, it was only $17 per share, and the company's market value was $271 million. This was huge for the coffee roasting industry. Over the course of the next couple of years, Starbucks grew exponentially.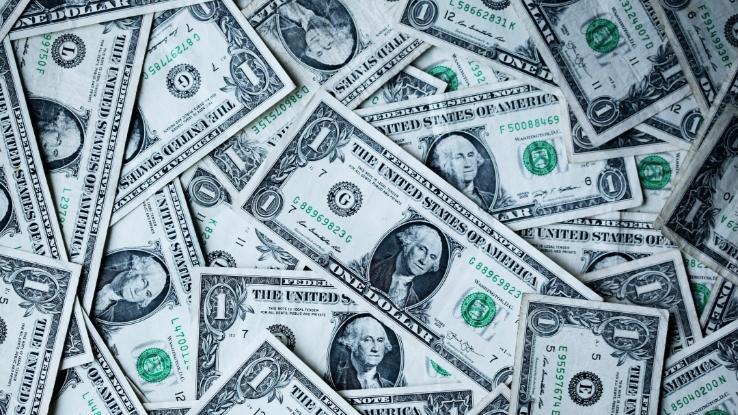 It wasn't just good espresso and cappuccinos that made Starbucks so popular. Schultz's idea to have the café represent community made the coffee shop a true competitor in the market. With the social aspect as a driving force, Starbucks quickly took over the country, and the chain began to pop up everywhere. The idea was to connect customers to each other, and it was a huge success.
Starbucks Made a Deal with The Coffee Connection in Alberta
To expand the business outside the States, Starbucks went into business with The Coffee Connection, a family-owned business in Alberta, Canada. The company was a huge supplier of branded coffees, and the decision to partner with each other proved to be a good one.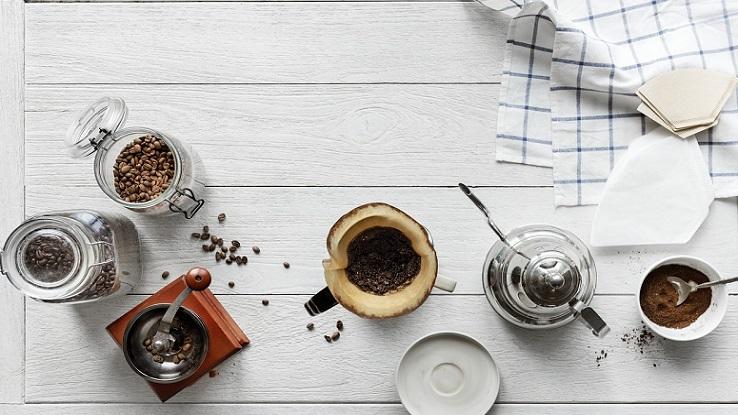 Coffee Connection helped supply the blends for all the Starbucks favorites and helped with the production of home brewing supplies so Starbucks could continue selling supplies in their cafés, paying homage to the original version of the business. With the best connections in the coffee industry, the Starbucks take-over accelerated to the point of total dominance.
The Starbucks Frappuccino Arrived on the Scene
The Frappuccino is one of the most successful drinks that Starbucks has offered over the years along with the traditional espresso. After a Starbucks employee noticed that other coffee shops in their area had started offering cold brews, they took the idea to do something similar to corporate.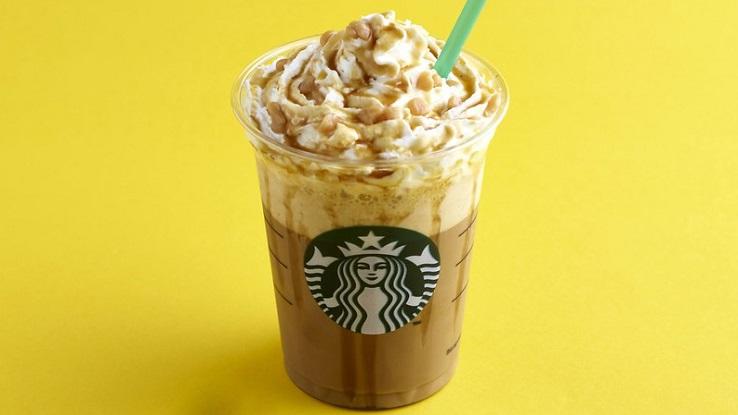 Once they got the go-ahead from the higher-ups, they were given the chance to do a Frappuccino test run at one of the stores in Los Angeles. The public loved the new beverages, so they started serving them at different stores across the country. Frappuccinos are now one of the most ordered beverages on the menu.
International Expansion Began After National Success
The very first store outside the U.S. was in Tokyo, Japan. It opened in 1996 and kicked off the early stage of global dominance. The next market tackled was the Philippines, and then expansion moved to the U.K. with the purchase of Seattle Coffee Company — ironically, a U.K.-based company.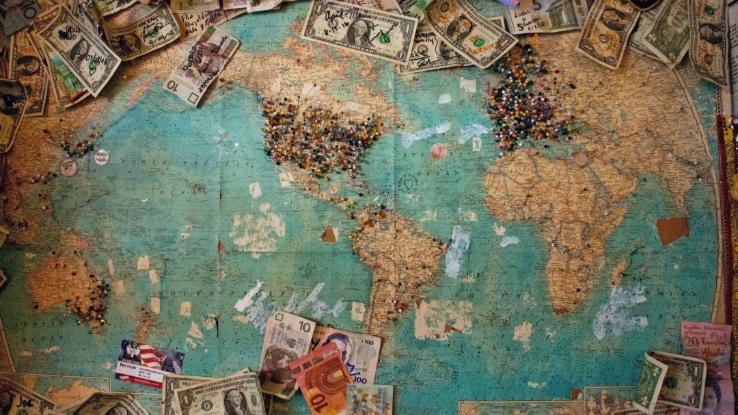 Over the course of the next two decades, Starbucks opened locations in Russia, South America, Vietnam, Mexico, Australia, Columbia, Cambodia, Italy and China. During this expansion, they acquired several businesses, including Teavana and the remaining 50% of their Chinese venture from Uni-President Enterprises Corporation and President Chain Store Corporation.
Starbucks Set Out to Be Different
The original idea for Starbucks may have come from several different inspirational sources, such as Peet's Coffee and the many charming cafés in Italy, but the company's business model for the States took on a whole new form. They wanted to stand out from the crowd, and they managed to do that almost effortlessly.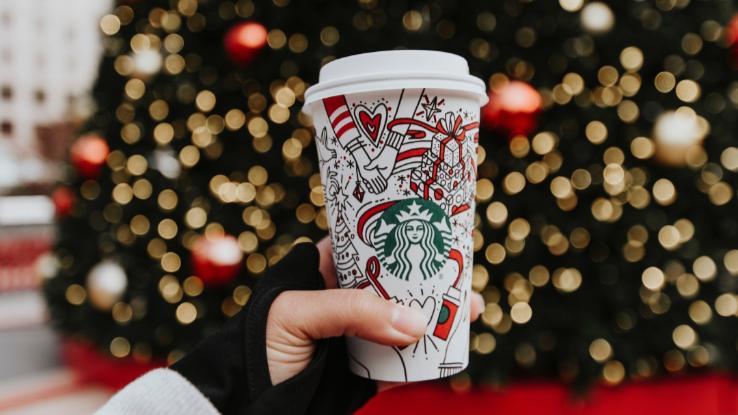 Coffee shops always seemed to have the same basic ideas, good coffee for affordable prices and a quick turnaround from the time a customer ordered to the time they left the store. Starbucks wanted to create an experience, not just a pit stop on the way to the office. (That's the purpose of the drive-thru.)
The Company Pushed for a Sense of Community
Walking into a local Starbucks offers a different feeling. The employees, the vibe, the music, it all seems very local and very friendly. The reason for that was a calculated idea from the very beginning. Their mission was to "inspire and nurture the human spirit — one person, one cup and one neighborhood at a time."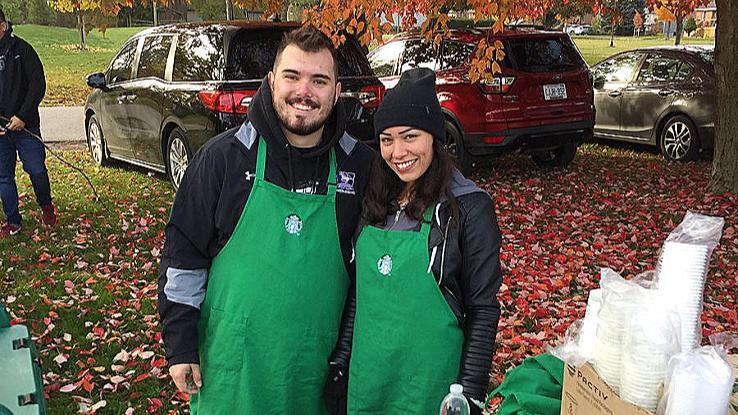 This sense of community is supported by comfortable seating areas, excellent store playlists and free Wi-Fi offered at all locations across the globe. They didn't want people to just enjoy their coffee. They wanted their customers to feel at home when they walked in and always inspired to return.
They Made a Promise for Ethical Sourcing
Over the last two decades, Starbucks has forged ahead in the sustainability-conscious marketplace with a commitment to offering 100% ethically sourced products. They partnered with Conservation International to offer customers full transparency about the sources of their coffee beans.
They have positively affected millions of farmers across the world and are only 1% away from hitting their target goal of 100%. They want to make a difference in the lives of their customers as well as the entire world at large, and that makes them a desirable recipient of consumer dollars in a world where ethical sourcing matters.
The Indie Vibes Remain Strong
When Starbucks first began changing from a retail coffee shop into a café, the special niche targeted consisted of like-minded individuals who didn't necessarily know a lot about coffee but appreciated a good cup of joe, regardless of their knowledge on the subject.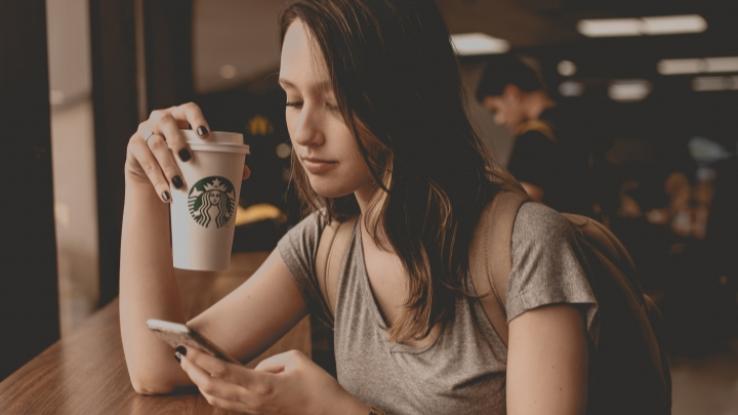 This indie-like attitude toward creating products that everyone and anyone could enjoy is what made Starbucks what it is today. The fact that they could hold onto their core values and still grow along with society is just one of the many reasons Starbucks has enjoyed such unwavering success.
They Took Cafe Culture from Europe to America
Prior to the existence of Starbucks, chain cafés in North America were rare. Coffee shops were sometimes successful, but they didn't have the same vibe that's offered in all Starbucks locations. Their goal to bring people together was put into action and caused a global phenomenon.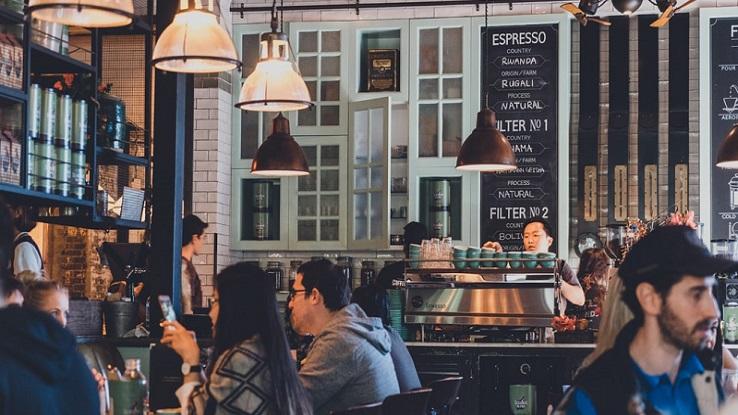 Instead of rushing to get a cup of coffee, people now hang out, do their work, study for finals and just meet to chat with their friends — all at Starbucks. They took the chill sit and socialize vibe from Europe and transformed it into a successful North American pastime.
The Starbucks App Was Born
In true Starbucks fashion, the company grew with the times. From offering accessible and delicious coffee beverages and creating new drinks to giving people a place to hang out, Starbucks always focused on long-term success. That included keeping up tech advances, and the Starbucks app was created to make it even easier for customers to enjoy their espresso beverage of choice.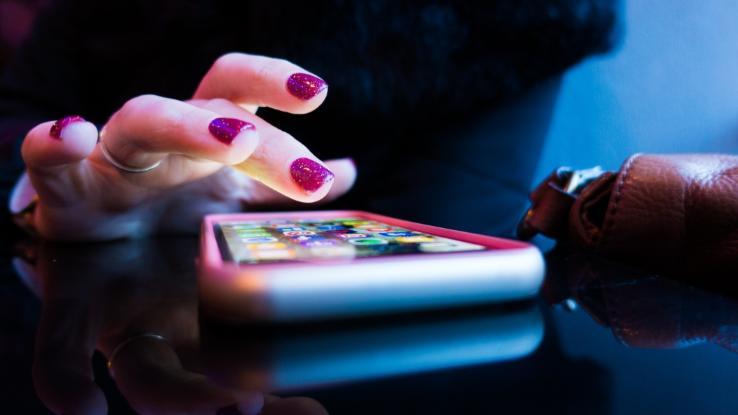 Using the app, customers can pay for their coffee, order in advance and even earn rewards for future purchases. They made it easy to go cashless, and it helped keep company cash flow up. The rewards program also offers customers 2-for-1 beverage days, happy hour prices and special discounts on their favorite Starbucks drinks.
Bad Reviews Didn't Stop Them
Like any good business, Starbucks inspired plenty of haters to come out of the shadows. Scorned customers have voiced their opinions on review sites and social media, and Twitter user @iHateRei even went so far as to say that "drinking Starbucks coffee feels like oppression if you're used to good coffee."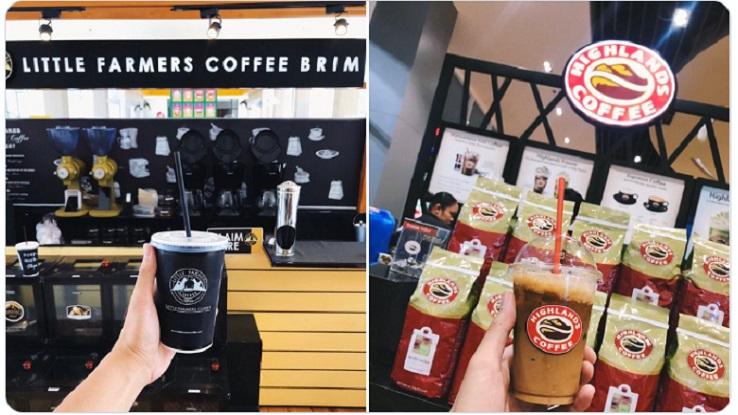 Needless to say, most people don't agree, and the reviews haven't stopped them from growing. Over the last five years, Starbucks' revenue has nearly doubled, making the company worth around $23 billion. They plan to continue growing, hoping to create a return to shareholders of $15 billion in the next three years.
Healthy Food Options Boosted Sales
In an attempt to gain some ground in the healthy lifestyle niche that has taken over in recent years, Starbucks began offering more healthy options in addition to their regular food choices of pastries, bagels and muffins. They expanded their menu to serve ready-made salads, wraps and bento boxes.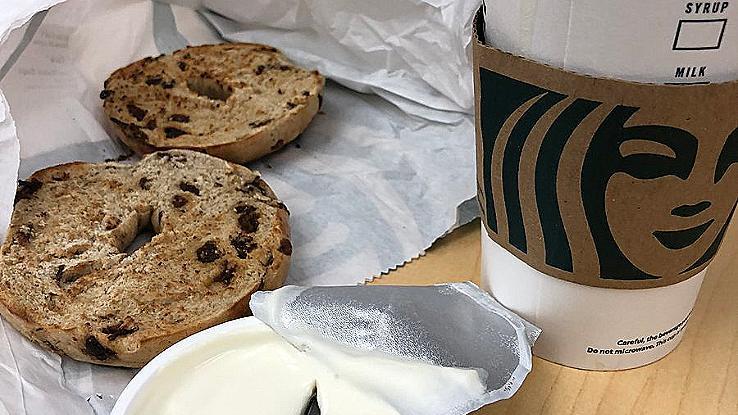 The goal is to serve good food to their customers so when they come in for coffee and conversation, maybe they'll also stay for lunch. They still have food and beverages that aren't remotely healthy, but with full transparency on their menu and ingredients, they leave it up to the consumer to decide which options to choose.
Conservation Remains a Focus
At Starbucks, they have plenty of take-home cups and travel mugs for sale alongside your coffee beverages to help keep waste down. They are starting to eliminate straws and have created new lids that are designed to work without them.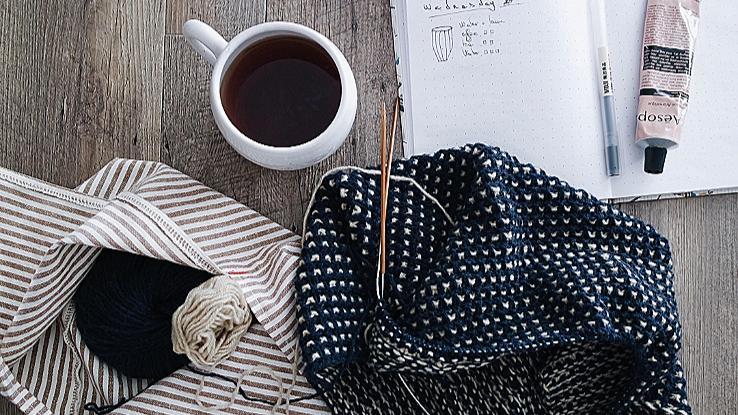 Over the years, Starbucks has partnered with local governments and organizations to help push conservation efforts. They offer complimentary compost bags of used coffee to use in home gardens and work hard to keep their ecological footprint as small as possible. They offer discounts to customers who use their own cups, pushing green practices that much further.
Support for Social Responsibility Furthered the Brand
The social responsibility aspect of the Starbucks brand is one of the most important missions. The company has launched several different coalitions, including the Opportunity for Youth 100,000 Opportunities Initiative, and is a leading employer of youth and refugees. They also have a 100% commitment to rescuing food for donation.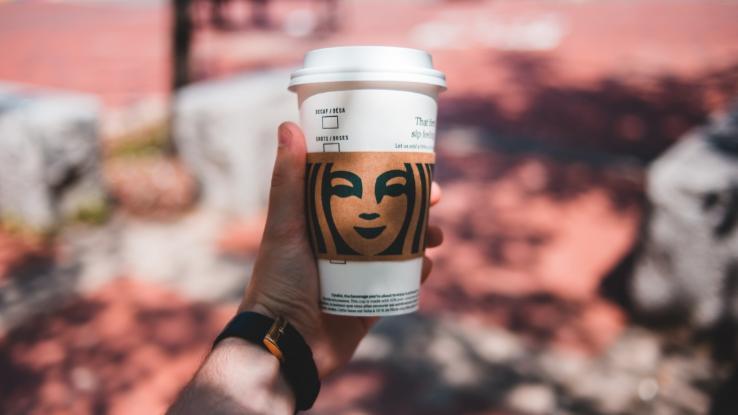 Along with their community service programs, Starbucks helps the world at large with their ethically sourced products, pledge to eliminate straws and a new $10 million initiative to create reusable cups to keep waste down. They proudly proclaim on their website that they are in the "people business, serving coffee."
Celebrities Rave Over Starbucks
Perhaps one of the main pillars of Starbucks' word-of-mouth success is that many celebrities have raved over their coffee or been spotted by paparazzi grabbing their own cappuccinos. Once celebrities jumped on board, the brand became classy and revered by people who may not have otherwise heard of it or spent a lot of money on coffee.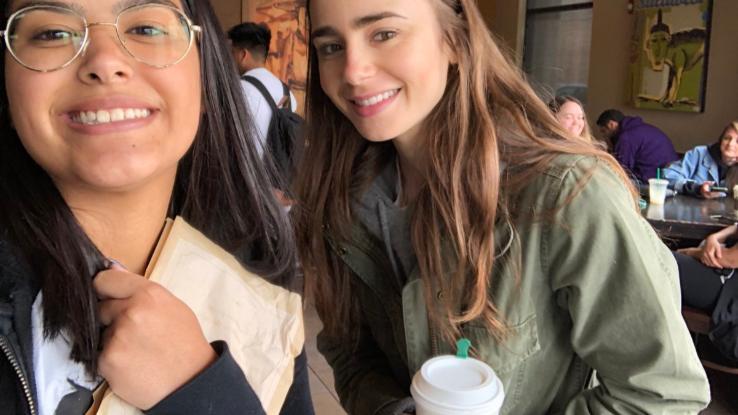 It's a great place for people to enjoy coffee and mingle, and celebrities are people too. Articles all over the internet even focus solely on what drinks celebrities order. People love that connection to their favorite stars.
Social Media Tactics Drive Sales
Starbucks is a company that understands the use of social media in business, and they use it to their advantage. Releases of new drinks are always liked and shared across all platforms, including Facebook, Instagram and Twitter, among others.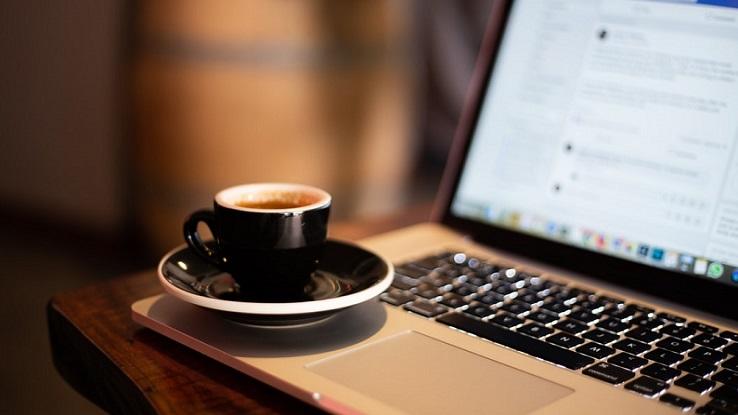 The way they use their social media to drive sales and reach a larger target audience is one of the main reasons the company has grown so widely over the course of their reign at the top of the coffee industry. Starbucks' strategy is quality over quantity, so they don't post too often, but the posts are exciting, engaging and visually appealing.
Staying on Trend
When the world fell in love with unicorns all over again, Starbucks released a Unicorn Frappuccino. When there are holidays to celebrate, they release special holiday cups and seasonal brews. Staying on trend is one of the biggest strengths Starbucks has when it comes to holding on to the coffee crown and staying ahead of rival competitors.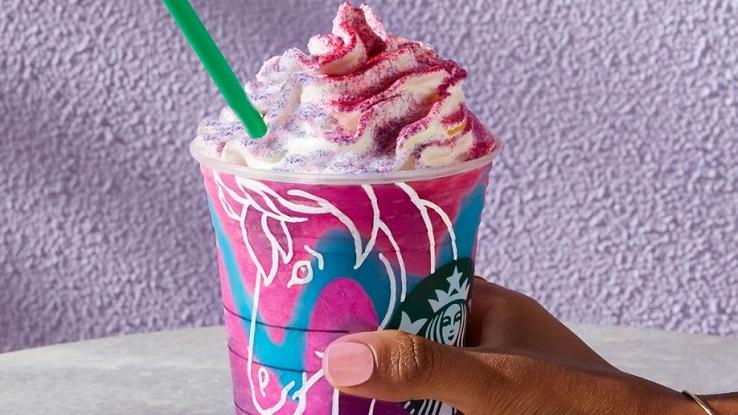 In today's age, being on trend isn't exactly easy because of how quickly things can change, but that hasn't hurt Starbucks yet. In fact, they tend to be ahead of the game, creating their own trends, such as the Pumpkin Spice Latte and the Cloud Macchiato, also known as Ariana Grande's favorite Starbucks drink.
Starbucks Is Way More Than Just Coffee
Starbucks doesn't just offer beverages and food. The store also has mugs, tumblers, special seasonal ornaments and even CD's from various artists. The goal to sell the best coffee in the world wasn't the only idea they had in mind, and it wasn't the only goal they achieved.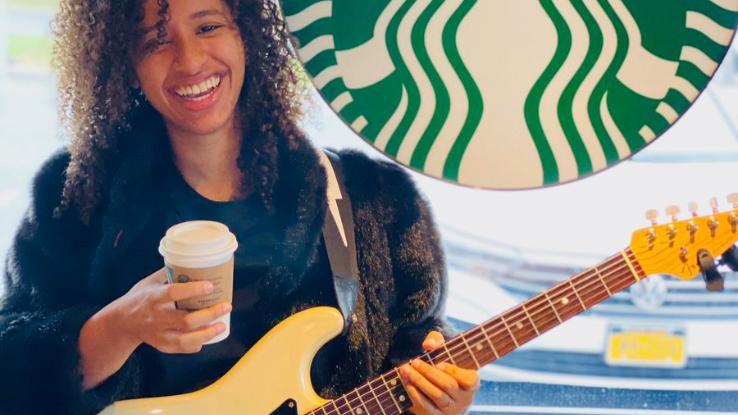 The company pushes for environmental consciousness through their reusable products, and they aim to showcase local and often unappreciated talent from around the world in their stores. The fact that they present themselves as much more than a coffee shop helps propel their success beyond other café chains because of how different they truly are.
Starbucks Is an International Coffee Giant
After almost 50 years in business, Starbucks has gone through the normal ups and downs that businesses see, but strength and commitment toward customers are what keeps them surpassing their goals. With new initiatives coming out all the time that are in line with what society and the world wants, they are much more than a simple coffee business.
The loyal customer base and ability to use what they have to gain more attention make Starbucks King of the Coffee shop, and it's likely they will continue to reign supreme. The increasing number of social initiatives and growing menu almost guarantee it.