The Best Fire Pits & Patio Heaters for Socially Distanced Outdoor Hangs This Winter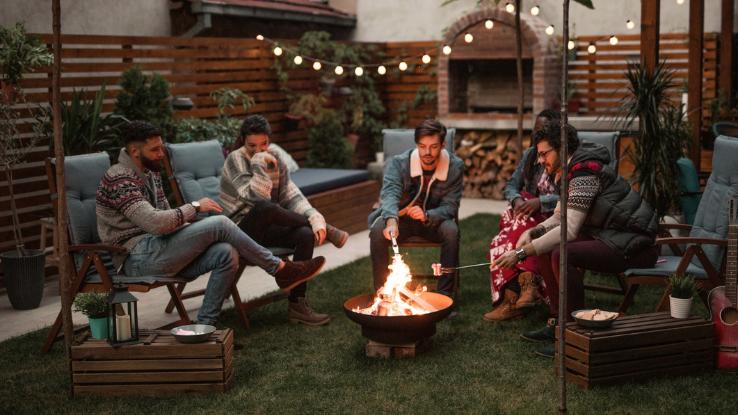 With COVID-19 cases spiking again across the country, it's clear that the pandemic will continue to alter the way we spend our down time. For many people, enjoying the solace of the outdoors has been one of the most rewarding (and safe) ways to relax throughout 2020. However, with winter poised to settle in, the great outdoors won't be accompanied by great temps in most parts of the country for much longer. One way to keep your new patio or deck furniture enjoyable all year long — and ensure that your social distanced hangs stay safely outside — is to invest in a quality fire pit or heater. Not sure where to start? Well, we've rounded up the best of the best, so you'll have a way to keep warm this winter, no matter your outdoor space or budget.
Looking to really create an outdoor oasis to safely gather in? While you're looking at fire pits, try sprucing up your outdoor space even more with a few of our standout recommendations.
Best Wood-Burning Fire Pit
When it comes to fire pits, there's nothing like a good ol' wood-burning one. Nothing beats the creosote smell, the look of those burning embers and warm flames, and the comforting snap and crackling of logs and kindling. Whether you're hoping to roast marshmallows for smores while camping or cuddle up on your patio with a cocktail, the KINGSO Wood-Burning Fire Pit is a great starter option.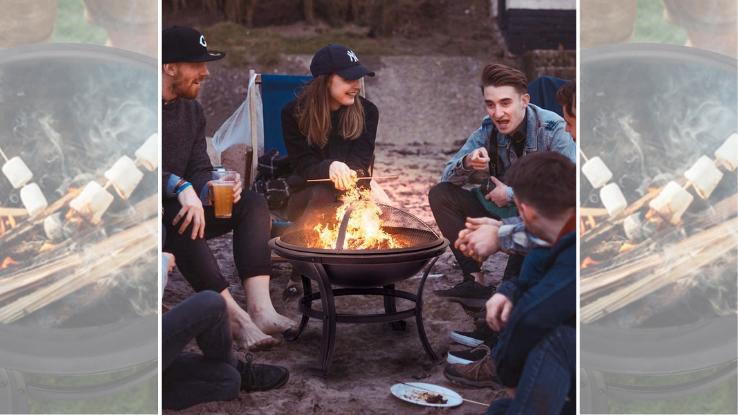 Easy on the wallet and the eyes, this lightweight fire pit bowl is easier to use and safer than traditional stick-and-stone bonfires. The steel frame has a heat-resistant coating that can withstand the elements, and it boasts rustproof features, making it perfect for backyards, tailgating, beach parties and woodsy jaunts. One of our favorite features is the fire pit's spark screen, which prevents sparks, embers and other debris from drifting out of the fire. While you'll have to remove the screen for smores-making, it's still a nice safety feature, especially for families with young children.
Best Tabletop Fire Pit
Want to kick your patio up a notch? This next suggestion is lit — literally. A fire pit is the ultimate in luxury when it comes to making your outdoor space feel both cozy and fun, and luckily for us, fire pits have become both more affordable and more space-conscious. Enter the Colsen Tabletop Indoor/Outdoor Fire Pit.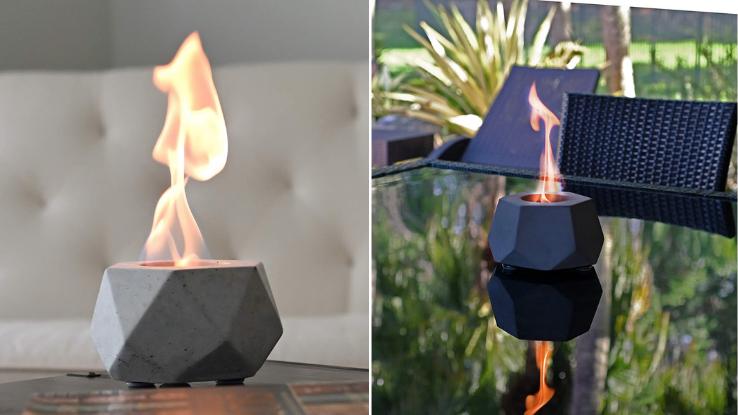 Much less expensive than a free-standing fire pit, the Colsen tabletop option is also a clean-burning option. The smokeless, odorless rubbing alcohol used as this fire pit's fuel makes it perfect for both indoor and outdoor use — and the minimalist, geometric design makes it a lovely centerpiece on any table. Without a doubt, it's an item that's sure to dazzle guests and complement the already lovely nighttime atmosphere all year, and we especially love the "instant ambiance" this tabletop option provides for folks who don't have backyard access.
Best Portable Fire Pit
If you're looking for a functional fire pit that doubles as a camping stove, the Solo Stove Ranger Stainless Steel Portable Fire Pit is just the thing for you. This compact fire pit was "painstakingly engineered" to provide a low-smoke fire, meaning you can enjoy a night by the fire pit without smelling like one when you turn in. So, how's that accomplished? Well, the double-wall design, which maximizes airflow, creates a burst of hot air over the fire, adding to the flame's intensity and the efficiency of the burn without causing smokiness.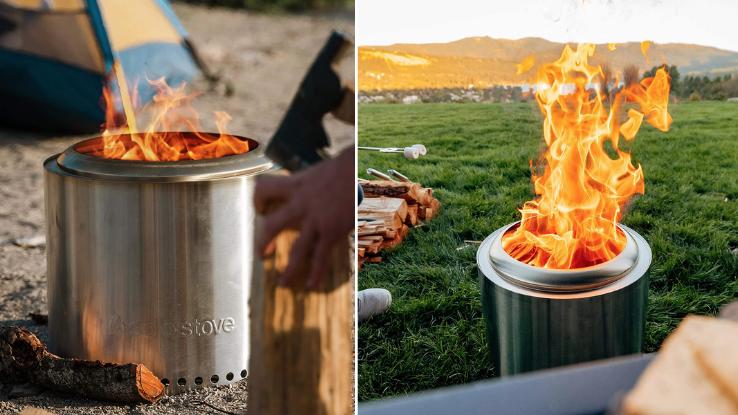 Sounds easy to use, right? From beginning to end, the preassembled Ranger makes your job simple, burning wood so efficiently that you're just left with an ultra-fine, easy to dispose of ash at the end of the evening. This lightweight, stainless steel stove is also highly portable, allowing users to tote it from campsite to campsite — or from backyard patio to tailgate lot. Just pick up some chunk wood, and you're all set!
Best Gas-Powered Fire Pit
Sure, wood-burning fire pits are quaint, but they also require a bit more maintenance than a gas-powered option. If you're looking to be a little less hands on, the Outland Living Outdoor Propane Fire Table is the perfect solution — and it makes an incredible statement piece on any patio. Don't have a ton of space? Conveniently, the Outland comes in a smaller size as well.
With a push button spark ignition system, lighting a cozy fire has never been easier, and because it runs on propane, it burns smoke-free. While other gas-burning fire pits are unsightly, the Outland comes equipped with a convenient storage compartment, allowing you to conceal the five-gallon propane tank and hose. Speaking of aesthetics, we love the decorative glass rock set, which, in combination with the glass tabletop, allows you to enjoy the beauty of your fire pit's dancing flames even more.
Best Free-Standing Patio Heater
When you can't go out to eat at your favorite restaurant, the next best thing is to bring those vibes home. While trying to recreate your favorite recipes can be fun, crafting your own outdoor oasis is, arguably, even better. One of the best touches you can add to any patio is a free-standing heater, which provides warmth all night long without the hassle associated with fire pits.
Our pick? The Hampton Bay Stainless Steel Patio Heater. With a piezoelectric ignition and an adjustable heat control system, this heater is both easy to start and easy to maintain throughout your gathering. Powered by propane, this unit can heat up to 200 square feet of space with ease. Additionally, this restaurant-grade heater is durable enough to withstand the elements — and extend your backyard entertaining season, come rain, sleet, snow or hail.
Best Mounted Patio Heater
If a free-standing patio heater won't quite work with your outdoor area, a great way to save space — and still keep warm — is to invest in something mountable, like the Dr. Infrared Indoor/Outdoor Heater. This product promises to provide clean, odorless infrared heat in an instant, whether you need a little extra coziness on your patio or in your living room.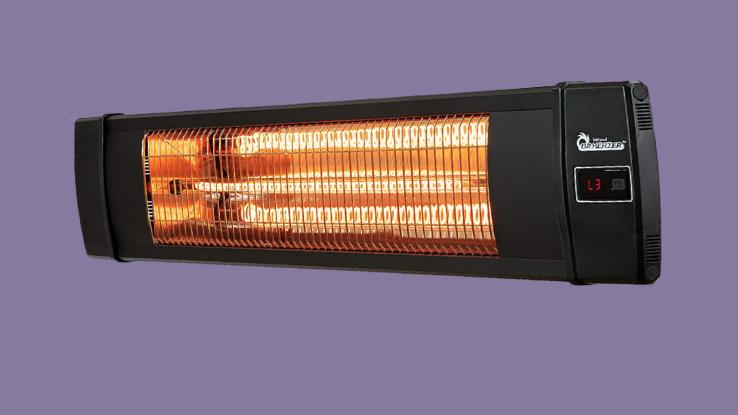 Weatherproof and durable, the Dr. Infrared heater more than holds up in rain, snow and other inclement conditions. Better yet, it's also incredibly safe. Thanks to the heater's built-in timer, you can program a heating schedule and allow yourself to get sidetracked without the nagging fear of the unit overheating. While it's built to be easily mounted onto most walls or siding, customers that crave flexibility can add on a handy tripod to truly make this heater as versatile as it is effective.